Racing could be set to join test programme of sports events with spectators
British racecourses could form part of the next wave of test events for spectators with at least one fixture in June being considered for a pilot event.
Racecourses have not hosted any pilots during the first phase of the government's Events Research Programme (ERP), which has tested different scenarios involving getting people to, from and around venues in a safe way ahead of the phased reopening of society following the Covid-19 lockdown.
The lack of racecourse representation and the restrictions on attendance numbers at tracks continues to frustrate participants and fans, with trainer Tom Dascombe expressing annoyance that he could not associate with his owners after winning at Chester on Thursday but could meet them at a nearby pub for a drink.
"It's ridiculous that I can walk out of here and have a beer with those happy owners but on a racecourse I can't see them," he told Sky Sports Racing. "It makes no sense."
David Armstrong, chief executive of the Racecourse Association, said discussions continue to take place with the ERP, which has been responsible for crowds being present at an FA Cup semi-final, the World Snooker Championship and music events in Liverpool, and that racing fixtures in June were being considered for the next phase of the ERP research prior to the planned ending of coronavirus restrictions on June 21.
It is understood that Royal Ascot could be used as an ERP test venue with the course hopeful that up to 10,000 spectators will be allowed to attend the meeting, which runs from June 15 to 19.
Armstrong said: "We're in discussions with government about what pilots we could successfully deliver as we move into the second phase of the ERP. We had proposed one in May but we weren't quite able to make that work in time.
"The government is keen for us to take part but whether we do or not will not affect our readiness for crowds to return, so I'm reasonably relaxed about it."
The government is expected to announce next week plans to press on with the lifting of restrictions from May 17, meaning up to 4,000 attendees can be present on British racecourses, including paying spectators.
Armstrong said he understood the annoyance from some at the speed of returning crowds to courses, but added that the changes were out of the hands of racecourses.
"I get the frustration but I think we have communicated across the sport that we have to follow the protocols and those protocols are set by the government," he said. "We have to protect the green zone for the athletes. These are valuable people that are needed to keep the sport going.
"I can see where the frustration comes from as they can go down the road and sit outside at a pub having a pint with friends, but what people have to realise is that what happens at the races is imposed on us by government and we have to follow them. If racing could make its own changes to how things are, it might look different, but this is what we have to do."
A capacity crowd of 1,000 people was present for the final of the World Snooker Championship on Monday, including trainer Neil Mulholland, who said he was relishing the chance to experience an atmosphere again at the races.
"The atmosphere was fantastic," he said. "Everyone was really pleased to be there and it will be really something to have that back at the races.
"They were really professional getting you in and it was a relaxed feeling around the place. It was a very positive experience and I think it will be for racing as well."
---
Read today's most popular stories . . .
Dermot Weld issues ground warning for Frankie Dettori-ridden Falcon Eight
Monster Placepot with £21,288 dividend at Worcester and just 2.15 winning units
Rare archive footage shows how 1960s punters reacted to betting shops opening
---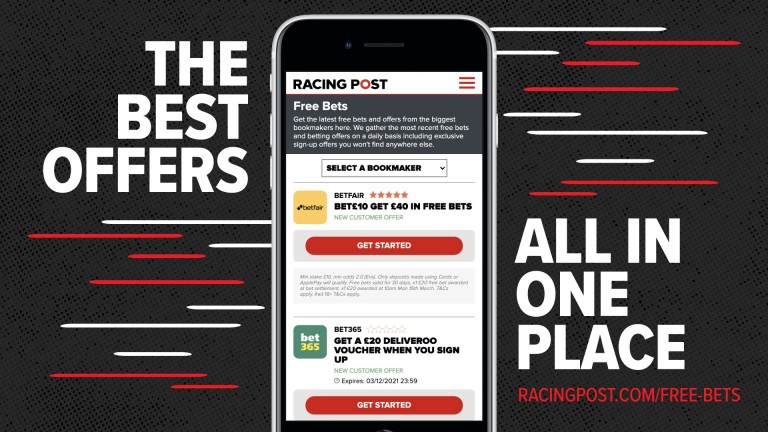 For all our exclusive free bet offers and must-have daily promotions click the free bets button or go to racingpost.com/freebets
---
We have to protect the green zone for the athletes. These are valuable people that are needed to keep the sport going