Stud owner Nicky Hartery appointed new chairman of Horse Racing Ireland
The ongoing saga of who would replace Joe Keeling as chairman of Horse Racing Ireland is over after it was announced that Nicky Hartery, a well-known businessman who owns Caherass Stud in County Limerick, is to begin a five-year term with immediate effect.
Hartery's appointment brings to an end the uncertainty created by the failure to have a successor to Keeling in place ahead of the official end of his tenure on March 18.
The appointment was at the discretion of the Minister for Agriculture Michael Creed, and a department press release confirmed that Hartery has been elected following what is described as "a competitive process" that was conducted by the Public Appointments Service (PAS).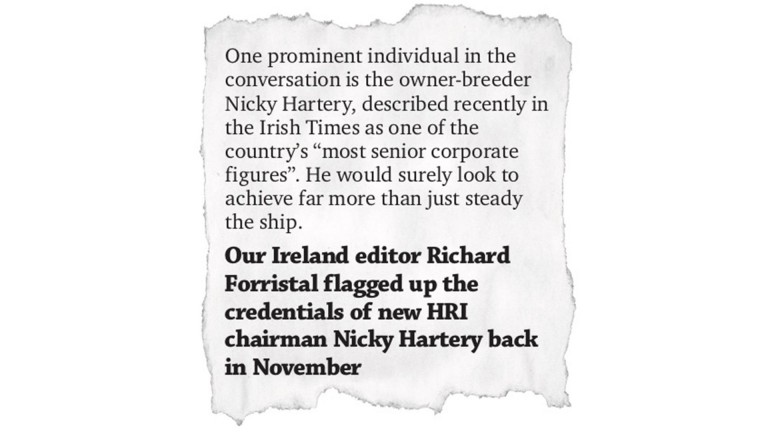 "I am delighted to appoint Mr Hartery to the post of chair of Horse Racing Ireland and I am confident that he will provide innovative strategic leadership and direction to the horse racing sector," Creed said.

"The next five years will see major challenges for Ireland, particularly in the context of Brexit, and Horse Racing Ireland will benefit from continuity in strong leadership.

"I wish Mr Hartery every success in this leadership role in promoting a sustainable horseracing industry, one that will expand employment and create the maximum contribution to the Irish economy."

While Hartery has long been touted as the man who had been identified to fill the breach at the helm of Irish racing's governing body, the impending vacancy was not advertised until February.

That was what had happened prior to his taking over from Denis Brosnan in 2013, but the delay in advertising the position as per state board appointment guidelines precluded that possibility.

Keeling agreed to remain on a caretaker basis, and formal interviews took place early this month. This week, other contenders were told that their applications had been unsuccessful, paving the way for Hartery's appointment.

"I wish to place on the record my deep appreciation of Joe Keeling's commitment in chairing Horse Racing Ireland over the last five years," Creed said.

"His business experience, effective chairing of the board and work with the organisation has delivered tangible results. Joe has done an outstanding job at the helm of HRI and he has been steadfast in his commitment to the HRI mission of 'developing and promoting Ireland as a world centre of excellence for horseracing and breeding', throughout his tenure. I wish him every success in all his future endeavours".


Following his predecessor Brosnan's departure after 21 years, Keeling inherited the long-running behind-the-scenes drama that revolved around Kavanagh's potential to invoke a contract of indefinite duration (CID).

During the contretemps, Keeling and HRI board members were hauled before an agriculture committee hearing in the Oireachtas to defend the fait accompli to assembled TDs.

While speculation was rife that he would stand down, he ended up staying longer than scheduled.

"There has been an awful lot achieved during his tenure," Kavanagh said of Keeling on Thursday. "The Curragh redevelopment was a long time coming but we got it up and running on his watch, likewise the introduction of the offshore betting tax and improvements in the betting tax system overall.

"Joe put the whole question of owners to the forefront. During his tenure, owners' charges were reduced by 30 per cent and there were major improvements in prize money and facilities on track."

Hartery, described last year in the Irish Times as one of the country's "most senior corporate executives", will bring a wealth of international commercial acumen to the role.

Already chairman of the global building materials company CRH – which is valued at €25 billion – and the leading food wholesalers Musgrave Group, he is also the current president and CEO of Prodium, a consultancy and business advisory firm.

In the past, Hartery has held senior management positions with Dell Computers, Eastman Kodak, EMEA, Verbatim Corporation and General Electric.


His Caherass Stud produced the 2011 Nunthorpe heroine Margot Did, while his main trainer in Ireland is Mick Halford, who is the trainers' representative on the HRI board. Hartery also has horses in training in England and France.


"I haven't met him yet, but I look forward to meeting him soon and working with him," Kavanagh said of the incoming chair.

"He knows the ups and downs of owning and breeding horses, which could be very valuable."
---
Five challenges for the new chairman to tackle
Brexit Hartery's experience and knowledge of the corporate international landscape will surely come to bear when those charged with steering the good ship of Irish racing through the choppy waters of Brexit put their heads together. It is the single most precarious threat that exists to many aspects of the industry.
Participation levels Despite Ireland's elite trainers carrying all before them, the middle and lower tiers are contracting alarmingly. For a great many reasons, it is vital that the grassroots of the industry are stabilised and reinvigorated.
Staffing This is as big a problem in Britain as it is in Ireland, but the dearth of skilled staff is both a cause and effect of the plummeting number of licence-holders. It is paramount that the issue is addressed at policy level.
Anti-doping The anti-doping task force's ongoing failure to implement a robust out-of-competition testing regime is a stain on Irish racing's integrity procedures. The Irish Racing Regulatory Authority was also left with egg on its face after paying around €500,000 of state funds to terminate its contract with BHP Laboratories in February following a false positive test, and is now sending all samples abroad for analysis.
Funding This quandary is as old time itself, but the FOBT development in Britain makes it as pertinent as ever. The controversial deal that was done between the Association of Irish Racecourse and SIS that will lead to Irish racing pictures switching from ATR to RUK between 2019 and 2023 was a lucrative one. However, it could impact negatively on the future value of media rights, as could the reduction in maximum FOBT stakes from £100 to £2.
---
Members can read the latest exclusive interviews, news analysis and comment available from 6pm daily on racingpost.com
---
The next five years will see major challenges for Ireland, particularly in the context of Brexit