Sensational Stradivarius seals third Gold Cup with ten-length win under Dettori
Winning three Gold Cups is meant to be difficult. In the race's 213-year history the feat had been achieved only twice. Nobody told Stradivarius, who brought up the hat-trick in sensational style, galloping his rivals into the ground and powering clear to come home in splendid isolation – the standout stayer of his generation.
Frankie Dettori knew what was going to happen before everyone else. As he eased closer on the climb from Swinley Bottom to the home turn he knew those in front were covered. Rounding the bend he took a good look around and learned those behind were too.
"I had everybody covered at the four-furlong marker," Dettori explained. "I wanted to see how well the others were going as I didn't want anyone to pounce on me quick. When I saw Oisin [Murphy, jockey of Technician] was in trouble I thought I should leave them behind and ride my race to go and get Nayef Road."
Go and get him he did. At the two-furlong pole Dettori still had the 4-5 favourite on the bridle, galloping all over the long-time leader Nayef Road and taking it all in. When he finally got round to putting the race to bed, considerably later than he would have pictured in even his most optimistic visions of the race, the response was devastating.
Stradivarius galloped clear with a style in keeping with one of the great middle-distance horses. To do so at the end of a gruelling two and a half miles on soft ground served to underline how special this performance was.
With half a furlong to run Dettori knew the race was won and punched the air. With 100 yards to go he was in full neck-patting mode.
At the line Stradivarius had put ten lengths into the gallant Nayef Road, with Cross Counter a further eight lengths adrift. For the first and possibly only time at this most surreal of Royal Ascots, those few occupying the giant grandstand looked more crowded and tightly bunched than those on the track.
---
Gold Cup full result and replay
---
That before Stradivarius only Yeats and Sagaro had won racing's greatest staying prize more than twice spoke to how difficult the task has proved over the centuries. Stradivarius has made winning three on the bounce look so simple that Jim Crowley, fresh from riding his fifth winner of the meeting, waited to enter the weighing room just so he could clap the winner back in. Class recognises class.
"Even with no crowd I'm quite emotional. It's a very proud moment," said Dettori. "To be able to say one day when I'm sitting on my rocking chair that I rode the horse who won three Gold Cups is amazing. That's a big number and I'm very proud of it. I'm so proud of the horse and he'll go down as one of the great stayers like Yeats and Sagaro. Maybe we'll try and go for four next year."
That Stradivarius is one of the great stayers is already beyond doubt, and he has been expertly handled by his trainer John Gosden. He would likely have won a third Gold Cup anyway, such was his superiority here, but without that run at Newmarket 13 days ago would he have been anything like as impressive?
It is impossible to say for sure, but given how lazily he has raced in the past, how he has appeared to do only what was needed, the mile and a half of the Coronation Cup in which he was beaten by Ghaiyyath and Anthony Van Dyck seemed to have lit the fire within.
Here Stradivarius travelled better than usual. There was no heart-in-mouth moment before he finally got on top. Here he proved what deep down we knew, even when winning by three-quarters of a length two years ago and a length last year – he is simply in a different league as a stayer.
He may yet get the chance to prove his class at a mile and a half in Europe's richest race as his trainer hinted at a possible clash with Enable in her season-defining attempt for a third Arc win. Then will he come back for a crack at equalling Yeats's record next year?
"It's entirely up to Bjorn [Nielsen, owner-breeder]," said Gosden. "We might just look towards the Goodwood Cup and then take a pull. There's talk of wanting to run him in the Arc and he ran brilliantly in the Coronation Cup the other day, so maybe the Arc in autumn ground isn't out of the question."
---
Arc on owner Bjorn Nielsen's mind for 'phenomenal' Gold Cup hero Stradivarius
---
Gosden added: "He's beaten some good horses in his time and he's put them all away with his turn of foot and even done it in that ground. He has a hell of a personality. He was having a little shout and playing up beforehand. He thinks life is a bit of fun and when you win races like that I suppose it is."
It was certainly fun to watch.
---
Stradivarius's fellow club members
Sagaro 1975-77
Sagaro was the first and, until Yeats came along more than 30 years later, only member of the three-time winner club. Owned by Gerry Oldham and trained in France by Francois Boutin, Sagaro was partnered in all three of his Gold Cup victories at Royal Ascot by Lester Piggott. Oldham was to say of his great stayer that "champions like him don't come along often". He was right. The old warrior is still warmly remembered with the Sagaro Stakes, usually run at Ascot, but which this year took place at Newcastle.
Yeats 2006-09
Coolmore's greatest stayer, trained by Aidan O'Brien, not only matched Sagaro but trumped him with four victories in the endurance test to end them all. Kieren Fallon, Mick Kinane and Johnny Murtagh (twice) were the stars of the saddle who enjoyed winning the Gold Cup on Yeats, with Murtagh having the privilege of riding into the record books with Yeats when, as a eight-year-old, he took apart his rivals in 2009 by three and a half lengths and more. He now stands at Castle Hyde Stud.
---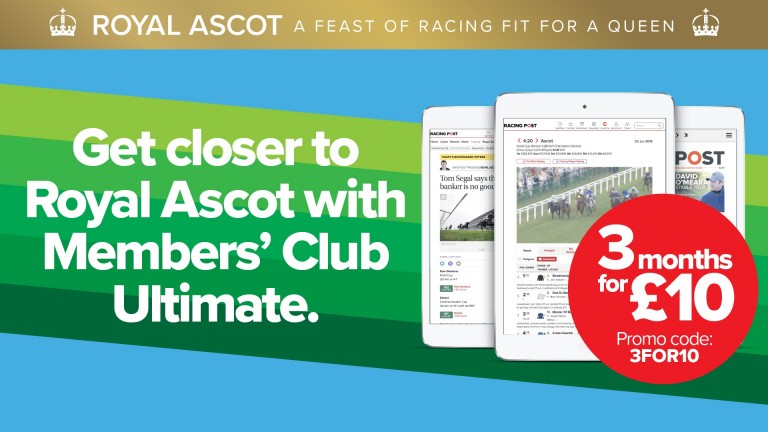 New subscribers can get 3 months of Members' Club Ultimate subscription for just £10 with promo code RACINGISBACK. Get exclusive tipping, unlimited video replays, exclusive interview and much more. For more information click here
---
I'm so proud of the horse and he'll go down as one of the great stayers like Yeats and Sagaro. Maybe we'll try and go for four next year