'Enough is enough' - Saffie Osborne threat prompts strong message against abuse
Online abuse of British racing's participants must stop according to leading trainer Mark Johnston and the BHA, who issued the powerful demand on Thursday after 19-year-old apprentice Saffie Osborne received a shocking and horrific message on social media that prompted her father Jamie to contact police.
Lambourn trainer Osborne, a successful jump jockey during his time in the saddle, posted a screenshot of the message on Twitter on Wednesday evening saying the abuse had "gone too far".
"I will now begin a crusade to have these people banned from all platforms and will not shy away from bringing prosecutions," he added in a tweet that by 3pm on Thursday had more than 2,000 likes.
It is not the first time the sport's constituents have been subject to such harassment and in May British racing took part in a social media boycott with the sporting community in a show of solidarity against unacceptable online hate.
---
Paddy Brennan in plea to social media critics to recognise dangers jockeys face
---
The BHA said it was appalled by the incident, which resonated with Johnston, who said he was in the process of dealing with a similar message directed at Gold Cup-winning jockey Joe Fanning.
Johnston, who has saddled more winners in Britain than any other trainer, said: "These things go on all the time and I've had one today. It's not a serious one, just criticism of a jockey rather than any threats, but some of them can be very nasty, like the one to Saffie, which was very serious indeed.
"It made a number of threats and really nasty comments, including one of violence. We've had a similar one recently, which is in the hands of the police. To what extent they'll follow it up I'm not sure, but I think we should be exposing them as there are far too many people out there thinking they can hide behind fake email and social media accounts.
"We only go to the police if we think there's any chance the police will follow them up. For instance, if there are threats of physical violence or discrimination, which is an in-point at the moment."
A regular user of social media, Osborne feels action is needed and fast.
"I know jockeys get messages all the time, and I don't know what proportion of them get reported, but I think there comes a point where enough is enough," he said.
"I know Saffie has been getting them. But the nature and the tone of this one was, in my mind, a step too far, and I don't see why jockeys should have to put up with this on a regular basis without there seemingly being any call for action."
Speaking to Racing TV, he added: "This message wasn't a guy saying I don't like the way you ride – let's put no finer point on it, it's threats of rape and death. I don't know how society can feel this is acceptable. The police are investigating."
The trainer also told Sky Sports Racing: "I have been in contact initially with the Metropolitan Police – it looks like it's going to be moved to Thames Valley. Thankfully I was contacted this morning by a former senior policeman, who is going to help me with the process and make sure we can keep some pressure on the police who undoubtedly get inundated with these sorts of complaints."
'They're the worst form of bullying'
Osborne said the consequences of such abuse continuing could be disastrous and Johnston added: "We get them on an almost daily basis and I'm conscious of the fact the people sending these messages have no idea of the vulnerability or potential vulnerability of the people they're sending them to.
"They say things like, 'I hope you get cancer', well they could be sending those to people with cancer or have family who have suffered with it.
"They're the worst form of bullying and we should do everything possible to stamp it out."
The Classic-winning trainer, who is based in North Yorkshire, admitted he regretted not pursuing a matter further when officers identified a suspect.
"I can only think of two in the last few years we've reported to the police and one is ongoing, and I tend to only report ones directed specifically at individual jockeys or members of staff, rather than myself," he went on.
"The last one the police did trace the individual and asked if I wanted to press charges, or caution or would a warning do and, stupidly, I said a warning would do. In future, I'd say we should pursue these things as far as we can.
"The police are more amenable to do something about it now; I think they recognise that it's a serious problem."
Johnston is mindful all forms of discrimination and abusive behaviour are not tolerated in any form and said: "If you look at that stuff sent to Saffie Osborne, that really does require some action, and I don't think an individual should get away with that. It doesn't matter whether it's racist or sexist or intimidating or cruel or nasty it should all be stamped out."
A spokesperson for the BHA said: "Everyone at the BHA was appalled to learn of the abuse received by Saffie Osborne. The BHA has been in touch with Saffie and her family to offer our support and it has been heartening to see the racing community uniting to condemn this abhorrent behaviour.
"It is exactly this type of incident that led the BHA and other leading organisations in British racing to join with other sports in a social media blackout during the first weekend of May. Clearly there is still much work to be done to protect our participants from online abuse and the UK government's Online Harms Bill, published in May, presents an opportunity to do this across all sports.
"British racing supports the need to protect participants in sport from online hatred and abusive messages. We believe sports competitors and officials deserve respect and that social media should not be a hostile environment for those trying their best to compete and provide entertainment for the public."
---
Racing's show of support
Jamie Osborne has had an overwhelming response to his tweet from across the industry
Ed Walker: "Social media has so much to answer for. I am with you all the way."
Fergal O'Brien: "Shocking and as a dad I find it very upsetting that some vile person can write this and get away with it. Surely this can be traced?"
Noel Williams: "I think this excuse for a human being is a serial offender. I'm sure I can recall having the odd similarly charming message from him. This however is as low as can be, absolutely disgusting."
Ben Haslam: "Luckily I'm sure she can laugh at his pathetic attempt to cause harm, but still it is abhorrent. The dark side of social media . . . something has needed to be done for a long time now."
Kevin Buckley: "This is absolutely disgusting behaviour and should be a matter for @MetCC, @GOVUK, @BorisJohnson to investigate immediately as Twitter and Facebook consider it unnecessary to verify accounts (which in my opinion should be compulsory)."
Sadly, jockeys Jonjo O'Neill Jr, Sean Davis and Alex Jary also shared screenshots of similarly unpleasant messages from an account under the same.
---
Read more on this subject:
PJA calls for bans following rise in abuse of sportswomen on social media
'I got a barrage of abuse' – George Baker relives Cotai Glory's moment of mayhem
Racing joins social media boycott in protest against online abuse
Young jockeys to be given guidance to handle 'sickening' social media abuse
Social media boycott 'not a one-off' if things don't improve says jockeys' chief
---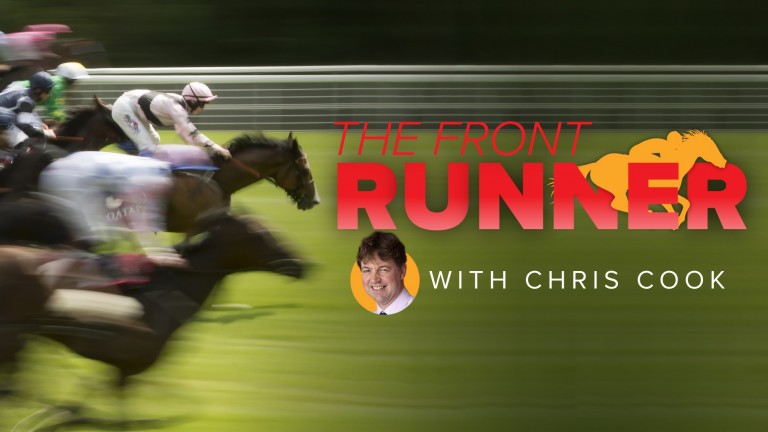 The Front Runner is our latest email newsletter available exclusively to Members' Club Ultimate subscribers. Chris Cook, a three-time Racing Reporter of the Year award winner, provides his take on the day's biggest stories and tips for the upcoming racing every morning from Monday to Friday
---
The police are more amenable to do something about it now; I think they recognise that it's a serious problem