Beverley forced to abandon meeting after four races due to ground concerns
Wednesday's meeting at Beverley was abandoned after jockeys raised serious concerns about the safety of the ground and in particular two bends, where horses slipped after rail movements that were said to have made them as "tight as a right-angle".
The eight-race card was delayed after the fourth race when riders raised their concerns with the stewards regarding the alignment of the bend leaving the back straight and the turn into the home straight. Several horses were reported to have slipped on the fresh ground.
A delegation that included jockeys Connor Beasley, David Egan, Danny Tudhope and Cam Hardie examined the areas of concern and after lengthy deliberations the meeting was abandoned just after 4pm. The jockeys were still not satisfied that it was safe for racing despite attempts at modifying the track.
Beverley racecourse chief executive Sally Iggulden said: "We moved the bend on to fresh ground and it's a move we do every year two or three times. Unfortunately today Danny Tudhope in the race beforehand thought his horse slipped several times and some of the other jockeys were expressing concern about it.
"Unfortunately, we had a lush growth of grass recently and had a sharp shower before racing. We haven't watered for this meeting and the rest of the track was riding great. Unfortunately, it wasn't felt to be safe and that's of most importance."
---
The Racecourse Prices Index: how much for a burger and a pint at Beverley?
---
While no horses or jockeys fell, riders were critical of the tightness of the bends. One, who did not wish to be named, believed the track had no choice but to abandon the meeting.
"They moved the rail out and put us on fresh ground and the actual home bend is that tight it was virtually a right-angle," the jockey said.
"A couple of jockeys slipped in the first race and for some reason they haven't been able to sand it enough to solve the problem. Hopefully the bend will be back to normal for the next meeting on Saturday as there were a lot of jockeys concerned about the safety of the track."
The East Yorkshire track stages a lucrative big-race fixture including the Hilary Needler Conditions Stakes and Two-Year-Old Trophy on Saturday, but Iggulden was confident the ground issues will be resolved before the card, which features three races live on ITV.
She added: "We'll be moving the rail back into its original racing line and that should give the horses and jockeys more traction and grip. We'll be carrying out other remedial work to make sure it's back to how it should be.
"We'll put plans in place and talk to the course inspector to make sure everything is ready to go. In the 22 years I've been here we've never had to abandon due to safety concerns mid-meeting.
"We'll be looking at this stage to invite our racegoers back to a future race meeting. It's gutting for everyone and very unfortunate, but we've got to put it right and can't risk safety at all."
---
Read these next:
After recent 40-1 and 25-1 shocks, could another outsider cause a Derby upset?
Nations Pride Derby call to be made in next 48 hours after impressive workout
---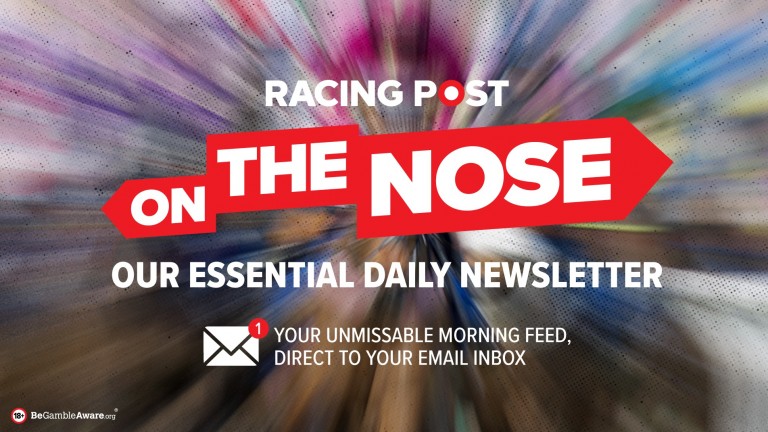 Sign up to receive On The Nose, our essential daily newsletter, from the Racing Post. Your unmissable morning feed, direct to your email inbox every morning.
---
In the 22 years I've been here we've never had to abandon due to safety concerns mid-meeting