Flutter thankful for Incentivise defeat after punters enjoy winning streak
Flutter Entertainment chief executive Peter Jackson was thankful that Incentivise's defeat in the Lexus Melbourne Cup meant the gambling group did not have to suffer another "bloodbath" after a winning run for punters in October.
Jackson was speaking after the parent company of Paddy Power, Betfair and Sky Bet lowered its forecasts for 2021 after releasing a trading update for the third quarter on Tuesday morning.
Flutter expects full-year adjusted Ebitda (earnings before interest, taxation, depreciation and amortisation) of between £1.24 billion and £1.28bn compared with the £1.27 to £1.37bn range forecast in August.
Unfavourable sports results outside the US reduced earnings by £60 million in the first 24 days of October, while a run of NFL favourites covering the spread took another £15m off earnings in the US.
The swing in favour of punters was especially marked in football last month, with 14 of the 15 most popular selections winning during the international break on October 9 and 15 out of 16 favourites in the Champions League winning the week ending October 24.
Jackson added: "Liverpool stuffing Manchester United 5-0 was a big win for customers. Tyson Fury was very heavily backed and that cost us a lot of money and then in Australia Incentivise winning the Caulfield Cup cost us a lot.
"We were very pleased that overnight in the Melbourne Cup Incentivise was just pipped for first place. That saved us another bloodbath in Australia.
"Results have been pretty unfavourable really but it's what happens. Occasionally, you have a run of bad luck and it's not unhelpful for our punters that they get to see a winning streak."
Flutter had also been hit by the temporary suspension of its operations in the Netherlands, where operators were required to obtain a licence by October 1 or exit the market while their application was processed.
Flutter's temporary closure is set to cost £10 million in earnings this year and approximately £40m next year, assuming operations resume in the third quarter of 2022.
Nevertheless, Jackson said that Flutter had delivered a "strong" third quarter performance, with revenue rising by 12 per cent driven by a 13 per cent increase in customer numbers.
In the UK and Ireland year-on-year revenues were down five per cent, which Jackson put down to the "particularly challenging and complex" comparisons with 2020, including a concentration of key sporting events last year caused by the Covid-19 pandemic.
Jackson said that the group's FanDuel was the "market leader" in the US, with a 42 per cent share of the online sports betting market. He also quashed speculation that FanDuel was among the bidders for sports news website The Athletic.
Jackson added: "The underlying strength of our business is clear. We have grown our online recreational player base by 46 per cent in just two years.
"With more international jurisdictions and US states on the path to regulation, we look forward to sustainably growing our global player base further in 2022."
Gavin Kelleher, gaming and leisure analyst for stockbrokers Goodbody, described Flutter's figures as a "somewhat mixed update" and the markets shared that view, with the company's share price down just under five per cent early on Tuesday afternoon at 13,385p.
---
Read more . . .
Harry Kane unable to put a dent in Flutter's big progress
Online revenue up 42 per cent as Flutter brands post strong Q1 performance
---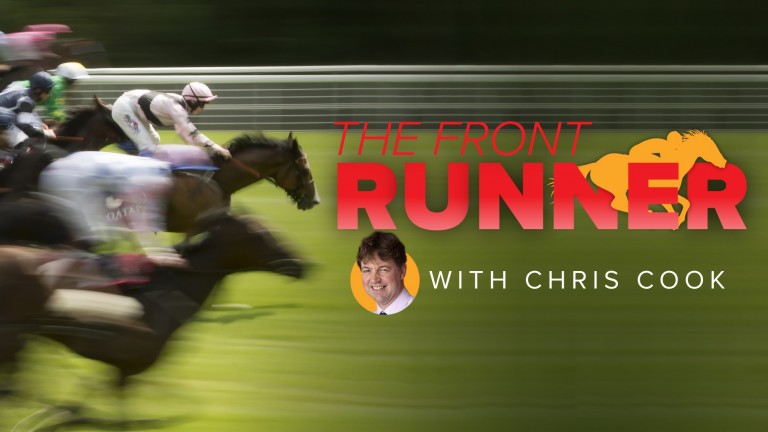 The Front Runner is our latest email newsletter available exclusively to Members' Club Ultimate subscribers. Chris Cook, a three-time Racing Reporter of the Year award winner, provides his take on the day's biggest stories and tips for the upcoming racing every morning from Monday to Friday
---
Occasionally you have a run of bad luck and it's not unhelpful for our punters that they get to see a winning streak