Crouch insists report into betting machines will be published in the autumn
Sports minister Tracey Crouch took to Twitter on Saturday to label a newspaper's claim's that chancellor Philip Hammond had "shelved...a clampdown on betting machines" as "fake news".
The Daily Mail article alleged the Treasury was opposed to any potential reduction in the maximum stake on Fixed Odds Betting Terminals (FOBTs) by the Department of Culture, Media and Sport due to the impact it would have on the Exchequer - citing the fact machines "contribute more than £400 million" annually.
There was nothing to substantiate the claim, only a mention of "a Whitehall source who said the Treasury fears that cutting the stake to £2 would be 'financially crippling'".
Crouch, the minister with responsibility for gambling, took issue with the suggestion the gaming machines review - which is expected to be published in October at the earliest having been delayed by the general election - would now no longer appear.
She tweeted a link to the article with the words "Fake news."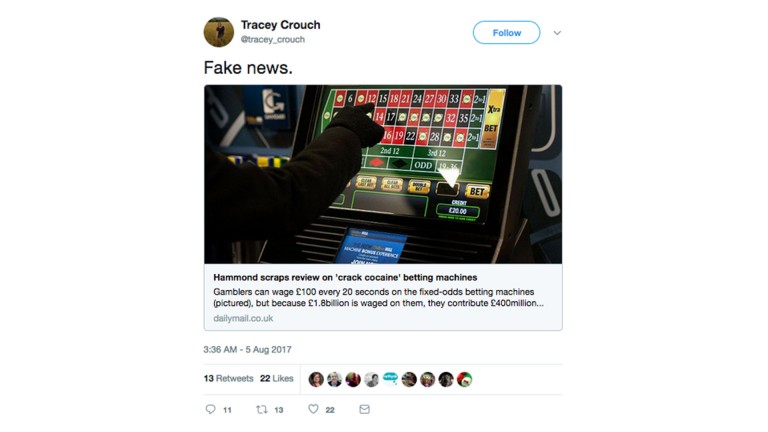 Later, a statement to the Racing Post from a DCMS spokesperson read: "The government is currently undertaking a review of stakes and prizes of gambling machines, that includes fixed odds betting terminals. The review will be published in the autumn."
Responding to the article, a statement from the Association of British Bookmakers read: "Decisions relating to the review of stakes and prizes on gaming machines are clearly a matter for government.
"The ABB has always argued that reducing the stakes on gaming machines in betting shops would have severe economic consequences, not just in terms of Exchequer revenues but also in terms of jobs and business rates.
"At the same time, reducing stakes on gaming machines in betting shops or anywhere else will do nothing to help problem gamblers."
Campaigners, politicians and sections of the media have called for maximum stakes on machines to be cut to £2 from £100 to tackle problem gambling.
The betting industry has claimed this would lead to thousands of betting shops closing, which would mean racing losing out on millions of pounds of income from levy and media rights payments.
---
If you are interested in this, you might like:
Pair claim 'automatism' to blame for wrecking betting shop
Sun Bets contributes to heavy losses for betting giant Tabcorp
---
The government is currently undertaking a review of stakes and prizes of gambling machines, that includes fixed odds betting terminals