Jubilation for William Jarvis as Lady Bowthorpe lands deserved first Group 1
William Jarvis never lost faith in his ability as a trainer and Lady Bowthorpe duly delivered as she ended the popular trainer's 27-year wait for another Group 1 victory in the Qatar Nassau Stakes.
Surrounded by multiple generations of his family, Jarvis struck both a relieved and jubilant figure as he was swamped in congratulations following his first top-level success since Grand Lodge won the 1994 St James's Palace Stakes.
The Newmarket trainer shed tears of frustration after Lady Bowthorpe had a luckless run in the Falmouth Stakes at Newmarket last time out, but this was emotion of a very different kind as the mare he always believed in improved for the step up for ten furlongs to win by a length and a half from the Roger Varian-trained Zeyaadah.
Jarvis said: "I've never lost faith in myself as a racehorse trainer, quite a lot of other people may have done but that doesn't really bother me. That's why I've only got 28 horses in the yard, maybe we'll have another two or three after today."
One of those 28 is rather good. Lady Bowthorpe had been to every dance this season, winning the Dahlia Stakes at Newmarket's Guineas meeting, pushing Palace Pier close to finish second in the Lockinge and filling the same position in the Duke of Cambridge at Royal Ascot before her unfortunate Falmouth run.
The ten furlongs of the Nassau was a new challenge for the five-year-old but Jarvis had little doubt she would get the trip. He was absolutely certain after she picked up Zeyaadah in the closing stages here.
Jarvis said: "I was confident she'd stay. I was a little bit worried about Roger's filly because she wasn't stopping but I know we've got that great turn of foot and that's her real strength. She's relaxed and settling so much better now. She's a superstar.
"My faith never diminished, we knew she was smart when she won the Valiant Stakes as a four-year-old. I think after the Dahlia was when I firmly had the Nassau Stakes on her radar and we sort of worked back a little bit from that, but having said that she hasn't missed a beat either. We went Dahlia, Lockinge, Royal Ascot, Newmarket. She's a very tough mare and her constitution is great.
"I've been dying to run her over ten for a long time and events transpired against her or there wasn't the races. Anyway, she has proved she's probably better over ten than she is over a mile."
This win was not just about Jarvis. It was a first Group 1 win for music mogul owner Emma Banks and a breakthrough top-level victory for Lady Bowthorpe's rider Kieran Shoemark, who has fought his way to the top so admirably since returning from a drugs ban two years ago.
Indeed, Jarvis himself was quick to praise Shoemark and credit the small staff he refers to as family at Phantom House Stables.
---
Qatar Nassau Stakes: full result and race replay
---
"I'm absolutely thrilled for Kieran," said Jarvis. "He's a delightful young man, he's got impeccable manners. He obviously went through a bad place but he's come out the other end and he's great and a lovely guy to work with.
"We're very proud we have a lot of loyalty and we've been loyal to Kieran. I'm delighted we stuck with Kieran. There was no pressure at all from mine or Emma's behalf but there were outside people saying should we do this, should we do that. But it never really crossed our minds.
"We've dreamt about this for a long time, we knew she was special and I'm so chuffed for the team at home more than anything else. They work so incredibly hard, we only have a staff of seven or eight. It's all due to them. They're fantastic and they've never lost faith in the way we operate and they give me everything. It's a real family unit."
If Jarvis was emotional, Banks was equally beside herself as she prepared for her pride and joy to return to the winner's enclosure.
She said: "Kieran's given her an amazing ride. It's all about first Group 1s, apart from William who had one when the dinosaurs were there. It's fantastic.
"I was sitting next to Luca Cumani, who about half a furlong out and looked to me and said, 'You've got it'. If Luca Cumani tells you that, of course you've got it. I'm just so proud of her, William and Kieran. I pay the bills, that's all I do really. William is a fantastic trainer."
It was put to Jarvis there may not be a more popular winner at the track all week. His response indicated exactly why. "We're very humbled by it. I've endured a few lows but we'll certainly celebrate today as it's really special."
---
Read more on William Jarvis and Lady Bowthorpe:
Jarvis in tears after traffic problems rob Lady Bowthorpe of first Group 1
'She came off the gallops in a horse ambulance' – Lady Bowthorpe's lucky escape
William Jarvis: 'I'm told I should be richer by now – but I'm not bitter at all' (Members' Club)
---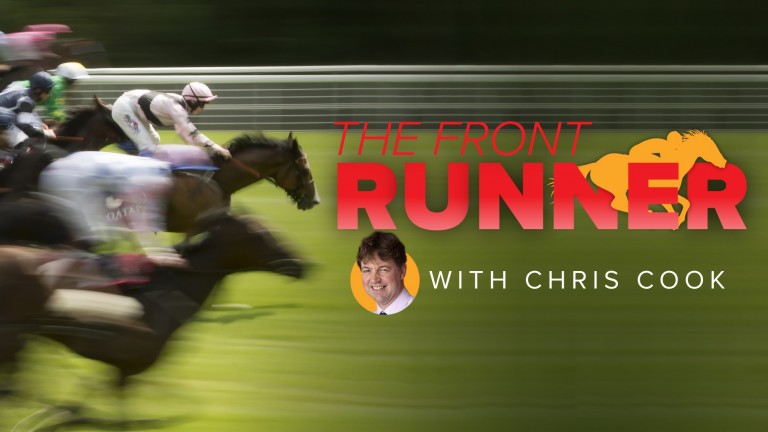 The Front Runner is our latest email newsletter available exclusively to Members' Club Ultimate subscribers. Chris Cook, a three-time Racing Reporter of the Year award winner, provides his take on the day's biggest stories and tips for the upcoming racing every morning from Monday to Friday
---
We've dreamt about this for a long time, we knew she was special