'I'm just in awe really' - Eldar Eldarov gives David Egan first British Classic
Sunday: Cazoo St Leger Stakes, Doncaster
David Egan was "gobsmacked" after riding his first British Classic winner in a hard-fought Cazoo St Leger that was tinged with sadness.
He admitted his first thought on crossing the line on gutsy stayer Eldar Eldarov, in a race delayed by 24 hours due to the death of the Queen, was for Jack de Bromhead, the 13-year-old trainer's son who died in a riding accident last weekend.
His success on the Roger Varian-trained 9-2 shot, winner of the Queen's Vase at Royal Ascot in June, was a first Group 1 triumph since he won the Juddmonte International and Dubai Sheema Classic on Mishriff, whose owner Prince Faisal dispensed with his services this summer.
Had that split not occurred, Egan would have been required for Saturday's Irish Champion Stakes at Leopardstown, which would obviously have clashed with the Leger had it been run on its intended date.
"When one door closes, another opens," Egan said. "My connection with Prince Faisal ended on good terms and we both went our separate ways. Mishriff has had some great runs since and I always watch him and I'm a big fan."
As it was, he was free to drive Eldar Eldarov to a battling two-length defeat of the subsequently demoted Haskoy.
"It's been a sad week with everything that's happened, Her Majesty and Jack de Bromhead – we live on, but we don't forget them," he said.
"I'm gobsmacked. All those other races were fantastic out in the Middle East, but an English Classic is something special, particularly to do it for Roger Varian, who I've been with since I was 15 or 16.
"To win a Classic at 23… I never thought I'd do it, but when you're riding for such a big stable it can happen. When you see Her Majesty has won this race and to think that I've done something so similar – I'm just in awe really, it's all a bit of a blur."
Varian paid full tribute to the jockey, and said: "I'm delighted for David, you won't meet a nicer guy. He's genuine, hard working, thoroughly professional, gracious in disappointment and in defeat and not obnoxious in victory.
"You forget how young he is and his best days are still ahead of him. Hopefully we'll be a part of that as well."
Doncaster has been a significant track for Varian, who sent out his first winner when Eton Forever took the Spring Mile here in 2011 and who landed the Leger with Kingston Hill three years later.
"Sometimes the longer you do something the harder things get and the more you crave the big successes," he said. "We'd only trained three years when Kingston Hill won so this is a very sweet success.
"I'll make a point of congratulating our great team at home – they work tirelessly and get as much of a kick out of the winners as I do. I'm also very grateful to the owner, His Highness Sheikh Khalid. He's supporting us with some nice horses."
Varian had been confident of a huge run from his Grand Prix de Paris fourth, and said: "I quietly thought he had a really big shout today. Everyone wasn't wowed by his run in Paris, but he ran well and the winner pushed Luxembourg all the way in the Champion Stakes. And that was on fast ground, it was 36C and it was a long journey out there. He was only just getting going as the line came.
"His run at Royal Ascot showed he had stamina in abundance, and his run at Nottingham as a two-year-old in pretty testing conditions, albeit in different company, showed he handled the ease in conditions today. The question he had to answer was whether he was good enough and he did that."
Varian is hoping for further success in 2023 when he will campaign the Leger winner over long distances.
"He's got a lot of stamina and an admirable attitude," the trainer said. "We've got to recognise what he is and he could be a very exciting Cup horse for the next two or three years if he stays sound and healthy, because he should get better with age."
Like most on a day when racing was preceded by a two-minute silence and a singing of God Save The King, Varian was also thinking of the death of the woman who owned 1977 Leger winner Dunfermline.
"The whole nation is saddened by the loss of the Queen and everyone in racing is hit hard because we've lost our patron really," he said.
"We're very grateful for racing to go ahead today, I think that's what she would have wanted. But it's a family grieving and our thoughts are with them."
---
---
Read more:
Staying king Kyprios lifts the Curragh gloom with brave Irish St Leger success
Gutsy Coltrane downs 2-9 Trueshan in huge Doncaster Cup upset
Quinn hails 'phenomenal' Highfield Princess after landing unique Group 1 treble
McMonagle celebrates first Group 1 success as Al Riffa pounces late
---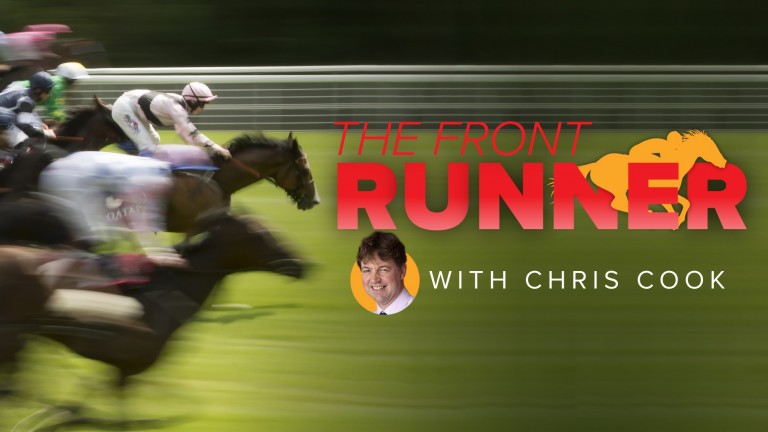 The Front Runner is our latest email newsletter available exclusively to Members' Club Ultimate subscribers. Chris Cook, a four-time Racing Reporter of the Year award winner, provides his take on the day's biggest stories and tips for the upcoming racing every morning from Monday to Friday. Not a Members' Club Ultimate subscriber? Click here to join today and also receive our Ultimate Daily emails plus our full range of fantastic website and newspaper content
---
All those other races were fantastic out in the Middle East but an English Classic is something special