Seventh heaven: Sel Jem gives Macaire record win as Franco surprises Mullins
Sunday: Auteuil, Grand Steeple-Chase de Paris
In a twist on Gary Lineker's famous football aphorism, the Grand Steeple-Chase de Paris is an easy race; 16 horses run for the ultimate prize in French jump racing over three miles six furlongs and at the end Guillaume Macaire always wins.
That must be how it seems to his rivals at home and abroad after the five-year-old Sel Jem and 42-years-young race debutant jockey Johnny Charron gave Macaire a record-breaking seventh success, while Willie Mullins continues to dream of a first despite fielding three runners.
His dual Cheltenham Gold Cup winner Al Boum Photo was bidding to add to his glittering career haul, but never looked a threat and was pulled up by Paul Townend.
But Mullins nevertheless appears to have a potential Grand Steeple-Chase project on his hands after Franco De Port and Danny Mullins picked their way through to finish third, five lengths adrift of runner-up Gex, who gave former Aintree chair Lord Daresbury a huge thrill under James Reveley.
---
Full result from the Grand Steeple-Chase de Paris
---
Sel Jem's eight-length victory was Macaire's first since sharing a licence with Hector de Lageneste, and even an hour after a success that breaks the tie with Bernard Secly for the race's most successful trainer, his satisfaction was evident.
"I have the record all alone and with seven Grand Steeple-Chase victories, I can die now," said Macaire. "Not straight away I hope, but I can – for me he was the winner at every point in the race."
Arguably the least-proven of the Mullins trio over this type of trip (the trainer's third runner Burrows Saint came last of the ten finishers), Franco De Port was at the rear for much of the race, but heading down the back for the final time he began to pick off rivals and seemed to relish the unique test Auteuil provides.
"We'll probably have to take the for sale sign off Franco De Port – he looks tailor-made for this race and I imagine I'll be chatting to my owners about coming back here over the next two years," said Mullins.
"It's the first time I've really seen him at home on the racetrack, whereas Al Boum Photo was quite the opposite. He wasn't at all happy from the time he jumped the practice hurdle. He never settled into his jumping at all."
Mullins added: "Burrows Saint jumped brilliantly, Rachael [Blackmore] said he was just a little dead under her and when she wanted to improve her position, there was nothing left."
The last foreign-trained horse to be placed in the Grand Steeple-Chase de Paris had been Batman Senora, runner-up for Ian Williams in 2003 and a horse with plenty of Auteuil experience.
And a French-style prep for the Grand Steeple could be the route Mullins now takes with Franco De Port.
"We might make coming here our target and aim him with the French season in mind rather than the Irish or English season," said Mullins.
Also quite inexperienced, Gex provided another great spin for three-time winning rider Reveley, and vindicated trainer Emmanuel Clayeux's faith in him.
A delighted Daresbury said: "He has completely astounded us from the start, which is why he ran at Pau to start with. The whole of his career he has outstripped what we thought, but he is a lovely, relaxed horse and James gave him a beautiful ride."
---
Read more international news . . .
Maljoom powers home to give William Haggas third German 2,000 Guineas success
Early Voting justifies Kentucky Derby decision to land the Preakness Stakes
Hermes Baie dominates Grande Course as brave Klassical Dream battles to second
---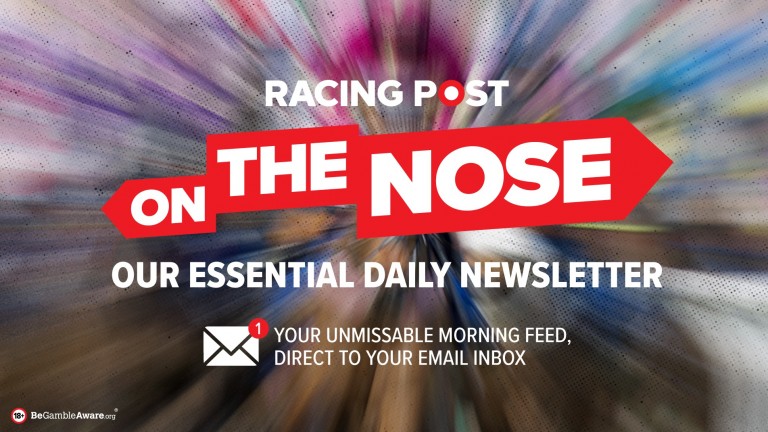 Sign up to receive On The Nose, our essential daily newsletter, from the Racing Post. Your unmissable morning feed, direct to your email inbox every morning.
---
I have the record all alone and with seven Grand Steeple-Chase victories, I can die now