'It's mad, it's crazy' - Adam Kirby revels in breakthrough Classic on Adayar
Had he not first been rejected, Adam Kirby would not now be rejoicing.
There are many ups, downs, twists and turns from one end of Epsom racecourse to the other. At the finish of this sun-drenched Cazoo Derby they felt like a metaphor for the week experienced by a long, lean athlete who shrugged off his self-confessed unglamorous reputation to scale the greatest of all Flat racing peaks aboard Adayar.
As Wednesday afternoon began, Kirby was looking forward to having only his second Derby ride aboard one of the leading fancies, John Leeper, a horse he had guided around Epsom's strange contours in a gallop just nine days earlier.
Excitement turned to dejection when Frankie Dettori became available and John Leeper's connections switched riders. Kirby was suddenly without a Derby mount – but not for long.
Godolphin's principal British trainer Charlie Appleby had wanted to use one of the operation's most faithful servants all along. This time Kirby's pleasure meant pain for dual champion jockey Oisin Murphy, left to watch from the sidelines as the outsider he had expected to steer gave Sheikh Mohammed's stable a second Derby success within the space of three years.
---
Watch Adam Kirby and Adayar win the Derby
---
This was as unpredictable a Derby as its build-up had suggested we should expect. Four and a half lengths behind an unlikely public gamble was 50-1 shot Mojo Star, still without a win following three second-place efforts but by a country mile the best maiden in training. One place back in third was Hurricane Lane, another member of Appleby's squad and, like the winner, broken in by Kirby at his Vicarage Farm pre-training yard near Newmarket.
"It's mad, it's crazy," said Kirby. "What goes around comes around."
There was no malice in his words, just a sense of incredulity that this had happened, perhaps understandably. His mount, although utterly gorgeous, was his trainer's third-string candidate. He had won only one of his previous four races and took on the biggest challenge of his young life having been trumped in two Derby trials. He looked a somewhat unlikely victor.
Even Appleby seemed to agree. He had contemplated keeping Adayar at home until Royal Ascot, reasoning that the more demanding stamina test of the Queen's Vase would help an animal he considered more naturally suited to the St Leger. Sheikh Mohammed convinced him otherwise. Those who forced the colt's odds to 16-1 from 40-1 evidently shared the owner's positivity.
Had he waited for Ascot, Adayar would have been following in the footsteps of his father. Ten years ago Sir Henry Cecil was urged by many to let run Frankel in the Derby. He felt it was the wrong thing to do and plotted a different route. Now, finally, Frankel is a Derby winner courtesy of his new superstar son.
That thoroughbred proved massively superior to his ten rivals – the most fancied of which, Bolshoi Ballet, could manage only seventh – but he was matched in magnificence by Kirby, who bravely manoeuvred his mount into a gap between Gear Up and the fence just under three furlongs from home. From that moment onwards, there was only one Derby winner.
"There was just enough room up the rail," said Kirby, tasting British Classic glory for the first time. "I thought I needed to get in or get out. I knew I had to make a decision, so I went in. Luckily the horse was brave enough to go through the gap and then he galloped up to the line. This will be a day I'll never forget."
It was also a day whose glorious outcome was only made possible by Kirby's midweek reverse.
"It can all be said now," he declared. "I was asked to ride John Leeper, which was an exciting moment. Five minutes later Charlie rang and asked me to ride this lad. I told him I was sorry but I had just committed myself to John Leeper. I'm a man of my word and I had put my name to him.
"Losing the ride on John Leeper has worked out great! You wouldn't have wanted to be around me for the first hour after it happened but I got over it and, luckily, I spoke with Charlie relatively quickly. He had his jockey booked, and that was the champion jockey, but he was kind enough to let me ride the horse. Full credit to him. He's a great trainer, a great man, a great father and I can't thank him enough."
Kirby was grateful. His colleagues were delighted and left the weighing room to applaud him into Epsom's hallowed winner's circle.
"Adam is a huge part of the team and has been with us since I started training," said Appleby, who coached Masar to triumph in 2018.
"I have to acknowledge Oisin as well. He was very professional. As soon as he picked the phone up, he said: 'I know what you're going to say, Charlie, and I understand.' I have to say a big thanks to Oisin. He's a true sportsman."
While dishing out plaudits, Appleby heaped plenty on his boss.
"I had Adayar down as more of a staying horse," he admitted. "Thankfully, Sheikh Mohammed put me straight and said: 'No, Charlie, there's only one Derby – you need to keep him in the Derby.'"
As a result, Adayar is a Derby winner. So is Adam Kirby.
"I'm not really a person to get overly excited about things but that was a real buzz," the rider said.
"I hope the kids are watching. People call their daddy an all-weather jockey. He's not an all-weather jockey. I'm good on the all-weather because I ride on the all-weather and get horses with chances on the all-weather. You can't win these big races unless you're in them, so it's great to pick up a ride like this and win.
"To be able to ride class horses when you're just a run-of-the-mill jockey, and to then get a chance to deliver on a big day, is a marvellous feeling."
Not a run-of-the-mill jockey nor an all-weather jockey. Kirby, in the most unlikely but wonderful circumstances, is the jockey who just won the Derby.
Read more on the Derby:
'The most impressive winner since Golden Horn' - our experts' Derby assessments
The dramatic moment when Adam Kirby and brave Adayar secured Derby glory
All-weather to all-conquering: Kirby rises to occasion to become a Derby hero (Members' Club)
O'Brien at a loss over Bolshoi Ballet's defeat following 'lifeless' display (Members' Club)
---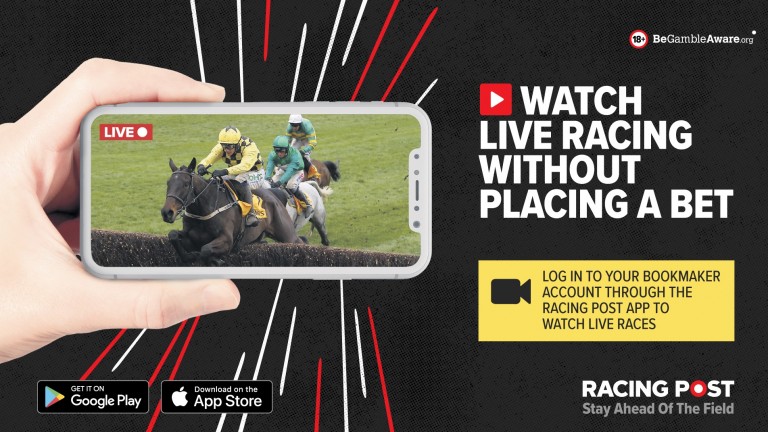 Watch live races through the Racing Post. Log in to your bookmaker account and look on the racecards for eligible races. Click the red 'Watch live now' icon and they're off! Find out how here
---
To be able to ride class horses when you're just a run-of-the-mill jockey, and to then get a chance to deliver on a big day, is a marvellous feeling