Can Presenting Percy win the Gold Cup after just one run over hurdles?
It is one of the major talking points of this year's festival, can Presenting Percy win having not run over fences since the RSA Chase at Cheltenham last year?
Henrietta Knight was the last trainer accused of wrapping a stable star in cotton wool in the build up to the festival, with Best Mate running three times before his first Gold Cup and just twice en route to both defences, so she is better placed than most to answer.
"We used to get a terrible bollocking for what people said was wrapping him in cotton wool, but look, it paid off," she said on Sunday. "If you look at Presenting Percy, he's different again. I suppose you could say they've taken it to the extreme."
Does Knight think the eight-year-old can win the race she claimed three times with Best Mate?
"In my opinion, and that's all it is, I can't see it," she answered. "I can't see how a horse can win a Gold Cup without having run in a steeplechase for the season – especially one stepping out of novice company."
It is not just a case of the fact they jump at a different speed in open company, it takes a run or two to deliver a peak performance. As the table below shows, however, that number has changed dramatically since Best Mate.
From 1988 to 2001, Gold Cup winners arrived at Cheltenham with an average of 3.85 runs to their name that season. Since Best Mate arrived on the scene they have averaged more than a run less at 2.76.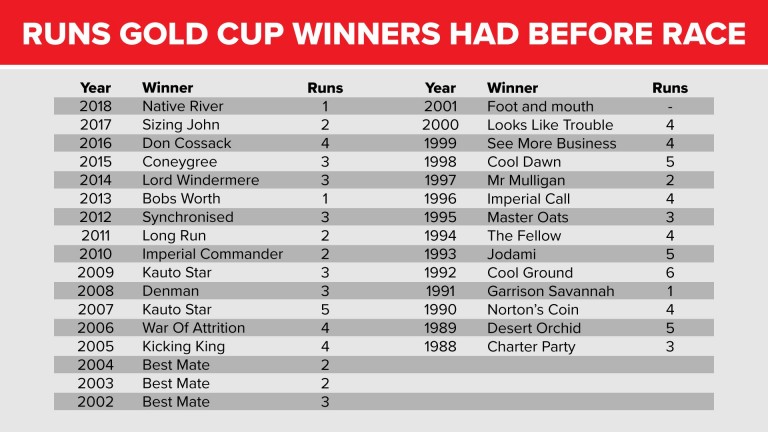 For all Knight was criticised at the time, she has indelibly changed the way Gold Cup contenders are prepared.
Of the runners in this year's field priced 33-1 or shorter, Clan Des Obeaux, Road To Respect, Monalee and Shattered Love have all run three times. Native River, Kemboy, Bellshill, Thistlecrack, Might Bite and Anibale Fly have run twice and Presenting Percy and Al Boum Photo just once.
Frodon and Elegant Escape are the only two horses to have run four times and they both started the season in handicap company.
The days of the likes of Desert Orchid, Cool Ground, Jodami and Cool Dawn running five or six times in the build up are long gone – Kauto Star, in 2007, is the only Gold Cup winner since Best Mate to have run more than four times. Knight knows why.
"The Gold Cup is like an Olympic final. It takes a hell of a lot out of them and the question has always been to run before or not, but you have to leave them enough time if you want them to be spot on and firing," she explained. "You don't want to take the edge off them.
"You wouldn't get Olympic athletes having a really hard race before the biggest event of their career, and it's the same with horses. So much can go wrong and it's not wrapping them in cotton wool, we'd just get him as well as we possibly could and try to keep him there.
"A lot have copied since, the likes of Paul Nicholls and many others, and people always criticised us for not running at Newbury's trials day, but I always felt it was too close.
"When the best take each other on it takes them a lot longer to recover as they give each other a much harder race; it's why we avoided handicaps as we didn't want to dampen his ardour.
"When you have a goal you aim for it and everything has to revolve around the Gold Cup."
---
Did you know you can bet via the Racing Post mobile app/website? Simply sign in with your favourite bookmaker via the Accounts button and then bet direct from our racecards
---
If you look at Presenting Percy, he's different again. I suppose you could say they've taken it to the extreme