'Dream is still alive' - Dettori eyes fourth Gold Cup as Stradivarius sparkles
Frankie Dettori captured the moment perfectly as he slipped his saddle from the back of Stradivarius after a heartwarming victory in the Group 3 Longines Sagaro Stakes.
"The dream is still alive," said the beaming jockey, his sights set firmly on emulating Yeats and winning a fourth Ascot Gold Cup in June.
He may be the dominant stayer of his generation, but after coming up short in the Prix de l'Arc de Triomphe and getting stuck in the mud on British Champions Day in October, Stradivarius had questions to answer on his first run as a seven-year-old, and answer he did in emphatic fashion under Dettori.
"I was scared to give those fit horses too much rope and I was three lengths behind turning for home, so I asked him to lay up and the next minute I'm on top of them," said the winning rider.
"I thought s**t! I'm in front far too soon now, but what can you do?"

That is exactly what sets Bjorn Nielsen's pride and joy apart from his peers. While the rest grind it out over extreme distances, Stradivarius glides through gears the others simply don't possess.

"It's sensational to ride a stayer with a turn of foot," said Dettori. "When Yeats won four Gold Cups you thought no one would ever get near it and now the dream is still alive."

Despite last season ending on a low, Dettori said he was confident Stradivarius had lost none of his spark based on his behaviour at home.
"He's a character," he added. "He wants to cover everything in the morning! His homework has been fantastic and as good as any other season.
"We tried the Arc route and things didn't go his way, but this is his bread and butter and I love riding him."
Winning co-trainer John Gosden was also suitably impressed and can see no reason to ask Stradivarius to run again before he bids for a fourth Gold Cup on June 17.
"The old horse has his enthusiasm still," was Gosden's verdict. "His last two races were on bottomless ground and he didn't really like either of them. I ruled those two races out and had every confidence the enthusiasm was still there.
"He made up four lengths in half a furlong and hit the front too soon, and that's a good sign. He's got the speed but he likes the Gold Cup distance and I think he'll just come straight back here for the Gold Cup now."
Paddy Power shaved his odds to 6-4 (from 7-4) for the Gold Cup, although Gosden revealed the progress of second-favourite Subjectivist had caught his attention.
"The Gold Cup will be tough because there's a certain horse of Mark Johnston's who has come on to the scene who will give us plenty to race against," said Gosden, "but as long as Stradivarius trains well between now and the Gold Cup, there's no reason why he won't put up one of his vintage performances."
Gosden had the racecourse vet take a look at a small nick on the back of the winner's hind leg but the trainer was happy to report that it appeared to be nothing more than a superficial injury.
---
Sagaro Stakes result, analysis and replay
---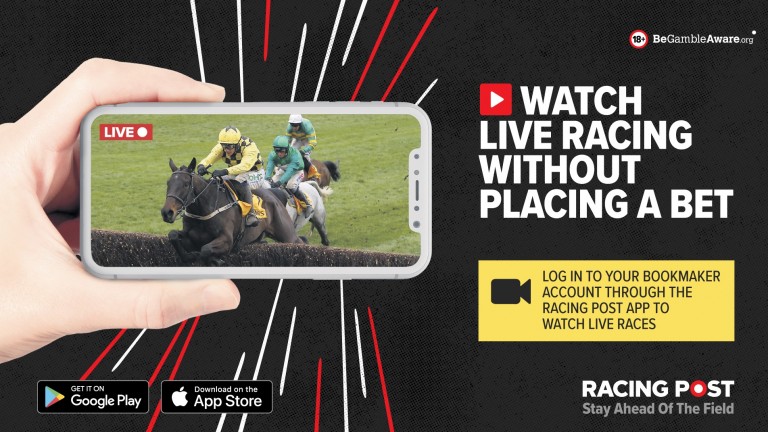 Watch live races through the Racing Post. Log in to your bookmaker account and look on the racecards for eligible races. Click the red 'Watch live now' icon and they're off! Find out how here
---
He wants to cover everything in the morning! His homework has been fantastic and as good as any other season