All eyes on Musselburgh as racing's new weekend offering cranks into life
Something new starts today with the £600,000 Sky Bet Sunday Series bringing some glitz, glamour, intrigue and much-needed prize-money to the weekend's action.
Importantly it has attracted the ITV4 cameras, which were crucial to getting the initiative off the ground and with seven races broadcast live, the hope is the series can help boost the sport.
Since its introduction in 1992, when much was promised, Sunday racing has been allowed to drift its way to a largely bargain bucket offering of moderate racing for moderate horses and minimal prize-money.
It made for a long working week for staff, who work 13 days out of 14, with the National Association of Racing Staff (Nars) chief executive George McGrath revealing a lot of his membership did not want to support the initiative, which comes with a later finish to accommodate the terrestrial coverage.
"The fact that they're well-sponsored races which have gone from the miserable 40-odd-thousand-pound Sunday fixture to a £200,000 card, plus the prize for the winningmost yard at the end of it and a £250 best-turned-out prize, just about swung it," he said.
The sport's other groups were in agreement, with National Trainers Federation (NTF) president Emma Lavelle stating only "serious pots" could justify the impact on the sport's already stretched workforce.
Therein lies the solution the series offers. There are three £200,000 cards at Musselburgh, Haydock (August 8) and Sandown (August 22), with a further £200,000 in potential bonuses. Those numbers are the type the sport simply could not turn down.
Last summer's Covid-revised calendar was the catalyst, proving good-quality racing on Sundays could attract a healthy television audience and produce strong betting turnover.
Naturally the racecourses, broadcasters, bookmakers and governing body took note and, after consulting the sport's key stakeholders, the concept was born to improve the quality, prize-money and attractiveness of Sunday racing.
Given Sunday is one of only two days in the week when working families and most working adults absolutely have the opportunity to engage with the sport you could argue they have been criminally underutilised – until now.
Concessions should come elsewhere, but the sport will benefit from the money pumped in and, should the series prove a success, the increased return via the levy and the additional terrestrial coverage would benefit in the medium to long term.
But what about today? Musselburgh's seven-race card kicks off at 3.55 with a maiden for unraced horses followed by six 0-80 or 0-85 handicaps over various distances. It all means that prize-money is getting to horses that do not usually get to race for such riches.
Take Jim Goldie's seven-year-old Oriental Lilly, who runs in the mile fillies' handicap at 5.45. She has raced 75 times for nine wins. Yet she has competed for this sort of money, with £30,600 guaranteed and £15,462 for first, on just three occasions.
All of those were in super competitive handicaps in which she has finished no better than 12th. Here just seven go to post. That is the opportunity that has been created. Let's hope it works.
---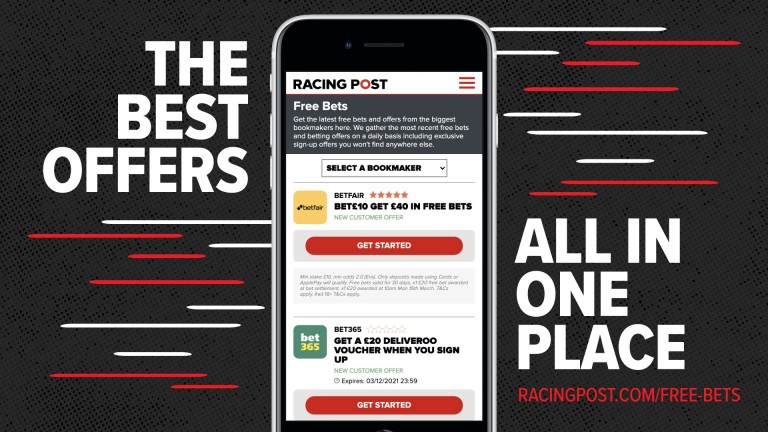 For all our exclusive free bet offers and must-have daily promotions click the free bets button or go to racingpost.com/freebets
---
Since its introduction in 1992, when much was promised, Sunday racing has been allowed to tumbleweed