Performance metrics: Champion Stakes is the perfect fit for this colt
While punters need to be careful about finding only the figures that suit their hunches, it is undoubtedly affirming when you see stats that back up a visual impression.
That is the case with Mishriff. His striding data falls into line with what those who think he is right to be running over 1m2f, rather than 1m4f, have inferred from his blistering finishes in France.
In the Prix du Jockey Club, Mishriff was judged manually to have gone at 2.24 strides per second. The revs are bordering on too high for 1m4f, but they are just right for the Champion Stakes trip. It ties in well with earlier figures recorded by Total Performance Data, which had him at nearing 2.3 strides/second, albeit in steadily run races.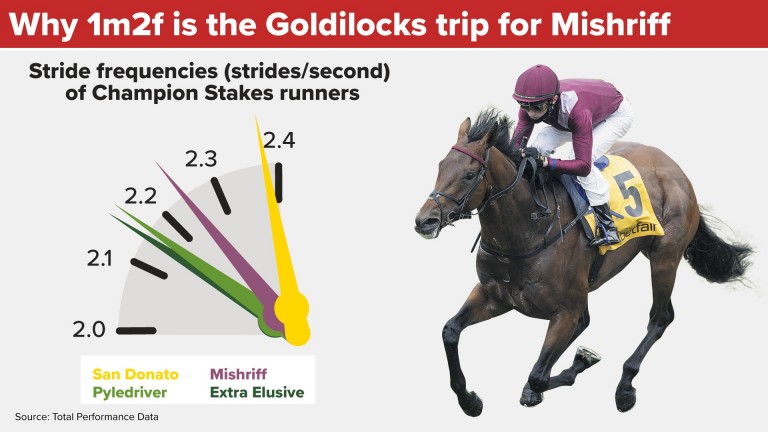 To demonstrate the sweet spot Mishriff falls into, we need only look at certain rivals in the Champion Stakes. It is notable that Pyledriver strides at the rate of a 1m4f-plus horse, given he is dropping back in trip from the St Leger. The long, slow stride that Extra Elusive boasts is also significant and is the basis for recommending that Hollie Doyle rides him boldly. He would be outpaced in a muddling race.
At the other extreme is San Donato, who strides at nearly 2.4 strides/second. It is not surprising that most of his form is over shorter, while the emphasis was on speed when he ran reasonably over 1m2f last time.
Even where horses confound the expectations of stride frequency, there is often something to be learned. Extra Elusive or Pyledriver would be best suited by an even gallop, while if San Donato is to outrun his odds they will probably have to crawl. Best of all is to have a horse whose cadence is just right for the trip. That would very much apply to Mishriff.
Qipco Champion Stakes card and betting
---
All data courtesy of Total Performance Data, in conjunction with Longines Swiss Timing from all meetings from Ascot
---
His striding data falls into line with what those who think he is right to be running over 1m2f have inferred from his blistering finishes in France