'Hours and hours wasted' - the punters already affected by affordability checks
Bill Barber talks to bettors and bookmakers about a hugely contentious issue
The prospect of affordability checks being introduced as a consequence of the government's gambling review has been causing concern for bookmakers and Britain's racing industry alike – but the reality is that they are already in place.
Reformers have called for the government to introduce blanket checks set at a level as low as a net loss of £100 in one month as part of the review.
Some of the financial modelling carried out by British racing's leadership has estimated that the sport's finances could be hit by more than £100 million a year by intrusive affordability checks which either cause punters to stop betting or drive them to the black market.
While the checks already introduced by bookmakers vary between different operators and groups, concerns that punters will be turned off by requests for personal financial details are already coming to pass.
Motor dealer and racehorse owner Simon Prout, who describes himself as a "serious punter", says he has "wasted hours and hours of my life" dealing with affordability checks in order to have a bet.
"I've been asked for bank statements, I've been asked for company accounts, I've been asked for my accountant to produce a letter authenticating the company accounts, copies of tax returns," Prout says.
"I've sent bank statements in and then they've come up with all sorts of questions: 'Why are you paying this to this?'
"If it wasn't for the fact that I like to have a bet I'd say stick the lot of you and I'm sure at the end of the day some people will because it's too much bloody hassle."
Punter and Racing TV analyst Steve Mellish says his ability to bet with one operator has been affected by his decision not to provide them with proof of earnings when he was contacted by the firm last summer.
"They weren't at all surprised and they certainly said that had been the reaction of most people," Mellish adds. "I really don't think most people are going to be prepared to give too many personal details out.
"Very few people are going to be willing to prove to bookmakers that they earn sufficient amounts. It's cloud cuckoo land if they think many people will do that.
"[If it's] the worst-case scenario of £100 a month, no-one's going to do it. The further away you get from that I can see the possibility of some people thinking, 'Okay, that's fair'. But I just think most people will see it as an infringement of privacy and they won't be prepared to do it."
Mellish's fellow Racing TV pundit Dave Nevison no longer uses the Betfair exchange having refused to give personal details after having his account suspended upon making a large deposit to hedge the last leg of an accumulator.
He says: "They asked me to apply to have the account reopened by giving various bank statements and proof of my funds over quite a period of time and I just said no, I am not prepared to do that. It's an invasion of privacy."
Nevison says Betfair contacted him subsequently saying they were happy to reopen the account if he provided photographic ID.
"I said I'm really sorry but I never thought what I looked like has actually impacted my credibility or my ability to handle risk," he adds. "Having a bet is not, as far as I'm concerned, something that requires this sort of level of personal scrutiny."
Mellish describes the potential impact of affordability checks on British racing as "disastrous".
He adds: "It is a real worry. In terms of the competing countries, our prize-money is appalling and given our income is based to a large degree on gambling, it is going to have a huge effect.
"I think we will be sleepwalking into a disaster basically in the worst case. Whatever they do is going to have a negative effect and the extent will be how draconian the measures recommended are."
Nevison adds: "I really do not think these affordability checks will do anything at all, apart from deter people who contribute a lot to sports like racing."
Prout, whose horse Tommie Beau won at Plumpton at the start of the month, believes such checks could have other damaging effects for racing.
"It will be no good for the sport whatsoever and it will take out a level of owner, of that there is no doubt," he argues. "Having a bet is part of the experience, as is having a bet on other horses in the stable because rightly or wrongly you think you have got a bit of an edge.
"Something is going to have to happen because eventually people will just get bored with it, either gamble with unlicensed bookmakers which is no good to anybody and nothing goes back into the sport, or give up altogether."
Prout believes one solution could be one independent body to assess affordability with access to a credit checking agency.
"I would have said a very sensible idea would be to go to some independent operation that has got access to things like Experian to start with," he says. "At the moment people are asking all sorts of things and you get the replies and quite frankly they don't understand what they are looking at."
Mellish believes that operators already have the information to deal with the issue.
"The bookmakers already have in place, to the penny, how we are getting on," he says. "They can spot people who are regularly losing significant funds. That's a much better way of dealing with it: you contact people and say we are worried about the amounts you are losing.
"If they are then prepared to prove they can afford it, that's fine, but it shouldn't be a blanket thing for everybody when there are already things in place which enable bookmakers to control it."
The Racing Post reported 12 months ago on the affordability checks that were being introduced by operators shortly after a Gambling Commission consultation on customer interaction had closed and while the gambling review call for evidence was ongoing.
The commission said on Thursday it was to consult again on the subject of affordability in the coming months.
Nevertheless, the industry regulator's position on the need for operators to consider affordability is very clear, although the regulator's advice falls short of setting out specific instructions. As a result, gambling companies have created their own programmes to tackle the issue.
Among them is Flutter Entertainment, parent company of Paddy Power, Sky Bet and Betfair, who last year unveiled what it called its "affordability triple step" which it claimed could be a "critical piece of the puzzle in reducing gambling harm".
The approach looks for financial red flags such as bankruptcies when a customer registers an account, moves on to monitoring behaviour in the second phase, before the introduction of a "backstop" should intervention be necessary as the third step.
Flutter subsequently introduced a £500 per month net deposit limit for all customers under the age of 25.
Conor Grant, chief executive of Flutter's UK and Ireland division, believes the important aspect of the triple step is that it is a risk-based approach.
"We think this is fundamental to affordability because not everyone's circumstances are the same," he says. "That is such an important point as we approach this, and this is where blanket measures are a blunt instrument and will fail to address the root of the problem that we are all trying to tackle which is gambling harm."
Grant argues that the environment the sector operates in has changed and that examples of customers losing unaffordable sums has meant action has to be taken.
"Let's be clear, we have got to recognise that there have been mistakes made in the past and we've got to stop this," he says. "The industry has suffered from a reputational perspective and we have to take the right steps."
Grant says that some customers appreciate the triple step approach while others find it an unnecessary intervention.
"Fundamentally we think this is the right thing to do," he says. "We have been working on this for over a year and we are learning how to continue to improve the customer experience.
"Operators have been doing this, we've all been implementing it slightly differently and I think the number one thing that we all want to see out of the review is that it's based on a level playing field."
However, Grant admits: "Absolutely it's a new departure for customers and some customers won't entertain it. We are seeing it."
Grant describes himself as a racing fan and believes that proposals for blanket affordability checks at levels as low as £100 a month would damage the sport.
"I am a big fan of racing, I am in syndicates and I love the sport," he says. "I think it will have a consequence for racing.
"I think the big question is why is £100 an appropriate level? That's the key question. Is that really going to stop gambling disorder and gambling harm? I am not sure it is.
"What it is going to do is interfere in millions of customers' enjoyment and it doesn't strike the right balance. I think that's a key part and I think there will be huge unintended consequences. I think ultimately it doesn't get us to the goal here, which is we want to reduce gambling disorder."
Solving the issue of affordability checks is clearly not a simple task, but there will be many across racing and betting who hope the government is aware of what the consequences of their actions could be.
---
Read more on this subject:
Gambling Commission to launch consultation on controversial affordability checks
MP concerned about 'confusing situation' of government's gambling review
Minister acknowledges racing's serious concerns over affordability checks
'It would be a massive concern' – trainers add voice to gambling review fears
---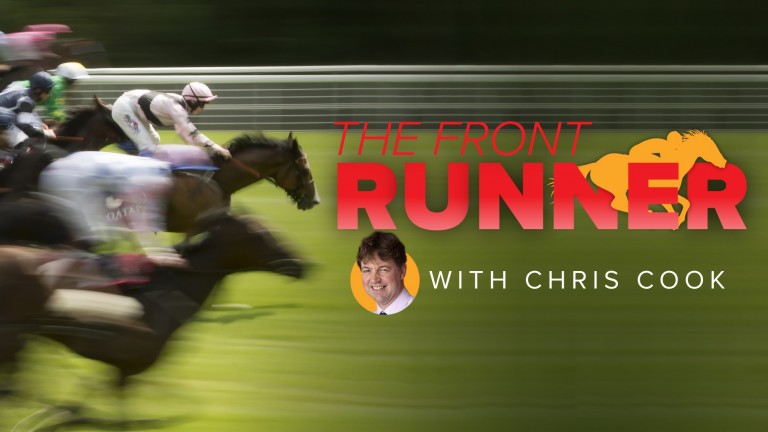 The Front Runner is our latest email newsletter available exclusively to Members' Club Ultimate subscribers. Chris Cook, a four-time Racing Reporter of the Year award winner, provides his take on the day's biggest stories and tips for the upcoming racing every morning from Monday to Friday
---
It will be no good for the sport whatsoever and it will take out a level of owner, of that there is no doubt