Best two-handed in feature as he aims to be dancing on St Moritz ice once again
John Best, who would have settled for one winner at the start of his Swiss sojourn, has already been dancing on ice after striking last week and hopes to sign off in style by firing two bullets at St Moritz's biggest race on Sunday.

Best, who trains in Kent, saw Berrahri score last week and fields him and Eddystone Rock in the Longines 79th Grosser Preis Von St Moritz, the local Group 2 that brings a close to the three-week meeting.

The mount of Robert Havlin, Eddystone Rock is rated 20lb better than his stablemate, who will be ridden by Dayverson de Barros.

"It's a very tough race, as tough as it's probably ever been," said Best.

"We ran Eddystone Rock on the first weekend and he ended up too far back early on and never got into it, but he's been training well since then.

"We missed last weekend with him deliberately so hopefully he's spot on for this.

"Berrahri has run both weekends in the two trial races, not beaten very far the first time and winning very easily last weekend. They were over nine furlongs and it's ten furlongs tomorrow, which should help him. The only concern I have is if we're asking too much of him having already had two runs out here, but he does love it so much so we've got to take our chance."
Best is struggling to split the pair, but added: "I don't bet, but if you said which would do best of the two, I'd say Berrahri, almost certainly, but if I was having a bet I'd back Eddystone Rock because he's going to be 40-1 or 50-1 and if he reproduces anything like what he does in England he should win or go very close. He just hasn't done it on the track yet, whereas Berrahri loves it."
The trainer's third runner on the bill is Malt Teaser, who contests the Grosser Preis Rennbahn Berlin Hoppegarten under Havlin. He has been a slow starter on his two St Moritz outings this month.
Best said: "If he jumps out of the stalls I think he'll go okay. He has to drop back to a mile, from a mile-one, and he's fine in himself, but he can't afford to miss the kick like on the last two weekends."
He added: "I always think if we can come out here and have one winner we've done well, but the main aim has got to be the big race and we'll do everything we can to win - that's the one we really want."
Last year's meeting was clouded by the career-ending injury suffered by Classic-winning jockey George Baker, but Best has given this year's meeting his backing.
"They've had no problems and the conditions have been perfect," he said.
"I've not seen one horse trip in all of the races I've seen. The main thing is they're checking the track so carefully now, and if there are any doubts they'll section areas off or call the races off."
---
Members' Club Ultimate subscribers can read our guide to Nicky Henderson's festival team exclusively online the night before publication in the paper. Not a member? Enjoy your first month free when you subscribe using promo code FREETRIAL. Find out more here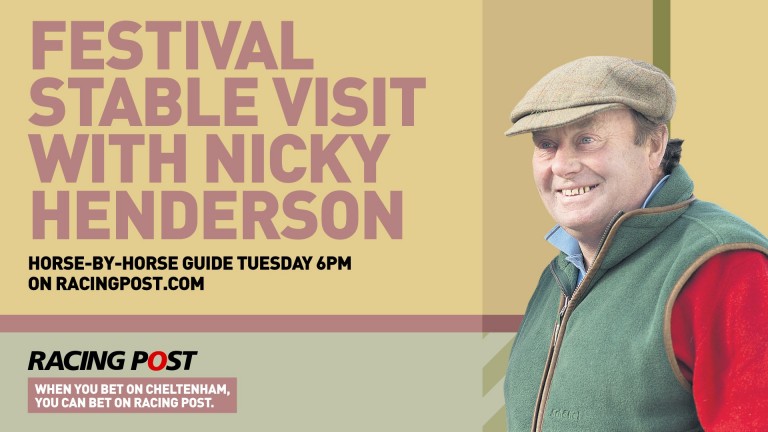 ---
We missed last weekend with him deliberately so hopefully he's spot on for this