Gordon Lord Byron 'in very good form' for bid to win race named in his honour
3.50 Haydock
Gordon Lord Byron EBF Conditions Stakes | 7f, 3yo | RTV
Gordon Lord Byron will make his 103rd appearance in a race named after him at Haydock on Thursday and Tom Hogan has even booked Frankie Dettori for the occasion.
Dettori has never ridden the evergreen 11-year-old and will become the 25th different jockey to team up with the veteran when he seeks his 17th win in the Gordon Lord Byron EBF Conditions Stakes (3.50).
Hogan has heaped praise on Haydock for the initiative and hopes he can repay them with a win. "It's a very kind gesture from Haydock to put on a conditions race in his name," said Hogan. "It's something we don't have in Ireland and we really do appreciate it."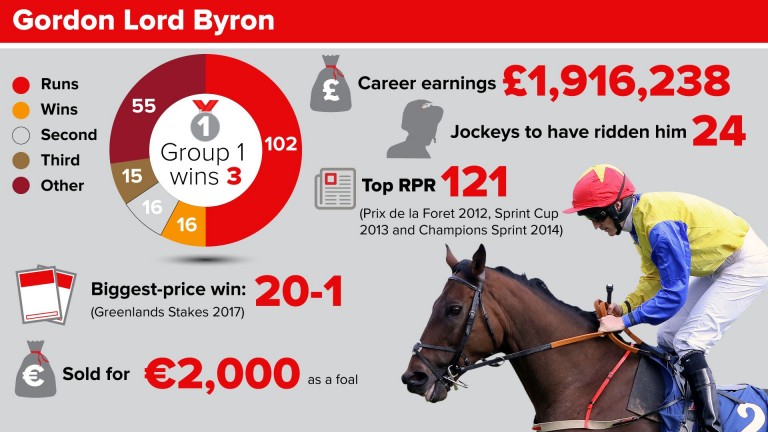 Gordon Lord Byron won the Sprint Cup at Haydock in 2013 and finished runner-up in 2012 and 2014.
Hogan has enjoyed the trips to Haydock almost as much as Gordon Lord Byron and added: "The hospitality of Haydock has been wonderful over the years. The executive at the track are all very nice people and always made us feel welcome when we came over.
"Even when we were flying out to Hong Kong or somewhere like that with him from Manchester, we often stayed over at Haydock with him. Frankie has never ridden him – the horse is in very good form and the rider is in even better form. He will probably be more disappointed than me if he's beaten!"
---
For the freshest betting advice, based on latest going and market conditions, don't miss the Live Tipster every afternoon. Just click Raceday Live at racingpost.com or the mobile app
---
It's a very kind gesture from Haydock to put on a conditions race in his name