Palace Pier and Love prove a triumph for the popular vote at Royal Ascot
Success for the two most selected horses in the Tote Ten To Follow competition made it a memorable Royal Ascot for players.
Palace Pier set the ball rolling in the Queen Anne, landing 52.21 points for 80 per cent of stables. Not far behind in popularity, Love, representing 74 per cent of players, showed grit on her return to bag the Prince of Wales's for 52.76 points.
However, there was no fourth Gold Cup for the game's fifth most picked horse, Stradivarius, as Subjectivist romped away with the week's feature and 58.55 points for 12.2 per cent of stables.
A Battaash victory in the King's Stand would have been well received, but instead Oxted scored at the minimum trip for the first time, nabbing 56.25 points for 6.2 per cent of stables.
The Commonwealth Cup drama in the stewards' room brought 57.75 points to the 3.1 per cent of teams who picked Campanelle and, in the final bonus race, Dream Of Dreams, second twice in the Diamond Jubilee, at last had his day, picking up 54.35 points for 7.6 per cent of stables.
Table-topper Poetic Flare reinforced his position with another tough display in the St James's Palace, landing 31.5 points for 3.2 per cent of teams.
Alcohol Free (11 per cent of stables, 32.9 points) in the Coronation, Alenquer (0.6 per cent, 23.11) in the King Edward VII and Wonderful Tonight (1.5 per cent, 27.2) in the Hardwicke were notable scorers, while Joan Of Arc completed Aidan O'Brien's Classic collection in the Prix de Diane (0.9 per cent, 33.5).
In the Ascot mini game, two stables finished on the same points so the winner was decided by the earliest submitted stable and Come On You Blues collected the £3,228.75 first prize.
LEADING HORSES
1 Poetic Flare 117.30 points
2 Snowfall 85.20
3 Palace Pier 79.53
4 Adayar 74.50
5 Empress Josephine 70.40
6 Dream Of Dreams 67.45
7 Joan Of Arc 67.00
8 Mother Earth 64.15
9 St Mark's Basilica 63.70
10 Mac Swiney 61.40
LEADERBOARD
1 Riffiffi No.17 457.34 points
2 Arcadians 23 425.54
3 Wildfield Two 423.08
4 waynespink 15 418.79
5 Motivator 10 416.89
6 MK's 16 410.24
7 NW no hopers 17 404.43
8 MK's 18 401.29
9 Fiveplusfourplusthree 398.93
10 NW no hopers 29 397.68
LEADING STABLE - Riffiffi No.17
Poetic Flare 117.30 points
Palace Pier 79.53
Adayar 74.50
Dream Of Dreams 67.45
Campanelle 57.75
Love 52.76
Vadream 8.05
Indigo Girl 0
Mishriff 0
Mogul 0
---
Read more on the Tote Ten To Follow:
Snowfall brings a Tote Ten To Follow points windfall for a lucky few forecasters
Hurricane Lane's Dante display raises fans' hopes of big points haul to come
Bolger and O'Brien duopoly steers direction of early season bonus points
Guineas double gives top teams a flying start to Flat competition
---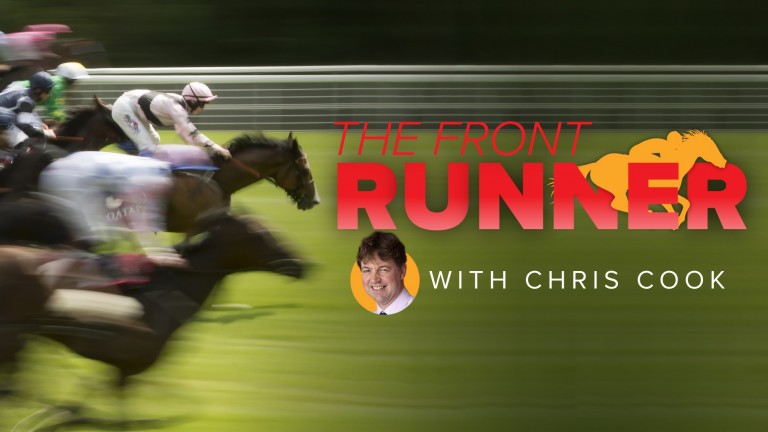 The Front Runner is our latest email newsletter available exclusively to Members' Club Ultimate subscribers. Chris Cook, a three-time Racing Reporter of the Year award winner, provides his take on the day's biggest stories and tips for the upcoming racing every morning from Monday to Friday
---
Table-topper Poetic Flare reinforced his position with another tough display in the St James's Palace