'I was in a dark place but was enticed back with unfinished business'
To me, this was never even a dream. It was so far from what I ever thought could happen in my life. To be in Cheltenham, riding the winner of a Champion Hurdle, it's so far removed from anything I ever thought could be possible. Maybe there's a lesson in that for everyone out there
Rachael Blackmore describes her emotions after becoming the first female jockey to win the Champion Hurdle on Honeysuckle
Read the full race report here
The way he finished the race today he looked as good as any of them. You'd have to think that was a Vautour-like performance, wouldn't you? The way he destroyed them up the hill was fantastic
Willie Mullins speaks about his Supreme Novices' Hurdle winner Appreciate It in glowing terms
Read the full report here
I was in a dark place 18 months after winning the Grand National and walked away from the sport I love but I was enticed back with unfinished business. It's been a long road
Ryan Mania reacts to his first festival winner aboard Vintage Clouds for his loyal boss and friend Sue Smith
Read the full report here
Vintage doesn't know what all the fuss is about. #SSRacing pic.twitter.com/jiFmazBgyG

— Sue Smith Racing (@suesmithracing) March 16, 2021
It's a funny, old game. I was on the floor after Abacadabras fell. That's racing, isn't it? One minute you're on the floor and the next you're on top of the world. It's magic, just magic
Denise 'Sneezy' Foster reflects on the highs and lows of racing as 35 minutes after Abacadabras' fall in the Champion Hurdle, she won the Mares' Hurdle
Read the full report here
You couldn't put into words what that means. What a legend. What a bloody legend
Eddie O'Leary displays his pride in Cross Country winner Tiger Roll
Read the full report here
That was awesome. The first thing I did when Rachael came back in was lift the number cloth and see if the lead bag was in there because it looked like Allaho was just carrying Rachael around there. I was as gobsmacked as anyone else watching it
Willie Mullins gives his thoughts on Allaho's blistering performance in the Ryanair Chase
Read the full report here
To save me replying to everyone who's WhatsApp'd me...

YES - I backed it

NO - it's not my horse

YES - the wife is demanding all the winnings #winnerwinner pic.twitter.com/BztfPZk0Ik

— James Milner (@JamesMilner) March 18, 2021
I can't even comprehend being leading jockey at Cheltenham – that's crazy stuff. It's been brilliant. Henry de Bromhead is an incredible trainer. I'm just part of that team and getting on those horses
Rachael Blackmore reflects on an amazing week, which saw her create history in becoming the first woman to be leading rider at the Cheltenham Festival
Read the full piece here
The doors were opened for me by the likes of Katie Walsh and Nina Carberry, and plenty gone before them. Their achievements allowed me to go into a weigh room and go into an industry where the stigma was gone
Blackmore thanks the other female pioneers of race-riding, who were her inspirations
Read the full piece here
I can't tell you what it means to win it – or just to win any of these races. I feel like I'm going to wake up and it will be Monday evening
Henry de Bromhead on a monumental week for his stable following Minella Indo's Gold Cup success
Read the full report here
PTKO is home...QMCC winner 2021@AidanColeman @jackcarty82 pic.twitter.com/DxleOoJImZ

— Henry de Bromhead (@HenrydeBromhead) March 19, 2021
She heard them coming. She had two horses either side coming up the hill and they just weren't getting past . . . If you could bottle what she has I would never have to ride again because I could sell it. I'd be a rich man
Aidan Coleman explains the personality of Put The Kettle On following the mare's gutsy Champion Chase victory
Read the full report here
I think I speak for all of us involved that it has been an absolute pleasure to own, train, ride, groom, shoe and nurse such an amazing animal
Jedd O'Keeffe pays tribute to stable star Sam Spinner, winner of the 2-17 Long Walk Hurdle, following his retirement after being pulled up in the Stayers' Hurdle
Read the full piece here
So after celebrations last night, 4 hours sleep, an hours walk at 5am I've decided to take a partial cash out offer of 300 Envoi / 250 the field. With other bets my position on the race is £322,000 Envoi or £250,000 the field. Thanks to @BetfairBarry @Betfair # ComeOnEnvoi!

— Paul Dean (@istabraq_king) March 18, 2021
I've been a bag of nerves all day. I started crying when he was coming up the run-in! It's an unbelievable feeling. I promise you, I'm in pieces right now!
Will Biddick expresses his emotions after seeing Porlock Bay land the St James's Place Hunters' Chase
Read the Hunters' Chase report here
I got quite emotional pulling up. I actually stopped riding two years ago because it just wasn't happening for me. I had a couple of injuries and I got kind of into a low place, and if it wasn't for my family, my girlfriend, friends and Peter [Fahey, winning trainer], I wouldn't be back riding. In my head I had given up
Kevin Sexton speaks candidly about his journey back to the saddle after winning the County Hurdle on Belfast Banter
Read the full report here
---
More from the Quotes of the Week series:
'I only went racing as I had a free ticket - and I came away with £1.4 million'
'He's relentless. He keeps going every single day and clocks up miles and miles'
'I feel like one of those surfers on the Californian coast riding a giant wave'
'As a handicapper it's amazing how quickly you get used to being despised'
'I was going to be parachuted in like James Bond and land in the parade ring'
'That is shambolic. If you've backed those horses I apologise to you'
'All I could hear in my ear from the director was this uncontrollable laughter'
'You're called a lazy f***** for not getting up off your arse' - what they said
'Above all he was a true aristocrat, a true prince in everything he did'
'Her battle against this awful disease has been an inspiration to everyone'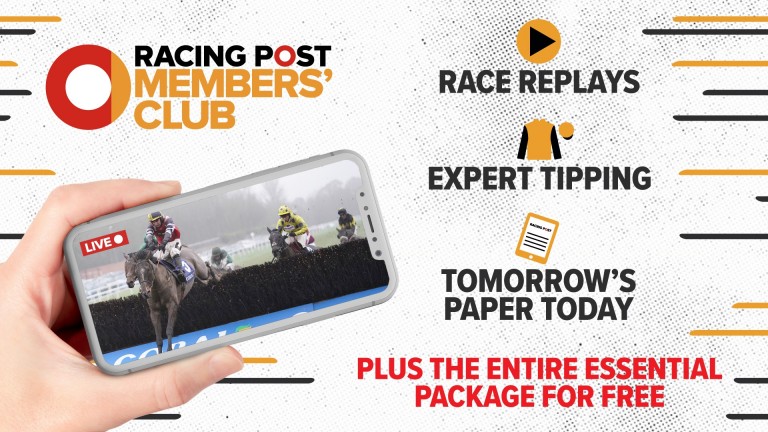 Members can click here to download the digital newspaper every evening from 9pm. Not a member? Click here to sign up and enjoy the digital newspaper every day.
---
If you could bottle what she has I would never have to ride again because I could sell it. I'd be a rich man