'The Dream Alliance story is so unlikely we had to make a Hollywood film of it'
David Carr talks to the Dream Horse director about a wonderful new racing film
Cometh the hour, cometh the film. Cinemas are now open. Racecourses are now open. Why not combine both experiences and treat yourself with a trip back to 2009?
With the timing of modern-day 'head waiter' Jamie Spencer at his finest, Dream Horse is arriving on the big screen at the perfect moment, bringing a message of hope emerging from darkness just as Britain – and the world – is doing the same.
Except, of course, it is actually a later arrival than even the much-maligned Spencer has ever managed on his worst days: this upbeat drama telling the story of Welsh Grand National winner Dream Alliance ought to have been out more than a year ago, only to have been stopped in its tracks by the pandemic.
"We were just gearing up to release it when the world shut down last year and it was heartbreaking," says director Euros Lyn, who is relieved that Warner Brothers had the patience to wait until his work could be seen where it was made to be shown.
"We wanted the racing sequences in particular to be epic and theatrical and they're always best enjoyed in a cinema, where you get a sense of the scale, and the majesty and the excitement of the horses is best represented," he says.
"There's also an epic quality to the emotional heart of the film and being in the cinema and yielding to this bigger thing that's in front of you is something that's impossible to do at home with all the distractions."
Lyn, known for his work on TV shows ranging from Sherlock and Doctor Who to Happy Valley and Last Tango In Halifax, does not claim to be a racing aficionado but does know a good story when he sees one – and the tale of Dream Alliance, the unlikely big-race winner bred for £300 by a syndicate of amateurs led by supermarket worker Jan Vokes, is a belter.
"I jumped at it because it feels like one of those universal stories that will always have resonance," the director says as he recalls being invited into the project by producer Katherine Butler.
"And it's about the community in which I grew up, the South Wales valleys, and that felt very important to me – to tell my story, if you like.
"The fairytale quality of his story – a horse raised on an allotment that goes on to be this incredible champion in the sport of kings – is so unlikely and almost impossible. For it to be true made it to be almost irresistible to be made into a Hollywood film like this."
Racing has quite a history on the silver screen, from National Velvet through Champions to Seabiscuit, and Lyn admits: "I'm a complete sucker for those films and I think it's largely that for the most part they're underdog movies, where we think that this horse has very little chance of doing anything but against all the odds he comes back and proves everybody wrong.
"I guess that's something about being Welsh as well, we're the underdogs, the small country that feels forgotten and neglected yet a country with a very big heart. That definitely speaks to me.
"I rewatched those films before we made this to try and crib how they went about shooting racing sequences that felt so authentic and real and to try to bring some of that into this film."
Horses do not read scripts, so getting them to recreate past races for the cameras is always hard – and Lyn and his team did not exactly make things easy for themselves with their ambition for Dream Horse.
"What was going to be different about this film was that we wanted to place the audience not with the jockey but with the horse," he says. "To put the audience in the middle of that experience and imagine what it would be like to be Dream Alliance, running in that race."
That meant calling in the experts, in this case The Devil's Horsemen, who provide the horses for Game Of Thrones and all the big films in the UK.
Every race featured in the film began life as a bunch of numbered plastic horses on a racecourse map, their course meticulously plotted through each two-furlong section in order to create a highly detailed plan for six days of intense shooting at Chepstow and Newbury in the spring of 2018.
Welfare was paramount: the height of the fences was lowered, horses – thoroughbreds bought for the job from Tim Vaughan's yard – were given rest days and the team kept an extremely careful eye on weather and ground conditions.
And if Dream Alliance seems to be finishing like a fresh horse, there is a reason.
Lyn reveals: "When the horse playing Dream needed to accelerate away from the pack, we'd do a switcheroo and bring out a fresh Dream from the stables to be sure that with fresh legs he'd win the race, as per script.
"The funniest part was the jockeys had to rehearse each section of the race but not on horseback, so they'd all be lined up in formation on foot and we'd do three or four rehearsals like that before we filmed it."
The hunt for realism extended to the commentary, with the familiar voices of John Hunt and Richard Hoiles heard calling them home.
"For a long time in the cutting room it was my voice doing a very poor impression of a racing commentator so we had those guys come and do their thing," Lyn says.
"I showed them a cut of the race and essentially they got to write their own script and did the commentary in their own style, so it feels real. It was a pleasure to work with them, they're such masters of drama – they're so brilliant at dramatising a race with their voice, they bring it to life."
Crowd scenes were filmed on actual racedays at Newbury, Aintree and Chepstow – once the courses got on board with what Lyn was trying to create.
"There was some nervousness because they wanted to know exactly how horseracing was depicted in the film, they wanted to understand this was a positive story," the director says.
"Once they realised this story was all about hope and optimism, they all came on board and we were very lucky to have been given so much access to be able to shoot at real race meetings."
Specialist knowledge can be handed in at the cinema door as there is no attempt to complicate matters with talk of handicap marks, going requirements and the like in a film that makes a virtue of racing's simplicity.
"In some respects, horseracing is very elemental," Lyn says. "There's a bunch of horses who start in the same place and one of them wins. Whether you've backed that horse or whether you've put your life and soul into raising it, there's an investment there – and once you've got that, what you care about in that race is incredibly intense.
"And there's something so elemental about human beings' relationship with the horse that goes back to the year dot and that connection is something we want to speak of in this film. Understanding Jan's relationship with the horse feels very important.
"Jan understood animals, she had a real flair and instinct and she took those elemental skills and applied them to horses and against all the odds produced this horse that became a champion. There's a simplicity to that which really speaks to people and is one of the reasons that this story has captured the imaginations of the world."
Dramatic licence allows for the odd change to reality but making a film based on a true story is very different to creating a work of fiction. Doctor Who is unlikely to get in touch to complain about how you have portrayed him but a Welsh National-winning owner might.
Lyn understood that and says: "From the very beginning Neil McKay, the writer, had spent a lot of time with Jan and Brian Vokes and Howard and Angela Davies, the heroes of our piece, and he got to know them very well, to understand what their true stories were.
"When I came on board I wanted to keep hold of that sense that we were honouring their lives, a part of their lives where they'd done this incredible thing. As a storyteller you have a huge responsibility. They will go to the cinema and see a version of themselves on screen – and their friends will see it – and we always want to be respectful to the truth of what they experienced, the truth of their lives."
Toni Collette and Damian Lewis are heavyweight casting for Jan and Howard, though the odd eyebrow may be raised in Somerset at seeing Philip Hobbs portrayed by Nicholas Farrell – an actor known for Shakespeare and Chariots of Fire rather than his likeness to Dream Alliance's hugely successful trainer.
"Having met Philip, he's this very quiet, very centred man with a quiet sense of mischief," Lyn says. "Those were the qualities I was looking for in the actor to play him. Nicholas doesn't look like Philip Hobbs but there's something about his essence that reminded me of Philip's essence.
"Philip and Johnson White and their wives came to watch the film and really enjoyed it. At the end of it they said, 'It didn't quite happen exactly like that', but they had great fun and really enjoyed the emotional ride of it."
Vaughan's local yard doubles for Hobbs's stable on screen and Wales – and Welshness – plays a big part in the film.
"I wanted to celebrate what the valleys look like, in all their beautiful and ugly glory," Lyn says. "They are places where the scars of industry are apparent. The tops of the hills are beautiful heather-clad purples and browns and then there's a big left over slagheap. I wanted to enjoy the contradictions of that and that feels part of the constitution of the Welsh personality in a way – incredibly warm-hearted, social, emotional, prickly, determined, pig-headed."
Dream Horse opens on Friday and Lyn now believes that could not be better timing.
"This film is so upbeat and it's about characters overcoming darkness and doing something amazing – it feels to me like this is a perfect antidote to all these months we've spent locked inside by ourselves," he says.
"To go to the cinema and be part of a community watching something that's so upbeat seems strangely apt – though I couldn't have dreamed that's how I'd be thinking about the film when we made it two years ago!
"I really hope that audiences get to see the film and they experience the hope and the joy that the syndicate did while they were living the story and we had while we were making the film."
---
'A joyous hour and fifty minutes' – our review
A quote tells you so much about a film. "Here's looking at you kid"; "I think we're going to need a bigger boat"; "Philip Hobbs is the best trainer in the country."
Dream Horse may not be Casablanca or Jaws but it is hugely evocative for anyone into racing and just as engaging for those who do not know Philip Hobbs from Jack Hobbs or Russell Hobbs.
Of course, the raw material is excellent. Rags-to-riches stories have been a movie staple for as long as there have been movies and this is a belter. The horse bred from a £300 dam and brought up on an allotment who conquers all in the final reel (I don't think Racing Post readers need a spoiler alert when it comes to the result of the 2009 Welsh Grand National) and the unlikely syndicate of enthusiasts paying £10 a week to live their dream are the very stuff a film director thrives on.
And Euros Lyn makes full use of it. The human element is always to the fore, led by Toni Collette and Damian Lewis – an Australian and an Old Etonian who make unlikely but highly believable South Wales natives – as the humour and pathos of any group of disparate folk united in a shared belief really comes through.
The all-too-realistic ups and downs of the relationships between the main characters – and how racing offers the hope that can bring them together – are really brought home.
Nor are the racecourse scenes neglected in this horse opera. An awful lot of effort has gone into making the race look like real races – National Velvet, this ain't.
There are occasional divergences from the story as it actually happened and it is odd to hear one character claim the previous year's Welsh Grand National winner had been sold to Sheikh Mohammed for $16 million.
But none of that can or should detract from a joyous hour and fifty minutes spent rooting for the underdog – and underhorse.
Dream Horse is released in cinemas on June 4
---
More on the remarkable Dream Alliance story:
Dream Alliance gives owners thrill of a lifetime in Welsh National
Dream Alliance breeder devastated after juvenile dies in arson attack
Badly burned mare on road to recovery as Dream Alliance team raise £8,500
'Collective retaliation against badness' – delight as Vokes' fund passes target
---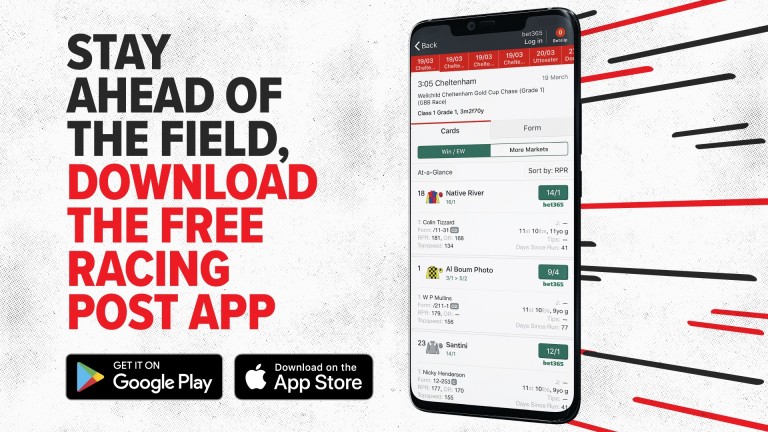 Download the free Racing Post app for cards, form, tips, in-app betting and to watch live races. Download for free at racingpost.com/mobile or search Racing Post app
---
It feels to me like this is a perfect antidote to all these months we've spent locked inside by ourselves