Barney Curley: 'The vet told me it was odds-against - but we beat those odds'
Recalling some of the greatest gambles in racing history. This week: the legend of Barney Curley
---
A punting legend
Barney Curley became one of the most famous racing gamblers not simply because he was capable of orchestrating a big coup but also by dint of his ability to beat the bookmakers on multiple occasions.
Curley, who died in May 2021 aged 81, was also a trainer, owner and philanthropist but made his name – and a vast amount of money – with his famous Yellow Sam coup at Bellewstown in 1975, and he was still at it 35 years later with another epic gamble involving four horses spread around England on a quiet Monday in May 2010.
A well-kept secret
Yellow Sam, having failed to finish closer than eighth in eight previous runs over hurdles, did not arouse much interest when he was entered in a handicap hurdle at Bellewstown on June 25, 1975 – and Curley, who owned him, made sure he kept it that way.
Curley, from County Fermanagh in Northern Ireland, was well known to the bookmakers throughout Ireland and had to engage the strategy of a battlefield general to legitimately beat the system that day. As well as picking a well-handicapped horse who was trained to the minute by Liam Brennan, his choice of Bellewstown was crucial. Not only had he found a poor race on suitably quick ground for Yellow Sam, there was only one public telephone box at the track.
Central to the plot was the requirement to prevent betting-shop money getting back to the course and therefore shortening Yellow Sam's SP. So while Curley had trusted lieutenants throughout Ireland placing bets varying from £50 to £300 on Yellow Sam in the 15 minutes before the race, he also ensured the phone box at Bellewstown was kept occupied to prevent news of the bets getting back to the on-course bookmakers.
There was a touch of comedy to the role played by Benny O'Hanlon, who was recruited by Curley to use the phone throughout the 25 minutes before the race was off. His call was to a fictitious hospital to check on a fictitious aunt allegedly on the brink of death. Those queuing for the phone were too respectful to interrupt.
Curley's plan worked to perfection. No money was laid back and Yellow Sam, ridden by Michael Furlong, won at 20-1. If the money had got back to the racecourse, Curley believes the SP would have been no bigger than 2-1. In less than five minutes Curley turned £15,300 into £300,000 (around £2.7 million in today's money), three times the sum he had hoped to win.
---
Yellow Sam: a perfectly executed gamble that netted Curley a fortune
---
The four-horse plot
Yellow Sam was big, but what happened on May 10, 2010 was bigger. This time Curley's plan involved four horses, which increased the risk but multiplied the potential rewards.
Three of the horses, Agapanthus, Savaronola and Sommersturm, were trained by Curley, who had also once trained the fourth horse, Jeu De Roseau, subsequently trained by Chris Grant. The four were all entered on the same day and combined in a web of trebles and accumulators, placed through a series of slow-burning accounts, used for several months to place routine 'recreational bets' so as not to arouse suspicion.
First to run was Agapanthus, who won at Brighton at an SP of 2-1, down from a morning price of 25-1 as the potential enormity of the situation dawned on the bookmakers.
"Someone would have noticed the bets, seen they were all linked, you work out relatively quickly that it's Barney Curley, and you get someone to check the liabilities," said Coral odds compiler James Knight later. "Then for everyone it's damage limitation and it's not a pleasant feeling when you suddenly realise you've got what is, in theory, a 10-1 shot of losing millions and millions of pounds. You realise you've accepted the bets, the prices are locked in and all you can do is sit and hope they get beaten."
Next came Savaronola, who less than an hour later won at Wolverhampton at odds of 11-10, having been backed down from a morning 8-1.
There was a setback in the next race at Wolverhampton when Sommersturm was beaten at an SP of 1-3, having been regarded by Curley as the banker of the plot. "If God had asked me which one to back, I'd have said, 'Back [Sommersturm]' – but he never raised a gallop," he said.
All eyes turned to the fourth leg at Towcester's evening meeting, where defeat for Jeu De Roseau would have meant the undoing of the scheme. Curley came out on top, however, with Jeu De Roseau's victory at an SP of 6-4. The treble had been landed and the layers were sunk.
Overcoming the odds
Later, when asked about the 2010 coup in comparison to Yellow Sam, Curley said: "May 10 was bigger." How much bigger? "The answer to your question is that we're very satisfied with the amount we won. No-one will win as much on horseracing for another 100 years. It's very hard to do."
The intricate plot yielded profits estimated at somewhere between £2.3m and £4m, depending on your source. Had Sommersturm also won, estimates suggest the takeout would have been a cool £20m.
Reflecting further on the coup, Curley said: "I've tried it before, you know, and been up on the day without it all coming together as I wanted. Those dry runs were good experience for this. I wasn't going to send them to the races unless I thought they were a nap.
---
'Nobody will win as much on horseracing this century' – Curley quotes
---
"But there were still things to overcome. Jeu De Roseau needed 22 horses to come out at the overnight stage in order to get a run. That's long odds-against.
"At 7.30 on the previous Saturday morning, Savaronola was as lame as a duck with a corn. I asked the vet if he could run on the Monday and he told me it was odds-against. We beat those odds."
In his remarkable life Curley beat the odds more than once.
---
Read more from this series:
'He could see the tsunami happening' – how Frankie Dettori hit the bookies for £40m
Gay Future, the Cartmel coup and why it went down in racing folklore
Vincent O'Brien: the astonishing coup that founded a racing empire
JP McManus: 'We loaded up on him – he had been laid out for the race'
---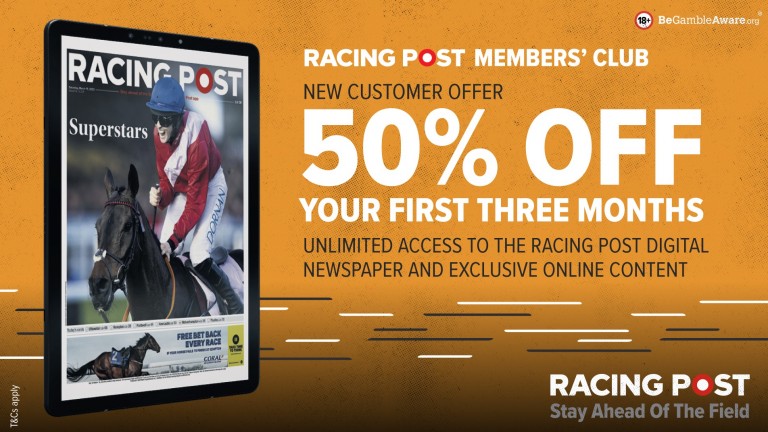 Stay ahead of the field with 50 per cent off the ultimate racing subscription. Enjoy the Racing Post digital newspaper and award-winning journalism from the best writers in racing. Plus, make informed betting decisions with our expert tips and form study tools. Head to the subscription page and select 'Get Ultimate Monthly', then enter the code WELCOME22 to get 50 per cent off your first three months.
First three payments will be charged at £17.48, subscription renews at full monthly price thereafter.
Customers wishing to cancel will need to contact us at least seven days before their subscription is due to renew.
---
I wasn't going to send the horses to the races unless I thought they were a nap