'We can't go back to the same old programme' - racing warned over fixture list
Racing increased its share of the betting audience when it returned from shutdown this time last year – but the sport now risks wasting that progress unless it learns the lessons of that period.
That's the warning from Ladbrokes Coral PR director Simon Clare, who was among several industry figures, as well as numerous professional and recreational punters, to talk to the Racing Post for a special investigation in Sunday's newspaper into how the pandemic changed punting – perhaps for good.
One of the consolations of lockdown for the sport was the way it was received by punters when returning from shutdown last summer. Using raw data published by the Gambling Commission, the Racing Post can show that turnover on live racing for the three months from July to September last year amounted to 39 per cent of the total online turnover on traditional and virtual sports compared to 37 per cent for the same period a year earlier. Football stayed static at 35 per cent despite 2020 seeing more football played at this time due to the late resumption of the Premier League and shorter season break.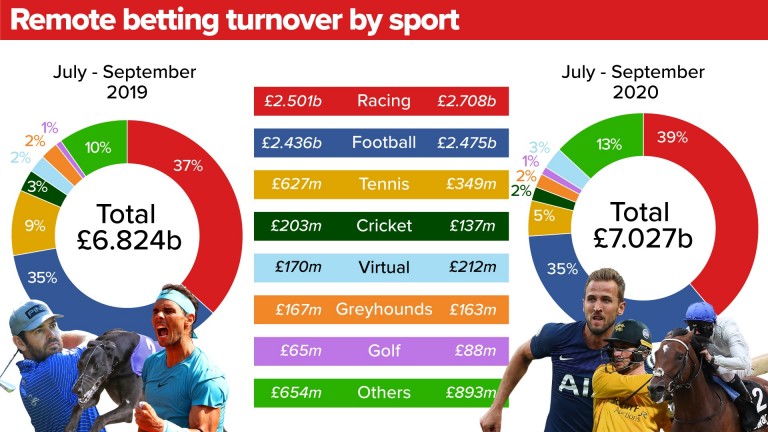 Clare said: "When racing returned in June the BHA put on a really efficient programme of two meetings in the afternoon and two in the evening of ten-race cards. Straight away it hit the mark and performed really well, most notably around the big events and the live Saturdays.
"The TV audience of racing is going to be made up of a significant number who are having a bet on the racing. What's important is not to go back to the previous ways of working and return to the same old programme. We've had to deal with so much change and challenges, and you want to take some of the more positive learning from that."
The 2022 fixture list will be published later this summer, but the restoration of Super Saturday on July 10 – which sees big competing fixtures at Newmarket, York and Ascot all on the same day, having been split across two different weekends in 2020 – means one aspect of the schedule which had long caused consternation within the game has already gone back to the "previous ways of working" of which Clare warned.
---
Read all about how the pandemic changed punting in The Big Read, available online for Members' Club Ultimate subscribers from 6pm on Saturday or in Sunday's Racing Post newspaper. Join Members' Club here.
---
Read more of the week's top stories:
New Irish Covid restrictions to affect stable staff and trainers on Ascot return
Hong Kong adds voice to controversy over latest British racing start confusion
Levi Williams banned from riding after testing positive for cocaine and cannabis
---
Members can click here to download the digital newspaper every evening from 9pm. Not a member? Click here to sign up and enjoy the digital newspaper every day.
---
We've had to deal with so much change and challenges, and you want to take some of the more positive learning from that