'He clearly loves all the fuss' - meet and greet the friendly Ouzbeck at Newbury
Newbury has been the scene for Paisley Park's return in the last two seasons and there will be another returning stalwart for Emma Lavelle at the track on Saturday in two-time Cheltenham winner Ouzbeck.
The evergreen 19-year-old, who was successful in Uttoxeter's Summer Cup Handicap Chase under Jack Doyle in 2010, will not be in action on the seven-race card, but instead in attendance to meet and greet racegoers as part of National Racehorse Week.
Ouzbeck is cared for by racing charity Greatwood in Marlborough and plays an "invaluable" role in its varied education programmes, helping young people with special educational needs and disabilities.
Helen Yeadon, co-founder and managing director at Greatwood, said: "Ouzbeck has been with us for over eight years. He retired from racing at Emma Lavelle's and his owners Elite Racing Club and their racing syndicate Axom sent him to us after a very successful racing career.
"It was clear from the outset that having retired from racing, Ouzbeck had a winning presence with all the learners that come to Greatwood. It is for this reason he has stayed with us and is an invaluable member of the Greatwood education team.
"His patience knows no bounds and he clearly loves all the adulation and fuss he receives from all the young people while he gently introduces them to the wonder of the racehorse."
Racegoers can also share their own stories with racehorses via a dedicated message board, which will be located next to Ouzbeck in the grandstand enclosure. Pop by and say hello to one of the many thousands of the sport's equine stars.
---
Read more on National Racehorse Week . . .
The foal: 'If I was a horse living in a paddock like this, I'd think life was pretty good'
Two-year-olds: 'If they were revved up to win they wouldn't keep on improving'
The superstar: John and Thady Gosden – 'It's no different to managing a top footballer'
The veteran: how Rosie Margarson and best friend Bean became social media sensations
Enjoying retirement: 'People care and the love for old racehorses shines through years down the line'
---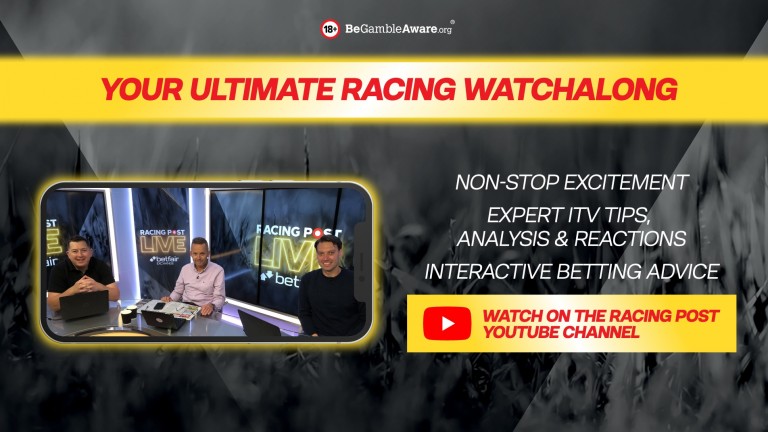 Racing Post Live is your ultimate racing watchalong every Saturday and during major festivals. Our experts offer uninterrupted tips, analysis and reactions to the ITV action. Subscribe to the Racing Post YouTube channel here and never miss a minute
---
It was clear from the outset that having retired from racing, Ouzbeck had a winning presence with all the learners that come to Greatwood