Concerns over Irish pony racing's funding crisis heard in parliamentary meeting
Irish pony racing's fight for survival has come to a head after government officials were urged to offer a financial lifeline to the key industry activity on Wednesday.
Increased costs, predominantly in the area of insurance, have cast doubt over the immediate future of the voluntarily-run sector, which receives no funding from racing authorities aside from a one-off donation of €12,500 from Horse Racing Ireland this year.
Before the pandemic, it is estimated 30 pony racing fixtures took place every year at a cost of roughly €3,500 a meeting when accounting for field hire, insurance and ambulance services.
Several politicians highlighted the issue during Wednesday's joint agriculture committee meeting with Charlie McConalogue, the minister for Agriculture, Food and the Marine, when Horse and Greyhound Fund regulations were discussed.
Senator Paul Daly said: "It's a small amount of money that's needed, but it's vitally important that they get it from some source to keep the show on the road. We all sing the plaudits of our top jockeys at Cheltenham, Royal Ascot or wherever, but the majority – if not all – of those jockeys start out in pony clubs and pony racing."
McConalogue said: "It's a matter that comes under the remit of Horse Racing Ireland. I know the importance of the horse and pony racing sector. I look forward to HRI and the authorities continuing to engage [with pony racing officials]."
Irish point-to-point racing is also facing a crisis after insurance underwriters decided against renewing policies for hunts, leaving many tracks with expiring or soon-to-expire policies. Several amendments to the autumn schedule were revealed this week, including the cancellation of a fixture at Kilmoganny on December 5.
"This is a huge issue," said agriculture committee chairman Jackie Cahill. "We need a resolution for this and need to know where these activity sports can go for insurance cover."
An IHRB spokesperson said on Thursday members of the Irish National Hunt Steeplechase Committee were working behind the scenes with many stakeholders trying to find a resolution.
Changes recommended in the agriculture committee's report into Irish racing are set to be studied by McConalogue, who would not comment on the recent department-led raid at a premises near Monasterevin due to the ongoing investigation.
McConalogue said: "We're very fortunate to have a really strong industry in this country, one that has been built up over many years through great work on behalf of the stakeholders.
"Maintaining top-class standards in integrity is essential to the industry having as successful a future as it has had over the years. That's why we put so much emphasis on it, that's why we will be funding it so strongly."
He added that €500,000 was provided by HRI to the IHRB as part of its integrity services funding this year for the installation of CCTV in all racecourse stableyards. The tendering process is said to have been completed and the contract will be issued shortly, subject to board approval.
McConalogue said: "Most racecourses will have a CCTV system installed before their first meeting in 2022, and all 25 racecourses will be completed by the end of quarter one in 2022."
Cahill also called on the minister to assist with the development of a second all-weather track in Ireland at Tipperary, although the timeline of when the project will be delivered is still unclear.
---
Read these next:
Burke considers future after raid leads to panic attacks and sleepless nights
End of an era as Tully Bookmakers sell their final ten shops after 44 years
---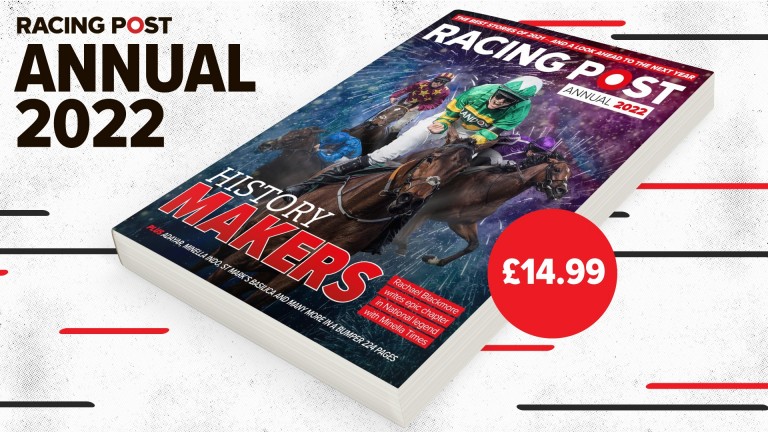 The Racing Post Annual 2022 is here! Look back on a star-studded year in this fabulous 224-page book packed with the best stories and pictures. The perfect gift at £14.99. Order from racingpost.com/shop or call 01933 304858 now!
---
It's a small amount of money that's needed, but it's vitally important that they get it from some source to keep the show on the road