'It duly went wrong' - Chris Cook's horses to follow from Royal Ascot
The Front Runner is Chris Cook's new morning email exclusively for Members' Club Ultimate subscribers, available here as a free sample.
Monday's email explores Chris's angle for finding horses to follow from Royal Ascot – and subscribers can get more great insight, tips and racing chat from Chris every Monday to Friday.
Members' Club Ultimate subscribers who aren't yet signed up for The Front Runner should head to the My Account area and under Email Communication opt into 'All members-club only emails' to start receiving The Front Runner and more great exclusive email content!
Not a Members' Club Ultimate subscriber? Click here to join today and also receive our Ultimate Daily emails plus our full range of fantastic website and newspaper content, including tipping from the likes of Pricewise and Paul Kealy, all the big interviews and features, daily comment and news analysis.
---
For a slight twist on the familiar theme of 'horses to take out of Royal Ascot', I thought I'd put together a list of horses who, in my view, blew their chance last week by failing to settle. It's quite instructive, going through the replays, to see how many horses could be stuck under that heading.
Racing freely in the early stages is a great way to burn up energy that you should be saving for the last quarter-mile. I think it can make a dramatic difference to a horse's finishing position, especially on the kind of soft ground we saw on Friday and Saturday.
Of course, some horses go on behaving that way from one run to the next and generally make very poor betting propositions. My aim was to find horses who behaved badly last week but might hopefully behave a bit more professionally in their races to come, in which case they should be able to perform better and perhaps surprise the market.
That's why Noon Star and Gloria Mundi aren't here, for example. They over-raced in the early stages of the Ribblesdale but they had also done so the time before. Sam Cooke is in a similar boat, having failed to bring it on home in the Duke of Edinburgh.
Anyway, it'll be interesting to look back at the season's end and see what happened to these animals.
Back in the first race of Royal Ascot, when everything seemed possible, Prince Eiji was a 50-1 shot for the Queen Anne. His chance of beating Palace Pier was minimal but he detonated any chance of running above his odds by fighting Andrea Atzeni for his head. His form now shows he was a distant last of 11 in his most recent race but if he can drop in class and get a lead from something else, it's by no means implausible that he could score next time. Fast ground is important to him. Order Of Australia also overdid it in the early stages.
The four-year-old is a natural front-runner but Jason Hart did his best to hold her back off the frankly mad early pace in the King's Stand. She wasn't especially delighted about that, alas, and had a fine time charging forwards with her head in the air. Sixth place was a fair effort in the circumstances and, after Battaash, she did much the best of those who showed up early on. Some cut in the ground seems helpful to her.
This colt is a lesson in how reputations can fluctuate, since he started favourite for the Guineas but was 11-1 for the St James's Palace Stakes on his very next start. He ran with credit in third and all the more so because he appeared to be taking a fierce hold under Ryan Moore on the uphill run from Swinley Bottom. Nothing was going to beat Poetic Flare that day but Battleground could have been a tidy second, had he relaxed early on. Perhaps the first-time tongue-tie had something to do with it. Anyway, it seems he can still be a force at Group 1 level.
Having started slowly and required stoking up when favourite for the Gallinule, Taipan had the blinkers on for the Queen's Vase. It was a risk for a son of Frankel going up in distance by half a mile and it duly went wrong, as the pace steadied on the downhill run and Taipan wanted to crawl over their backs. The fast ground helped him keep going but he didn't have much left in the straight. Even so, he kept on dourly and would have been closer but for some late interference. A next target isn't easy to pick for him but he has more talent than he was able to show here, with circumstances conspiring against him.
This juvenile stuck on remarkably well to be second in the Albany on Friday's heavy ground, having been prominent from the outset. After about 100 yards, she appeared to be taking a very strong hold while the eventual winner, Sandrine, was nicely settled behind the front rank. She was on fumes by the end but held on bravely. She was much better behaved on her debut at Wolverhampton, so perhaps something wound her up on this occasion. She can do even better.
---
One story you must read today:
Which Royal Ascot ride would Oisin Murphy like another go at? His reflections on the week are here.
---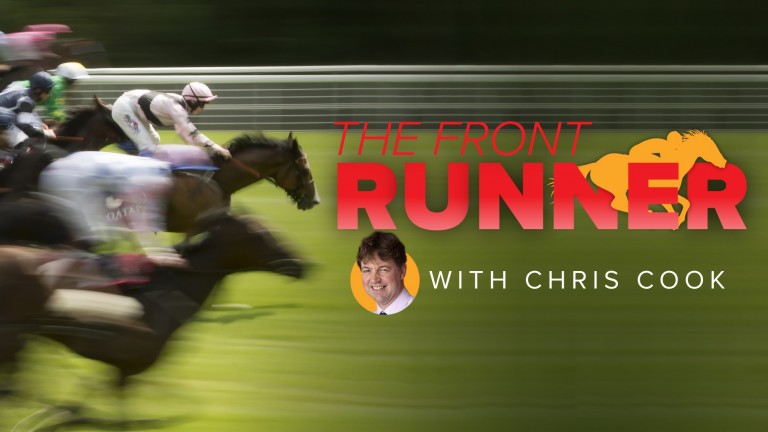 The Front Runner is our latest email newsletter available exclusively to Members' Club Ultimate subscribers. Chris Cook, a three-time Racing Reporter of the Year award winner, provides his take on the day's biggest stories and tips for the upcoming racing every morning from Monday to Friday
---
My aim was to find horses who behaved badly last week but might hopefully behave a bit more professionally in their races to come