Charges dropped and trial scrapped for Royal Ascot climate change protesters
The Front Runner is Chris Cook's morning email exclusively for Members' Club Ultimate subscribers, available here as a free sample.
In Monday's email Chris provides an update on the four climate change protesters at Royal Ascot last year who had been charged and were set to go on trial – and subscribers can get more great insight, tips and racing chat from Chris every Monday to Friday.
Members' Club Ultimate subscribers who aren't yet signed up for The Front Runner should head to the My Account area and under Email Communication opt into 'All members-club only emails' to start receiving The Front Runner and more great exclusive email content!
Not a Members' Club Ultimate subscriber? Click here to join today and also receive our Ultimate Daily emails plus our full range of fantastic website and newspaper content, including tipping from the likes of Pricewise and Paul Kealy, all the big interviews and features, daily comment and news analysis.
---
The four climate change protesters who chained themselves to the rail by the winning post at Royal Ascot last year have had charges against them dropped, the Front Runner can reveal. A two-day trial for aggravated trespass was scheduled to take place at High Wycombe magistrates court at the end of last week but did not go ahead, for reasons the Crown Prosecution Service has yet to explain.
Sally Davidson, one of the protesters and an activist on behalf of Extinction Rebellion (XR) since 2018, told the Front Runner she had not been told why the case was dropped but guessed a decision had been taken that to persist with the prosecution was not in the public interest. She and her fellow protesters made no effort to deny their involvement: "It was a nationally broadcast event, so presumably evidence would not be hard to find."
That the protest took place on private land may have been a complicating factor, relative to the highway obstructions in which XR activists have engaged at other times. Perhaps prosecutors didn't fancy their chances of making a trespass charge stick when the four had been admitted to the venue as catering staff.
"I won't go far into the specifics," Davidson said, "but I was given what I would consider to be lawful access. I was given a uniform and a locker and I was treated as staff."
Davidson and the others unfurled a banner that said: "Racing to Extinction" some minutes before the scheduled start of the Jersey Stakes, a race in which the Queen had two runners. "There was a magic moment where nothing happened and we were really bracing ourselves ... they weren't sure it was anything out of the ordinary," she recalls.
The aim was to get the attention of the Queen, in the hope of persuading her to use her influence to promote action to tackle what XR regards as an ecological emergency. "I appreciate the horse racing community may feel targeted," Davidson said, "but really we were trying to speak to the Queen and that is a place where, as a member of the public, you can get a moment in a safe way to say, 'You really need to help us, you have this great influence.'"
Davidson believes that Britain currently lacks "the political will or the public awareness" that might otherwise trigger action on climate change. "We're not making any judgement on the industry or the community. It feels more like a public service. If you have the information and you're able, you need to go and say, this is really serious."
Asked whether she saw the protest as successful, Davidson says: "Yes, I think so. What we really wanted was to get some attention from the Queen. One of my colleagues waved towards the royal box. Everyone in the horse racing community probably saw that banner.
"It's a really iconic place, the finish at Ascot. The Queen didn't take up our demands but we saw recently Prince Charles saying he could understand why people in Extinction Rebellion were breaking the law."
Davidson and her XR colleagues naturally have some experience of being arrested and removed from protest sites by the authorities, but she reports that Ascot's staff did not cope so well as the police generally do. "How it was dealt with by the grounds team wasn't particularly controlled or calm," she says.
"The police, particularly the Met, are really trained in how to deal with protest situations. Of course, for groundstaff it's going to be different. We could tell that they felt really disrupted. It was a group of four women and they were men, I don't think there was a single woman in the crowd that approached us, so there's a dynamic there.
"We explained the reasons we were there and that we wouldn't be there for very long but it was a symbolic protest. At which time, the fence we were attached to was dismantled in quite an alarming fashion.
"Eventually, they put the screens around us, which was fine, I didn't feel unsafe but it was quite an intense atmosphere. There were some security people in high-vis jackets who came and had security cameras on their chests.
"I could hear one of the women, who was attached to another, they were being carried and I was saying, 'Can you turn your camera on, please, I think we need to document this for people's safety?' And there was no response. I turned to the gentleman who had the top hat on and asked him, and he said: 'No, we're not doing that'. Which was quite a sinister experience.
"But, no judgement on them. They're dealing with something they weren't expecting to deal with and we were safe. It was uncomfortable to be carried, especially for the two women that were handcuffed together. We weren't expecting that, we were thinking we would be removed from any attachment and escorted away by police but we were on private land, so we were at the mercy of the people who managed that land.
"They moved us just behind the finish line, where the police were in attendance. The women that were handcuffed together and were carried were very, very shaken but I'm not aware of any injuries. I was fine."
Davidson describes herself as a 34-year-old primary school teacher and adds: "It's really important to dismantle the perception that anyone who does this is an anarchist and outside of society. This is wholly connected to the reason why I became a teacher. It's one and the same thing. Any school that I've worked in understands that it's peaceful, we're doing the minimum we can do whilst addressing such a huge issue."
Both the CPS and Ascot declined to offer comment. An Ascot spokesman said at the time that the protest was "a minor incident ... dealt with efficiently".
Ascot has been cited by BHA chief executive Julie Harrington as an example of forward-thinking within the sport on the subject of efficient use of resources. Speaking at the sport's industry conference in September, she said: "Ascot is harvesting rainwater from its grandstand and is pretty much self sufficient in water as a result."
But she warned that environmental concerns may have an increasing impact on the sport in the future. "We've already taken part in a government consultation on whether horse movement should be restricted when the temperature goes above 30C. Through good work with our public affairs team and the NTF, it looks like racing should get an exemption but it tells you the direction of travel is towards greater regulatory intervention.
"The Environment Agency has suddenly tightened up the rules on equestrian surfaces made from waste carpets, where we also had to engage rapidly to ensure racing's needs were properly understood. But there could be similar interventions, on water extraction for example, which would seriously impact our ability to race on many courses through the summer.
"It's really important that the sport gets ahead of these challenges, so that we can adapt and find solutions before being hit with the need to make urgent changes at greater cost."
---
One story you must read today
'I bought Shishkin as a foal – but I'd have probably made a mess of him...'
---
Read these next:
Shishkin v Energumene round two could be 'even more exciting' – Henderson
What's on this week: Cheltenham trials to provide further festival pointers
'We're going through a transition' – Rich Ricci in search for more star talent
---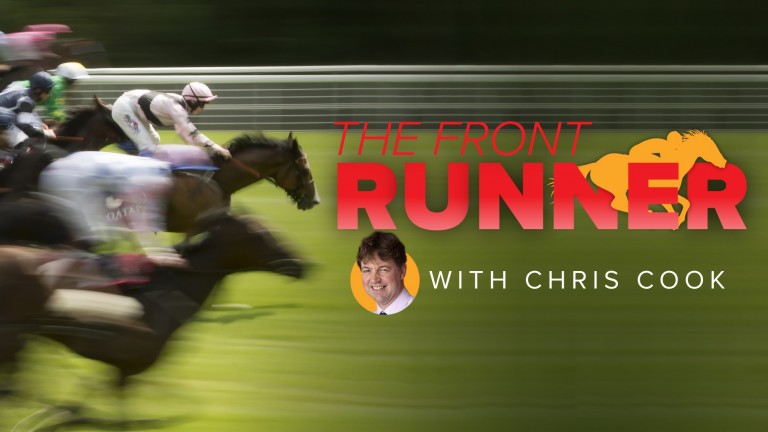 The Front Runner is our latest email newsletter available exclusively to Members' Club Ultimate subscribers. Chris Cook, a four-time Racing Reporter of the Year award winner, provides his take on the day's biggest stories and tips for the upcoming racing every morning from Monday to Friday
---
It was a nationally broadcast event, so presumably evidence would not be hard to find