Nicky Henderson among British buyers barred from Tattersalls Derby Sale
The Tattersalls Ireland Derby Sale has been rocked by the news that British buyers have been barred from attending the event, a move which has left chief executive Simon Kerins dismayed and disappointed.
Kerins was informed of the "upsetting" news at 6pm on Tuesday after the Irish government revoked the UK essential business bubble due to increasing concerns surrounding the Delta variant of Covid-19. Bids from UK purchasers will now have to be made remotely from hotel rooms.
Horse Racing Ireland chief executive Brian Kavanagh has insisted the latest developments will not affect the Dubai Duty Free Irish Derby at the Curragh on Saturday, stressing the elite sports exemption is a different piece of legislation.
Kavanagh told the Racing Post: "The Delta variant is the primary public health consideration and concern at the moment and discussions on this issue with the authorities have been ongoing over the last couple of days.
"I can understand the frustrations of those who are now unable to attend, of course I can, but you've just got to deal with the situation you find yourself in. We have been travelling through uncharted waters over the last few months and this is a reflection of the daily changing landscape of Covid-19.
"It's a fast-changing situation and Tattersalls have exhausted every avenue to ensure the sale goes ahead and goes ahead well, and I think it will go ahead well. We have worked our way through this with government support and advice over the last 15 months so it will be fine. There is a great selection of horses there, plenty of buyers have seen the horses so Tattersalls are hopeful they will have a positive sale."
When asked whether the Irish Derby could be impacted, Kavanagh replied: "It's a different piece of legislation. There is an elite sports exemption covering that [the Irish Derby] which has allowed us to move Irish horses, trainers and competitors to the UK meetings and vice-versa. It's a different situation so there are no concerns there."
'We're bidding away like crazy'
From a hotel near the sale site, Nicky Henderson said he and a team of buyers were trying to "make the best of a bad job", following the sale and bidding remotely.
"We arrived at the hotel last night and got a phone call to say we wouldn't be allowed in," the Lambourn trainer said.
"The government has closed the bubble that was set up for the English. We're all in the same hotel, we have the same cars to take us to the sales and back, we have our separate place at the sales. We live in our English-only bubble. Then last night after a meeting, our bubble was burst, as it were.
"We've got a team here, the Highflyer team, David Minton, Anthony Bromley, Tessa Greatrex, Oliver Sherwood and myself are all here working together. We're looking at about six screens and we've got telephone lines to the sales.
"Luckily, they've been here for two days and have seen all the horses. I haven't but we've got films of the horses. It's exactly the way we did it last year when we weren't allowed to come over and did it from home.
"We're bidding away like crazy. We've got Irish guys inside the sales and we've got it all happening in front of our noses. It's complicated but we have a good system, we just have to sit in the hotel and do it.
"I feel very sorry for Tattersalls. It's one of the premier sales of the year and it's pretty important. There's nothing more they can do about it. We have to sympathise with them."
Speaking on Nick Luck's daily podcast, Kerins spoke of his frustrations upon hearing that no British-based purchasers would be allowed on site on Wednesday.
Kerins said: "Last night at six o'clock we were notified by our legal advisers who had been engaging with An Garda Siochana, the Irish police, that UK purchasers who had come in under the UK bubble would not be permitted to come on to the Tattersalls Ireland site.
"It's been an exhaustive process, but public health has been the main factor here with the Garda Siochana and the department of health. This Delta variant seems to be of grave concern for the Irish government and the department of health."
He added: "Public health supersedes everything at the moment. That's ultimately what we were told at six o'clock last night. The Garda Siochana were just following out instructions from the department of health and trying to remove the threat of this Delta variant. That's all I can say.
"This is the 46th year of the sale, people have bought foals to sell as three-year-olds and there is an expectation that you can run a sale. It's very disappointing that our competitors Goffs had a sale two weeks ago.
"It's very upsetting having to tell UK purchasers who have made the trip over, loyal customers. Having to tell them last night that they could not come on site because there could be serious consequences if they do is most upsetting."
---
Read more of the day's top stories:
Frankie Dettori swoops for Lone Eagle ride as he seeks another Classic success
Jim Bolger invited to substantiate drug cheat claims at parliamentary hearing
New Sky Bet Sunday Series to offer £200,000 in bonuses to owners and jockeys
---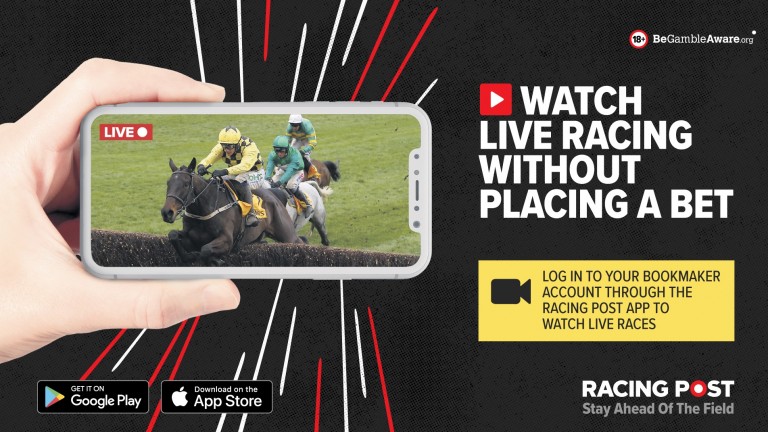 Watch live races through the Racing Post. Log in to your bookmaker account and look on the racecards for eligible races. Click the red 'Watch live now' icon and they're off! Find out how here
---
We have been travelling through unchartered waters over the last few months and this is a reflection of the daily changing landscape of Covid-19