'She hit me in the face and I was a bit dazed' - Dettori explains Campanelle run
Frankie Dettori explained how he was bashed in the face by Campanelle after she reared up as the stalls opened in the Prix Maurice de Gheest at Deauville on Sunday.
Dettori was momentarily dazed but in truth Campanelle had already ruined her chances before being loaded, having been reluctant on the way to post and forcing her jockey to dismount and walk the last two furlongs.
As opposed to when winning at Ascot this year and last, there was no pony to keep her calm in the preliminaries and Dettori said that played a big part in the downfall of Campanelle, who won the Prix Morny at the track 12 months ago.
"She usually has a pony, so she was very upset today," said Dettori, who sported no obvious signs of the incident. "I had trouble getting her to the start; twice she whipped round and I led her the last bit. Then, behind the gates she was really upset.
---
Full result and analysis of the Prix Maurice de Gheest
---
"She overreacted to the jump and when she reared, as she landed she hit me in the face and I was a bit dazed. But the race was over then, I was already five lengths behind."
Dettori added: "She's used to a pony and a guy in the gate and she had none of that. It's just one of those things."
Campanelle swerved right after the start and raced towards the far side, finishing last of the 12 runners behind winner Marianafoot.
It was an unfortunate turn of events for Ward and Campanelle's owners, having shipped her back out to France after making a successful return trip to Ascot in June, when she was awarded the Commonwealth Cup in the stewards' room after finishing second past the post to Dragon Symbol.
---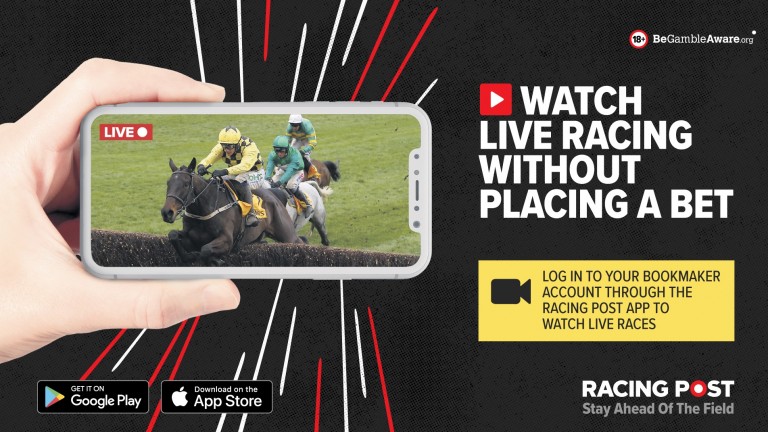 Watch live races through the Racing Post. Log in to your bookmaker account and look on the racecards for eligible races. Click the red 'Watch live now' icon and they're off! Find out how here
---
She usually has a pony, so she was very upset today