History says tricky, pedigree says maybe: can Telecaster defy the Derby gap?
When Telecaster repelled the challenge of Too Darn Hot to win the Dante Stakes, there were a couple of big but rather obvious questions. Was it the performance of a Derby winner? And will his owners, the Castle Down Racing syndicate, supplement him for the Epsom Classic on June 1 at an expense of £85,000?
However, the other, less obvious question is how Telecaster will handle the 16-day gap that separates the Dante and the Derby this year if supplemented. Is it a long enough break?
---
Epsom Derby racecard and betting
---
Telecaster's trainer Hughie Morrison suggested in the build-up to the final recognised Derby trial that the short space of time made Epsom "impractical, but all things are possible", a sentiment he broadly echoed in the aftermath of Thursday's victory. After his colt's fine performance on the Knavesmire it is certainly possible, but how practical is it?
Dante gap not unusual – but 16 days harder than 23
Recent results suggest it is tricky. It is not unusual for there to be only 16 days between the two races, with the racing calendar covering the same period of time in four of the previous seven years. Dante winners Roaring Lion, Permian, Libertarian and Bonfire all failed to follow up at Epsom off 16-day gaps, although Roaring Lion and Libertarian both ran well to be placed.
Five Derby winners have emerged from the Dante since 2004, most recently Golden Horn in 2015. However, all but one of those had an extra week to prepare for Epsom.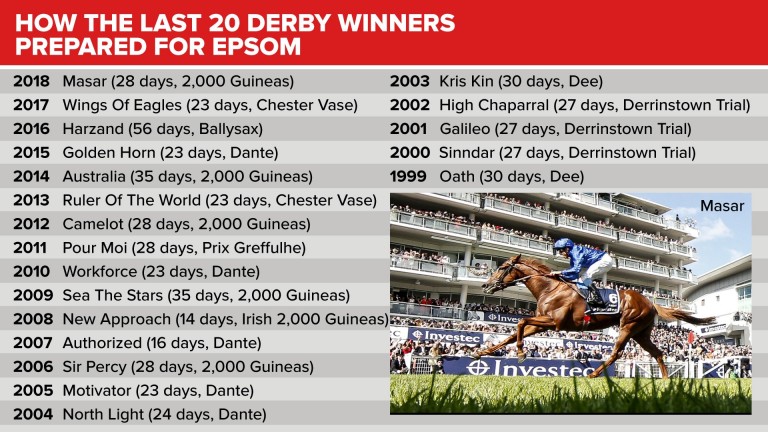 Furthermore, only two of the last 20 Derby winners came into the race off a break of three weeks or less, with an average gap of 27.4 days. One of the two was Authorized, who followed the same path in 2007 to claim the Derby 16 days after his Dante success.
Bred for the job?
Interestingly, the other to cope with a quick turnaround was New Approach, who won the 2008 Derby just 14 days after finishing second by a nose to Henrythenavigator in the Irish 2,000 Guineas at the Curragh.
Telecaster is a son of New Approach out of Shirocco Star, who was trained by Morrison during her racing career. She also competed in a Classic at Epsom, finishing an agonising second behind Was in the Oaks just 14 days after filling the same position in her trial at Newbury.
Therefore, with both mother and father performing so well at Epsom off a two-week gap, Telecaster's pedigree definitely offers encouragement that he may cope with the shorter than ideal break if blessed with the constitution of his parents.
---
Did you know you can bet via the Racing Post mobile app/website? Simply sign in with your favourite bookmaker via the Accounts button and then bet direct from our racecards
---
Only two of the last 20 Derby winners came into the race off a break of three weeks or less, with an average gap of 27.4 days