Ffos Las under new ownership after Arc buys Welsh track from Dai Walters
Dai Walters, the man who transformed the site of an open-cast coal mine into a popular racecourse, has ended his ownership of Ffos Las, having agreed to sell the Welsh course to Arena Racing Company because it was unable to secure the fixtures he wanted.
The Carmarthenshire track, which has staged jumps and Flat racing since it opened in 2009, was already under Arc management but now joins 15 other venues in the portfolio of Britain's biggest racecourse group.
Walters said: "My association with the creation and delivery of Ffos Las racecourse is something I'm very proud of, and I'll continue to support the further development of the facility by remaining as the honorary chairman.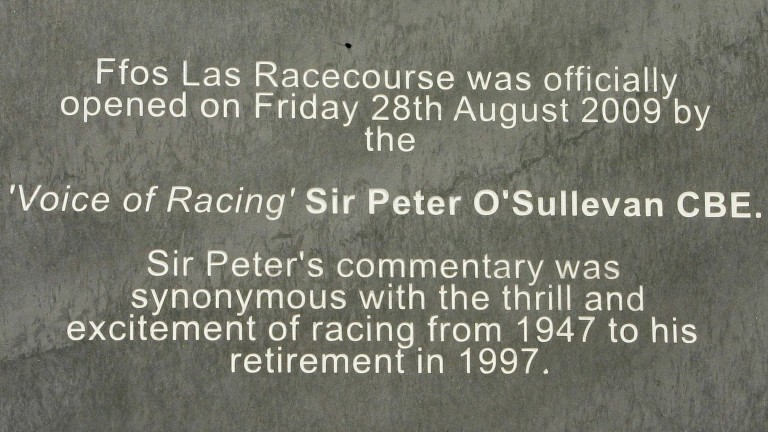 "We've had it for ten years, but Arc is able to get better fixtures than we did because it can swap them around. We couldn't get the days and we had only 18 or 20 fixtures, and that was not really economical to keep all the staff there for one track.
"Good luck to them. I'm sure they'll be successful. I'm very happy with the outcome and want them to be a success. We built it and will support them as much as we can.
"We didn't have to sell it, but we found it was hard work trying to get fixtures."
Walters added: "The acquisition by Arc will allow Ffos Las to expand through utilising the knowledge and expertise gained from its other racecourses.
"They will be also be able to provide more non-racing opportunities through staging large music concerts."
Ffos Las was the first new turf racecourse in Britain in more than 80 years when it opened. In 2018 it has 19 fixtures, six Flat and 13 jumps, with feature races including the Welsh Champion Hurdle in October and the West Wales National, which takes place over Easter.
Arc chief executive Martin Cruddace said: "We are delighted to welcome Ffos Las racecourse into Arc, and that Dai Walters will stay on as honorary chairman.
"As racecourses face escalating costs, together with uncertainty in retail media rights, we believe scale is now more important than ever. Equally, we'll continue to closely consult with horsemen to make sure our expanding business continues to increase the value of the stakeholder experience."
Walters added: "Ffos Las has provided a stage for Welsh racing to display its racing excellence and encouraged people to visit this beautiful part of west Wales.
"The facility has provided employment in the area and boosted the local economy. It achieved record attendances in 2017 since opening in 2009.
"This is a very exciting new chapter with many opportunities for Ffos Las racecourse to pursue."
---
Members can read the latest exclusive interviews, news analysis and comment available from 6pm daily on racingpost.com
---
To be honest we only had 18 or 20 fixtures and that was not really economical to keep all the staff there for one track