Pilot project tackling problem gambling delivers impressive results
A pilot project with betting shop staff in Islington, north London, designed to improve their understanding of gambling-related harm and to raise awareness of support available to customers at risk, is delivering impressive results.
Virtually all members of staff who received training from the project team describe improvements in their ability to recognise what the report describes as "red flags in customer behaviour" and their understanding of gambling-related harm. Staff also report feeling more confident in assisting people with gambling problems.
The project, entitled Don't Gamble With Health, delivered by BetKnowMore UK and sponsored by GambleAware, is innovative in its approach to harm-minimisation by working with high street betting shop staff. It involved 59 betting shops setting up a customer referral process. Training was provided to 112 shop staff and partner organisations, and 95 customers were referred to the service or approached it independently through information available in betting shops.
Feedback about the project and the service it offers has been overwhelmingly positive. It was funded by a dedicated grant from the Association of British Bookmakers (ABB) in addition to the regular funding provided to GambleAware by ABB members.
The project had a second distinct element in providing a support service to customers who are at risk or are problem gamblers. BetKnowMore UK's report on the project, independently verified, showed that the majority of clients who engaged with the service improved their ability to successfully manage their gambling behaviour. Customers who completed their treatment for problem gambling made particularly impressive progress.
Barriers prevent people seeking help
The team reported that the main reasons preventing people who could benefit from coming forward for help were lack of awareness of support mechanisms, complexity of referral and slow response within some existing services. A common barrier which prevented people seeking help was the negativity and stigma associated with problem gambling. The project focused on addressing these obstacles.
The support service is delivered in tiers. Tiers one and two are described as brief interventions. Typically, they take the form of informal meetings in neutral places such as cafes, or involve phone engagement with people who call the project helpline, usually to share concerns about their own or a loved one's gambling behaviour.
Tier three offers a more structured support through mentoring and group therapy, while tier four is dedicated to clients with complex and multiple needs and typically involves counselling support.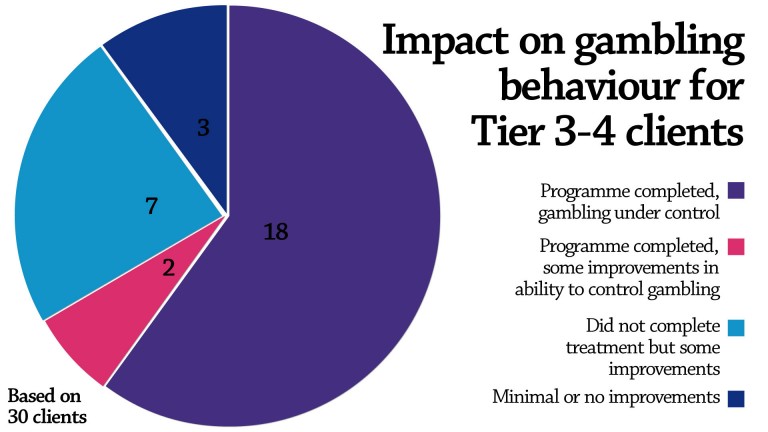 To help deal with the stigma linked with problem gambling the project presented gambling as a lifestyle choice and health issue similar to, for example, drinking. It emphasised that when people are able to engage in these activities in appropriate, well-managed ways they do not lead to harm and are socially acceptable.
The positive approach is reinforced by the alternatives offered to problem-gambling activity. Consistent with modern theories on behaviour change, this means that in order to sustainably remove or minimise negative behaviour, people need a positive alternative. Within the context of the project this meant helping clients to fill up the time previously occupied by gambling with new activities such as participating in sport or making music.
Contributory negative factors assessed
The holistic nature of the approach is manifested in the team assessing what, alongside gambling, negatively affects their clients' wellbeing and supports them in addressing that. Examples include loneliness, unemployment or accommodation problems.
Given the evidence about gambling-related harm affecting vulnerable members of society, consideration was given to the extent to which the service reached such customers.
For tier three-four clients for whom information was available:
Five out of 34 were in supported accommodation or at risk of becoming homeless. A similar number lived with friends, not having a home of their own.

Nine out of 26 were not in employment. Five were unemployed and four were in receipt of benefits due to long-term illness.

Sixteen out of 37 had mental health problems, typically anxiety, stress and depression. There were several clients with personality and bipolar disorders.

Ten out of 40 had a history of, or were recovering from, substance and/or alcohol abuse

Four out 37 had a history of breaking the law (linked to gambling or substance abuse).
Malcolm George, chief executive of the ABB, said: "The success of the BetKnowMore project is a huge credit to the hard work of everyone involved, from those providing the counselling service to the betting shop staff who received new intensive training. I'm very encouraged by these findings and, working with the BetKnowMore team, we will now look to upscale this service in 2018."
---
If you are interested in this, you should read: Never too old to get in trouble nor too late to seek help
---
Need help with any aspect of racingpost.com? Visit this page
---
The project presented gambling as a lifestyle choice and health issue similar to drinking