You might take a dim view of Panorama but please don't cast the BBC as the enemy
The Front Runner is Chris Cook's morning email exclusively for Members' Club Ultimate subscribers, available here as a free sample.
In Monday's email Chris reflects on Panorama and a feeling felt by some that the BBC is 'anti-racing' – and subscribers can get more great insight, tips and racing chat from Chris every Monday to Friday.
Members' Club Ultimate subscribers who aren't yet signed up for The Front Runner should head to the My Account area and under Email Communication opt into 'All members-club only emails' to start receiving The Front Runner and more great exclusive email content!
Not a Members' Club Ultimate subscriber? Click here to join today and also receive our Ultimate Daily emails plus our full range of fantastic website and newspaper content, including tipping from the likes of Pricewise and Paul Kealy, all the big interviews and features, daily comment and news analysis.
---
Thanks to the BBC, I learned over the weekend that Ernest Hemingway used a racing metaphor to describe his feelings on finally agreeing to fly over from Cuba to report on the second world war. "Just feel like old horse," he wrote to Martha Gellhorn, the famed war correspondent to whom he was married at the time.
"Good, sound, but old, being saddled again to race over the jumps because of unscrupulous owner. Will make same race as always, best that can make. But am neither happy, excited nor interested."
What a stick-in-the-mud, eh, wanting to stay in his beautiful home on a peaceful island when there was a perfectly good war to be covered? Evidently he recovered his appetite for conflict on arrival in Europe, since, rather than confine himself to describing events, he is said to have taken up arms and got involved in the fighting.
I knew Hemingway was a racing enthusiast because there's a chapter in A Moveable Feast, his account of life as a young man in Paris in the 20s, that describes him savouring an afternoon at Enghien, "the small, pretty and larcenous track that was the home of the outsider".
He describes the pleasure of going out in search of a morning racing paper while his wife (Hadley Richardson at this point) still slept and, from a distance of 30 years, can remember the name of the street where he found one. Somewhat at odds with modern thinking on responsible gambling, he says the couple "wanted a long shot if we could find one" to give them a temporary lift out of poverty, though there seems to be some dispute about whether they were ever short of money.
Hemingway was by no means a reliable witness. As the documentary, still available on iPlayer, makes clear, he put out ostensible fiction that was actually biography and ostensible biography that was actually fiction. But you can't read A Moveable Feast without feeling he really loved the great game, despite also appearing certain it was riddled with cheats.
"We sat on my raincoat on the fresh cropped grass bank," he wrote, "and had our lunch and drank from the wine bottle and looked at the old grandstand, the brown wooden betting booths, the green of the track, the darker green of the hurdles, and the brown shine of the water jumps and the whitewashed stone walls and white posts and rails, the paddock under the new leafed trees and the first horses being walked to the paddock. We drank more wine and studied the form in the paper."
But Hemingway has limited faith in form study. He leaves Richardson sleeping, again, and finds an old friend who gives him two tips that both win. One pays 12-1, the other 17-2, though the writer notes it had been 18-1 not long before the off. He splits half the winnings with Richardson for immediate spending and squirrels the rest away in a betting fund she doesn't know about.
"We had oysters and crabe Mexicaine with glasses of Sancerre. We walked back through the Tuileries in the dark." Seriously, who doesn't want to go racing with this guy?
I was hoping we might get some flavour of his racing love from the six episodes of 'Hemingway' the documentary, but no. Typical modern BBC, eh, not wanting to do a good turn for the sport they quit years ago? Well no, it's a US-made documentary they are merely screening, so I don't think we can kick the corporation on this occasion.
There seems to be a general feeling among racing fans these days that the Beeb has an anti-racing agenda. Given the number of people employed there and the turnover of personnel, I find that improbable but we're likely to see thoughts along those lines on social media this evening after Panorama, which will be focused on the abbatoir-based slaughter of ex-racehorses, according to a press release.
Evidently, the programme will draw heavily on the work of Animal Aid, an animal rights organisation which has the stated aim of ending the sport. Their involvement will lead to a lot of people dismissing the programme out of hand, but hopefully we'll see a more constructive response from the sport's leaders.
I remember hearing a producer of Panorama's The Corruption Of Racing (2002) complaining about what he experienced as a uniformly hostile reaction from those in and around the sport to that investigation. He was angry at what he saw as a lack of interest in learning appropriate lessons and making necessary changes. Six years later came a follow-up, Racing's Dirty Secrets.
Racing gets to regulate itself and has to put up with very little in the way of external scrutiny. In order to preserve that fortunate state, it really ought to learn what it can from infrequent interventions like this one.
You may perhaps take a dim view of any allegations made by Panorama tonight but there will undoubtedly be improvements racing can make in ensuring ex-racehorses are treated with appropriate respect. That should be the focus of its reaction.
In the long term, a well-funded and influential broadcaster like the BBC ought at some point to become once more a candidate for screening live action from our tracks. Neither the sport's insiders nor its fans should be treating the Beeb as a kind of enemy.
---
One story you must read today
'Come racing!' say tracks as lockdown restrictions are eased in England
---
Read more of the day's top stories:
Welfare chief condemns abattoir practices shown in Panorama documentary
Stephen Mahon at centre of another IHRB investigation after sampling incident
Ascot wants as many people as possible to enjoy 'race of the season' on Saturday
---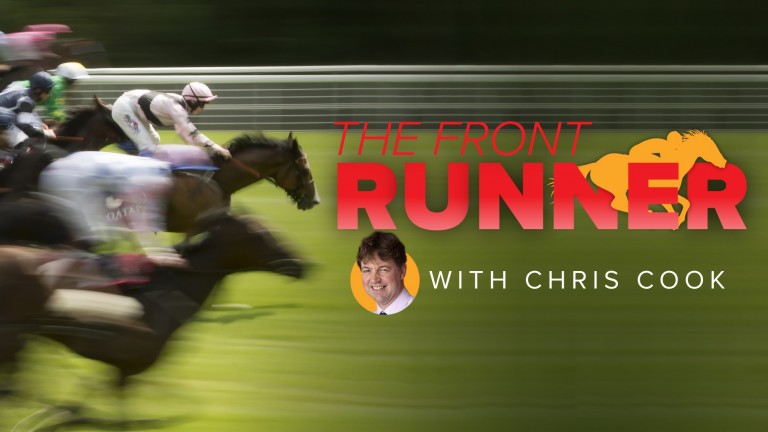 The Front Runner is our latest email newsletter available exclusively to Members' Club Ultimate subscribers. Chris Cook, a three-time Racing Reporter of the Year award winner, provides his take on the day's biggest stories and tips for the upcoming racing every morning from Monday to Friday
---
A well-funded and influential broadcaster like the BBC ought at some point to become once more a candidate for screening live action from our tracks