End of an era as Tully Bookmakers sell their final ten shops after 44 years
Tully Bookmakers, one of the last remaining mid-scale independent betting shop chains in Ireland, will bring the curtain down on 44 years in business after selling their remaining ten shops to rivals BoyleSports.
Owner Paul Tully confirmed the news on Tuesday morning and described himself as having "mixed emotions" about the sale.
The doubling of betting tax to two per cent, brought into effect in 2018, and the impact of the Covid-19 pandemic were put forward by Tully as the main contributing factors for the sale.
He said: "It comes with mixed emotions but the final chapter has been written. I thought it was time to get out. Neither myself nor my brother has any family interested in carrying on in the business, so we decided to take the plunge and jump."
BoyleSports is Ireland's largest independent operator and, with the addition of the ten Tully shops, the firm now has 286 outlets in the country.
Sources have indicated the company will "invest significantly in each of the ten shops to allow them compete in the current market".
A BoyleSports spokesperson confirmed it would also take responsibility for Tully's phone-a-bet business.
When operating at its height, the Tully retail estate numbered 37 shops in Ireland, but it has scaled back over the years, including selling six shops to BoyleSports in 2015.
The company's owner revealed on Tuesday that falling profits effectively forced their hand in selling off the remaining premises to BoyleSports.
Tully said: "It has been a combination of things. The two per cent tax to start with and Covid finished it off for us.
"Our first shop opened in 1977 and I started working in a betting shop when I was 12, so that must have been back in 1981 – a long time ago.
"The plan is to take a couple of weeks off. I was saying to the family that if we get this finalised before Christmas, it will be my first Christmas off in 40 years. That tells its own story."
Sharon Byrne, chairperson of the Irish Bookmakers Association, said the deal served to remind people just how difficult it was for smaller operators to survive.
She said: "Tully Bookmakers are one of the oldest and most established independents we have. They are really well respected by punters.
"They were the traditional, old-style bookmakers and they stand at the track as well. They are a very important member of the IBA, always have been, and I am sad to lose them as retail operators. I wish them luck with their on-course business.
Byrne added: "It's a sign of how difficult it is for the smaller operators out there who are trying to survive. I wish BoyleSports well with their new shops.
"It's very difficult for the smaller operators and consumer confidence just hasn't come back yet since Covid. Placing bets and then leaving is the new normal. People aren't ready to be hanging around the shops."
---
Read more
'This is such a big deal' – saluting our Betting Shop Champions Awards winners
Study shows betting shops lead the way on age verification checks
Credit card betting banned in Ireland as well as advertising during live sport
---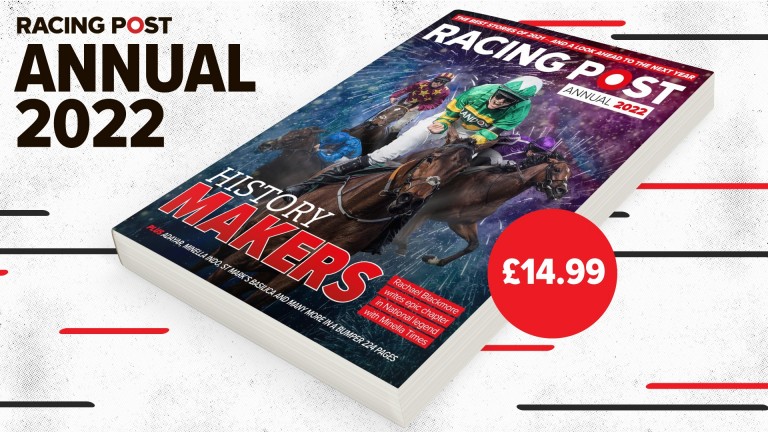 The Racing Post Annual 2022 is here! Look back on a star-studded year in this fabulous 224-page book packed with the best stories and pictures. The perfect gift at £14.99. Order from racingpost.com/shop or call 01933 304858 now!
---
Neither myself nor my brother has any family interested in carrying on in the business, so we decided to take the plunge and jump