Daily update to help racing industry personnel through the financial crisis
The government on Thursday unveiled measures to support self-employed workers impacted by the coronavirus pandemic.
Under the scheme, those who earn the majority of their income from being self-employed will be paid 80 per cent of their average monthly profit for the last three years, up to £2,500 a month.
The announcement was welcomed by racing, with the likes of jockeys, valets, agents, horsebox drivers, vets, media and broadcasters and racing photographers being covered by the move.
BHA chief executive Nick Rust said: "Self-employed people form an integral part of the racing industry and we welcome the proposed package of support.
"Racing will now liaise with government to gain an understanding of the full details of the proposals, including what support is available to self-employed people prior to June.
"In addition, the information will be used to help determine where racing's own funds will be best allocated to support its workforce."
On Thursday, the BHA also delayed a number of new regulations including changes to the apprentice and conditional jockey agreements and the consultation into the whip, while also cancelling entries for the Qipco 1,000 and 2,000 Guineas with the races reverting to six-day entries instead.
Participant information
Trainers, jockeys and racing staff are among those who stand to be principally affected by the six-week shutdown of racing in Britain.
Chancellor Rishi Sunak had previously confirmed the Coronavirus Business Loan scheme among other financial initiatives and racing's key member bodies continue to liaise to understand how various measures can be used to help provide support across the sport.
The government is helping companies by promising to pay 80 per cent of salaries – up to £2,500 a month – for designated furloughed employees in an effort to avoid job losses, and details have been outlined by the National Association of Racing Staff (Nars).
That measure is one of a raft of benefits designed to help and protect employers and employees as part of an unprecedented aid package. VAT payments by companies are to be deferred until the end of June and interest-free cash grants will be made available to small businesses.
The self-employed are being helped by measures such as the deferral of self-assessment tax requirements, payment holidays for mortgage payers and the strengthening of the welfare "safety net" alongside the additional income payments revealed on Thursday.
HMRC has released a new number for coronavirus queries from businesses and self-employed individuals. The number is 0800 024 1222 with opening hours from 8am-4pm, Monday to Friday only.
On Friday, the BHA announced that 200 of its 260 staff would be furloughed, saving in the region of £1 million a month.
Professional Jockeys Association & Injured Jockeys Fund
The government plans to assist the self-employed were welcomed by the PJA on Thursday, although challenges remain.
Chief executive Paul Struthers said on Thursday: "We very much welcome this package of support which will help jockeys, valets and trainers, as well as other core segments of the industry's workforce, navigate an extremely challenging period.
"This news comes not a day too soon as there has been significant uncertainty and concern among our members and I'm sure this has been shared by the many other self-employed individuals in the racing industry.
"While the package is welcomed, there will remain an acute, short-term need. We will now focus our efforts on continuing to work with other racing stakeholders – and utilising our own available funds and support from the IJF – to provide this short-term assistance that will be required."
The PJA are also working on behalf of agents and valets to understand the financial impact of the shutdown on them, with the details set to form part of the submission to government for aid.
The Injured Jockeys Fund (IJF) continues to operate its three sites in Newmarket (Peter O'Sullevan House), Lambourn (Oaksey House) and Malton (Jack Berry House) remotely and with a skeleton staff due to the government's increased social distancing measures.
Lisa Hancock, IJF chief executive, said: "This is an unprecedented time of crisis for the whole country. The Injured Jockeys Fund is doing everything it can to continue to provide support for jockeys and beneficiaries while at home.
"We also realise that more people will need our support in the oncoming weeks and months, and therefore are re-allocating specific funds so that we are in a position to provide immediate help to those in urgent need."
For more information visit:
www.thepja.co.uk
@PJAOfficial on Twitter
www.injuredjockeys.co.uk
@IJF_official on Twitter
National Association of Racing Staff
Nars, along with the National Trainers Federation, on Tuesday released a poster that urges employees to observe the strict protocols introduced in an effort to reduce the spread of the virus.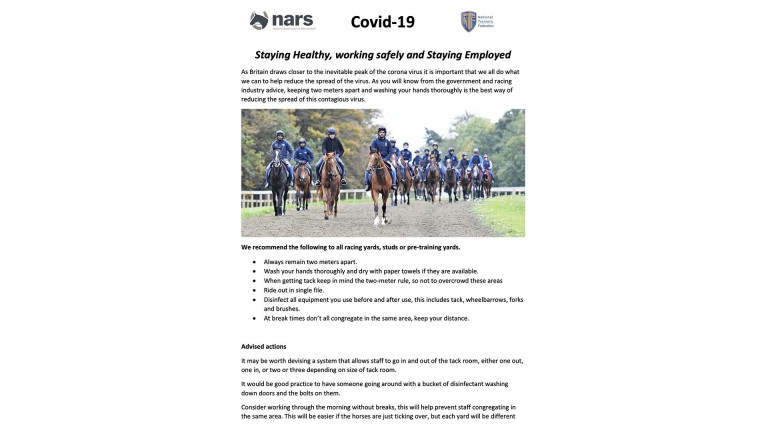 The poster details how stable staff can adhere to staying two metres apart when riding out and also how yards can be kept as clean as possible.
Part of the poster reads: "It may be worth devising a system that allows staff to go in and out of the tack room, either one out, one in, or two or three depending on size of tack room.
"It would be good practice to have someone going around with a bucket of disinfectant washing down doors and the bolts on them."
On Monday Nars released the latest details about the government wage guarantee for furloughed workers.
Employees who would otherwise be made redundant can be designated a furloughed employee by the employer, whereby the furloughed employee will receive 80 per cent of their wages from the government up to a cap of £2,500 per month.
This initiative is for a maximum of three months to June 1 when it will be reviewed for extension. The employee must not do any work for the employer while on furlough and the employer does not have to top it up to full wages. The option to furlough employees does not apply to those who have already agreed to reduce their hours.
It is believed the employer still pays the wage for a furloughed employee, sends the information to the HMRC through a new online portal and will be reimbursed.
Members who fall ill will be paid in full for the first four weeks providing they have a self certificate, NHS certificate or medical certificate from a doctor and have been with their employer for six months or more.
Those who were showing symptoms of the coronavirus but have not been tested can self-certify for a week and be covered.
The British Farriers and Blacksmiths Association are keeping members up to date via email, as the body seeks clarification from Defra and other equine groups as to whether their work is considered essential.
President of the executive committee, Huw Dyer, said: "There's an awful lot of uncertainty. From a welfare perspective we think it is essential work and we'll keep people updated on email and via our website."
Racehorse transporters are continuing to work, although new guidelines have been introduced to ensure social distancing.
The Racehorse Transporters Association chairman, Merrick Francis, said: "National Hunt horses need to be turned out and we're in the middle of the breeding season. France and Ireland are allowing the free movement of horses in and out of the UK.
"Most horseboxes moving mares and foals have two people on board and I have recommended the person not driving sits in the groom's area behind the driver in order to maintain a distance between them.
"Studs have enforced a protocol, and we are carrying it to forward wherever we go, that horses should be brought to the vehicle and put on the box by staff at the premises. Also when reaching their destination the driver should not leave the box and a member of staff [at the destination] should collect the horse."
For more information visit:
www.naors.co.uk
Nars Facebook page
@Narsnewsinfo on Twitter
www.forgeandfarrier.co.uk
National Trainers Federation
The NTF is assessing several key areas to aid trainers, whether they are members or not, with the focus on supporting employment.
Key members of the racing industry team have been working urgently to understand how employers and businesses in racing can access financial assistance from the government package.
On Tuesday a detailed Q&A was published on ntfmuse.wordpress.com detailing the government's furloughing scheme to assist employers by paying 80 per cent of their wages up to a cap of £2,500 per month.
The Q&A covers the scheme extensively, explaining what it is, how it works, who it applies to and how trainers can expect to be reimbursed from HMRC should they use it.
As well as advising trainers to contact their local authority and claim business rates relief as a leisure business, the NTF is also advising trainers to look into whether the coronavirus business interruption loans that are available are viable for them if their cash flow is likely to come under pressure.
The loans are being offered to fund ongoing payment of expenses, overheads and ongoing creditor payments for a short term period of disruption arising directly from Covid-19 in the UK. Businesses applying must demonstrate affordability, viability and the purpose.
Sports psychologist Michael Caulfield is available for one-to-one conversations with trainers to help them deal with the unprecedented coronavirus situation. This can be arranged through chief executive Rupert Arnold or Racing Welfare, who offer support for everyone in racing.
Trainers are being advised to keep on top of all the latest developments on key areas including business support, yard management and protecting vulnerable horses via a link on the NTF's main website, along with an open access ntfmuse blog site (www.ntfmuse.wordpress.com), which offers more detailed content on the same subjects.
For more information visit:
www.racehorsetrainers.org
@NTFnews on Twitter
Racing Welfare
Racing Welfare is offering hardship grants for members of the racing community facing financial difficulties due to the impact of the coronavirus pandemic.
Single applicants can apply for a fortnightly amount of £150 and members of a family £210 through contacting the charity. The money is aimed to help with immediate basic needs such as food and heating.
The grants are financed by an industry fund established by the Racing Foundation, the John Pearce Foundation and other racing charities. Potential applicants will be subject to a needs-based assessment.
For more information visit:
www.racingwelfare.co.uk
@racingwelfare on Twitter
---
Read more:
Nick Rust examining ways for racing to return once coronavirus crisis is over
Lee Mottershead: it was right to stop British racing but the sport must remain ready to restart
Animal Health Trust seeking urgent funds to prevent 'imminent closure'
Racing in Australia to continue as New Zealand suspends action for four weeks
---
Keep up to date on the must-have news, tips, photos and more by following the Racing Post across all social channels
---
Self-employed people form an integral part of the racing industry and we welcome the proposed package of support