Frankel's ascension complete with European and domestic sire titles
The champion is the first British-based overall winner since Mill Reef
A changing of the stallion guard can scarcely have felt more palpable than this year as Frankel inherited the title of leading stallion in Britain and Ireland that has been in his late father Galileo's sole possession for the last 11 years.
As if that was not achievement enough, he has also become the first British-based stallion to secure the position since Mill Reef in 1987 and interrupts a Coolmore hegemony that stretches back 32 years to the first of the 14 awards for Frankel's grandsire Sadler's Wells.
With his stupendous performances on the track and tender story interwoven with that of Sir Henry Cecil's, Frankel's trajectory has been viewed in a perhaps unprecedented way.
His departure to stud and even his first ever runner, Cunco, came in the full media glare. Perhaps this is what provoked an initial undercurrent of mumbling; first about the shapes and sizes of his progeny, then about their supposed attitudes, and last year it was that he had gone a bit quiet in Europe.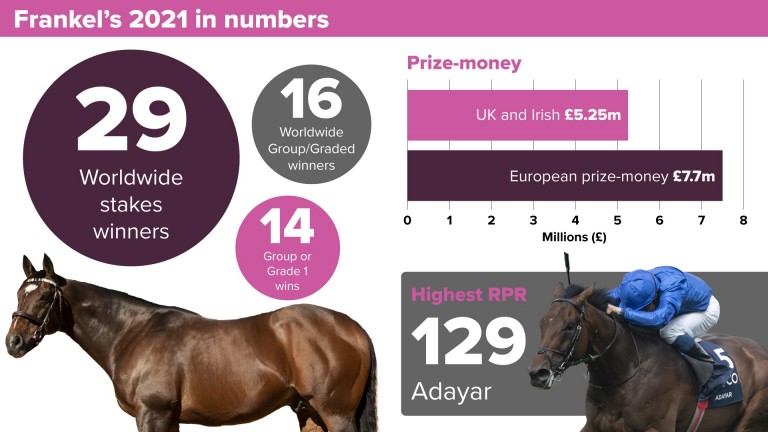 The naysayers must be vanishingly few now, with an outstanding Derby and King George winner in Adayar, triple Group 1 hero Hurricane Lane, three more in Germany from the exceptional filly Alpinista and other top-level winners with the potential to grow next year, such as Inspiral and Snow Lantern.
Turning 14 in a few days, Frankel finishes on prize-money of £5.26 million; he's behind Dark Angel, Kodiac, Dubawi and Lope De Vega on sheer volume of winners but around £1.5m clear on purses.
In the tumultuous year of the death of his breeder, Khalid Abdullah, it felt just about safe to anoint Frankel as the new champion both in Britain and Ireland as well as Europe, where he saw off Sea The Stars and Dubawi, by early autumn time.
Having raced past 50 Group winners with record speed, the sense is that there will be many more garlands to come, with even Juddmonte's elevation of his fee to £200,000 not considered an overreaction.
Not, of course, that anything is guaranteed. For all that two more titles and reaching the mark held by Sadler's Wells may now be beyond Galileo, he still has around 100 blue-blooded potential representatives in each of his current juvenile and yearling crops.
Even if the potency of a stallion could recede with age, not many of them need to inherit just some of his magnificence to make an impact, and the title is based upon earnings rather than a winning tally. Dubawi turns 20 on January 1 but has remained an exemplary servant to Darley, while Sea The Stars is only two years Frankel's senior.
Interestingly, Galileo still came out ahead solely in Ireland on prize-money, most winners (35) and stakes winners, chiefly courtesy of Empress Josephine taking the Irish 1,000 Guineas and, while Frankel's Hurricane Lane also landed the Irish Derby, he was pipped to the runner-up spot by his paternal half-brother Australia, who has had another fine year at Coolmore.
Galileo's influence will be felt for decades in any event, exemplified by his standing alone as champion broodmare sire in Britain and Ireland. His prize-money total was not far off double that of the also recently-departed Pivotal, whom he succeeded in this category last year.
Classic winners St Mark's Basilica and Snowfall were among those out of Galileo mares and, with so many of them in the hands of Coolmore and other pre-eminent breeders, it is not inconceivable that he could end up reaching the incredible seven consecutive wins by his own father, Sadler's Wells.
Bookmakers have often been wary of getting stung by the shrewdies on betting for the leading first-season sire in Britain and Ireland, but the odds compilers from Betfair Sportsbook and Fitzdares, which both put up markets, were not far off the mark.
The victor is judged on the total of individual winners in both countries and with a handful of eligible races remaining until January 1 it is Cotai Glory, who had been priced up at second favourite, who they will be paying out on.
Many of those who took an early chance on the Tally-Ho arrival at €6,000 saw a return on investment even on the track as he sent out 26 winners to finish ahead of early favourite Profitable on 22, followed by Aclaim and Ardad.
It was not as emphatic a performance as the record-setting feats of Cotai Glory's Tally-Ho studmate Mehmas a year ago, as he could be considered the undisputed champion by leading on prize-money too as well as siring 46 winners for the campaign. Most cash was brought home by Caravaggio, whose daughter Tenebrism decided it by winning the Group 1 Cheveley Park Stakes at Newmarket.
The legend of Siyouni continues to grow, as confirmed by his fee remaining at €140,000 at Haras de Bonneval for another year, and he will do so as France's dual champion sire.
Two Classic wins from Coolmore's new recruit St Mark's Basilica saw him home to complete a memorable year for the Aga Khan's breeding operation, if not quite in the same runaway fashion as 12 months ago.
Bonneval's Zarak has given clear indications of being a face of the future and he was the leading French first-season sire following the Group 1 exploits of Purplepay and Times Square. With an heirloom Aga Khan pedigree, not to mention his exalted parents Zarkava and Dubawi, his book for 2022 has already been closed despite his fee for next year more than doubling to €25,000.
Results in Germany will be bittersweet. Defending champion Adlerflug held on to his title, finishing more than €200,000 ahead, and he is now the sire of a Prix de l'Arc de Triomphe winner in Torquator Tasso, who was also his leading domestic contributor after his victory in the Grosser Preis von Baden.
While Gestut Schlenderhan's giant will have more crops to come, they will be representing him posthumously after his death in April.
Multiple champion Soldier Hollow, still going strong ahead of his 22nd birthday, led on both winners and stakes horses but particular kudos must be given to Gestut Ohlerweiherhof's Isfahan, second in the standings with just two crops on the ground.
His son Sisfahan replicated his feat of winning the Deutsches Derby and he represents an exciting young talent for a country whose breeding principles command the utmost respect.
Prix Morny winner Arcano has proved a sound recruit by Allevamento di Besnate in 2016 and the son of Oasis Dream secured his first championship in Italy. The Italian Oaks heroine Eulaila was his best performer during the year.
---
More RP Bloodstock reviews of 2021
The most expensive NH horses sold
The sires, mares and breeders who shone - it's RP Bloodstock awards time!
---
Even if the potency of a stallion could recede with age, not many of them need to inherit just some of his magnificence to make an impact