Pivotal to Pivotal's success and longevity? Routine, plus a daily dose of honey
British bloodstock's gift just keeps giving, but at 27 anything more is a bonus
This article was first published in the Racing Post in October 2020
---
For the best part of two decades, Pivotal has played an integral role in the fortunes of British bloodstock.
He has been a fixture of the roster at David and Patricia Thompson's Cheveley Park Stud in Newmarket since the winter of 1996, a time when the internet was still in its infancy and putting pen to paper was a favoured method of communication.
The world, and our industry, is today completely different to the one back then. But throughout those years, Pivotal has remained a staple of British breeding, for which the sport is undoubtedly richer.
Now rising 28, time is catching up with Britain's stalwart stallion. However, the winners continue to flow, as we witnessed again at Ascot last Saturday when he accounted for the Champion Stakes winner Addeybb and the first two home in the British Champions Sprint Stakes, Glen Shiel and Brando.
In a further snapshot of his extensive influence, Pivotal also supplied the Long Distance Cup third Fujaira Prince and featured as damsire of placegetters Roseman, One Master and Magical. His son, Excellent Art, is damsire of Queen Elizabeth II Stakes winner The Revenant, while another more successful representative, Siyouni, fired in his third Group 1 winner in as many weeks when Etoile obliged in the EP Taylor Stakes at Woodbine in Canada.
Such results sum up Pivotal in a nutshell and pay tribute to his reputation as a consistent and versatile sire whose progeny, if handled correctly, tend to be long-lasting and genuine. A general affinity for softer conditions also played to their strengths last weekend.
Then there is his incredible record as a broodmare sire. Already the damsire of the likes of Cracksman, Mabs Cross, Fairyland, Advertise, Rhododendron and her sister Magical before this year, he has enjoyed another stellar season in that department thanks to Group 1 winners Love, Golden Horde and One Master.
At his peak, Pivotal commanded a fee of £85,000 but, as Cheveley Park Stud's managing director Chris Richardson recalls, securing interest in the stallion early on wasn't straightforward.
Pivotal retired to stand alongside his sire, Polar Falcon, as the winner of four races for Sir Mark Prescott, highlighted by narrow victories in the Nunthorpe and King's Stand Stakes, the former in a photo-finish over Eveningperformance that took 20 minutes to call.
At an opening fee of £6,000, he slotted nicely into a roster that was underpinned at the time by his sire and fellow speed influences Primo Dominie and Prince Sabo.
"I think he had a book of 60 in his first year," says Richardson. "The speed angle played to our advantage but still, he wasn't an easy sell.
"Mr and Mrs Thompson have an amazing touch and they act on what they believe. When they came to retire Music Boy [Cheveley Park Stud's first stallion], they were told that it probably wasn't a good idea to stand a Gimcrack winner. But they had the stud farm here and they stood him, and off a first book of 26 mares he became a leading first-crop sire. They believed in Music Boy and, in the same way, they believed in Pivotal."
Pivotal went on to emulate Music Boy by becoming the leading first-crop sire of his year and when that group went on to include Nunthorpe Stakes winner Kyllachy in addition to a German Oaks heroine Silvester Lady and top American turf filly in Golden Apples, the foundations were set for an international stud career of note.
For Cheveley Park, it has been a particularly rewarding journey given he was bred by the stud out of the Cozzene mare Fearless Revival and is the best son left behind by Polar Falcon. In turn, he was a son of Nureyev, with whom Richardson worked closely during his time in Kentucky.
"About 80 per cent of our broodmare band has the influence of either Pivotal or Polar Falcon," says Richardson. "And that's one of the reasons why we feel Ulysses is such a good slot for us, in light of how well Galileo has done with Pivotal.
"Pivotal is a bigger, chestnut version of Polar Falcon - he's got his head. He was from his first crop and a big, strong chestnut - I should think the size probably comes from Bustino [sire of his granddam Stufida].
"He always showed a lot of speed. As a two-year-old, he broke the five-furlong track record at Folkestone and then showed great competitiveness to win the King's Stand and Nunthorpe at three.
"A lot of his good horses have that same competitive nature, but he's also one of those who instils a calmness into his progeny alongside a huge amount of class. And I think that goes back to Nureyev. When you think that he broke his leg and then had to spend so much time in a sling; he had a lot of class to put up with all that and come out the other side, and that was something he passed down [Nureyev broke his right hind leg in 1987 but was saved and lived another 14 years at Walmac Farm]."
As Pivotal's reputation grew from those early crops, so did outside interest. In late 2005, it was announced that Darley had purchased 25 per cent of Pivotal in a move that allowed the horse to remain in Britain. It was an acquisition that also worked out well for Sheikh Mohammed, who would go on to breed Farhh, Buzzword and even a Dubai World Cup winner in African Story by the stallion.
Pivotal's reach today extends to sire sons such as Siyouni, Farhh and the recently pensioned Kyllachy, himself represented on the Cheveley Park Stud roster by his Group 1-winning son Twilight Son. With Haras de Bonneval's Siyouni nailed on to be France's champion sire of 2020 and Darley's Farhh making a name for himself despite battling fertility problems, his sire line appears in safe keeping for the time being.
Even so, the dominant legacy is undoubtedly that through his daughters. Pivotal became a top-ten British and Irish broodmare sire in 2012 when his eldest daughters were still only 12. The damsire of 109 stakes winners in total, he has been leading sire in that category every year since 2017 and is within striking distance of the leader Galileo in the race for this year's title.
"Maybe it's the Caro and Busted influence at play," says Richardson. "Caro [sire of his damsire Cozzene] is certainly a big factor. And of course, he's a grandson of Nureyev, a great influence in that department.
"He's also doesn't have any Sadler's Wells and Danzig, so he suits a lot of mares."
Pivotal remains in "good form" as the elder statesman of the stud, with a daily routine that consists of paddock turnout and a much enjoyed dose of Manuka honey.
"He got 15 of 30 mares in foal this season but whether he covers again next year is open to doubt, he'll tell us," says Richardson.
"He enjoys himself. He loves his routine, in particular his honey. Every morning we put some for him in a syringe and he loves it.
"Sir Mark would tell you that everything he did while in training was highly professional and, for us, he's just a joy to be around. To breed a horse who has done what he has achieved is immensely rewarding for all of us. He's an integral part of Cheveley Park Stud and has been a tremendous asset to European breeding."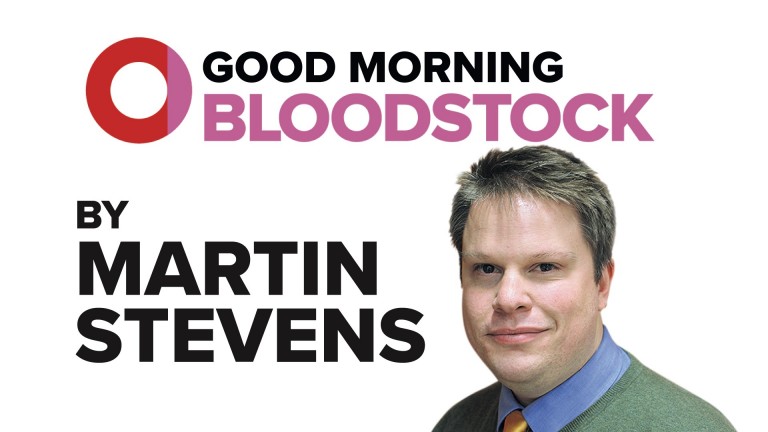 Good Morning Bloodstock is our latest email newsletter. Martin Stevens, a doyen among bloodstock journalists, provides his take and insight on the biggest stories every morning from Monday to Friday
Pivotal is one of those who instils a calmness into his progeny alongside a huge amount of class. And I think that goes back to Nureyev