What can Coolmore do to combat lack of credible stallion prospects in Europe?
Martin Stevens on this season's unusual dilemma for the leading operation
Good Morning Bloodstock is Martin Stevens' daily morning email and presented online as a sample.
Here he examines in more detail the lack of credible commercial Flat stallion prospects in Europe owned by Coolmore - subscribers can get more great insight from Martin every Monday to Friday.
All you need do is click on the link above, sign up and then read at your leisure each weekday morning from 7am.
---
We're living in strange times. Four Group 1 contests in Britain and Ireland that might be termed stallion-making races have come and gone since the Friday of Royal Ascot, and Aidan O'Brien has fielded just the one colt in them.
The man who has made more stallions than any other trainer in recent times was represented by Cadamosto in the Commonwealth Cup, and the No Nay Never colt finished a creditable fourth, but he was empty handed for the Platinum Jubilee Stakes the next day.
O'Brien relied on Oaks heroine Tuesday in the Irish Derby at the Curragh a week or so later, leaving him in the position of having no colt in the race for the first time since 1995, and he had no runner at all in the Eclipse at Sandown on Saturday in a similarly extraordinary turn of events.
None of which is to suggest that the record-breaking trainer has lost his touch, or anything else is up; there have been numerous other winners, including some exciting two-year-olds, that have emerged from Ballydoyle in recent weeks, thank you very much.
The relative dearth of top-class colts aged three and older might be down to a slower supply of raw material in these twilight years of the Galileo era, or it might just be that the wheel of fortune has turned in favour of other operations.
There are also mitigating circumstances to consider. For instance, O'Brien's principal patrons Coolmore had thrown in their lot with Australian challenger Home Affairs in the Platinum Jubilee, while the Ballydoyle-based Vertem Futurity winner and 2,000 Guineas third Luxembourg, who might have been an Eclipse contender, is currently out of action.
Either way, though, O'Brien's dry spell of Group 1-winning colts speaks to one of the biggest stories in the bloodstock industry emerging this season: the lack of credible commercial Flat stallion prospects in Europe owned by Coolmore.
I first mentioned this before Royal Ascot, suggesting that their international raiders Golden Pal and Home Affairs might be about to ride to the rescue. But it wasn't to be, with the former blowing the start and finishing last and the latter running well below par in 20th.
That leaves the highest rated colt or entire older horse owned partly or outright by Coolmore in Europe this season as Hardwicke Stakes winner Broome, with a Racing Post Rating of 123. The well-bred son of Australia has maintained a high level of form over five seasons, but it's probably fair to say that his overall race record lacks a little star appeal at present.
Gold Cup winner Kyprios and Tattersalls Gold Cup runner-up High Definition both boast peak RPRs of 120 this season but, realistically speaking, as middle-distance and staying sons of Galileo they are surely more likely to become jumps stallions or stand overseas. I'd be pleased to be proven wrong on that score, though.
Next best is Luxembourg with an RPR of 118. With the strength of the 2,000 Guineas form having been upheld by Coroebus and Native Trail and several of those behind, it will be fascinating to see what he can do if and when he returns to action this autumn.
For fans of Montjeu's feats as a racehorse and sire (and that should be everyone) it would be pleasing if his male line could endure on Flat rosters. Rightly or wrongly, the best chances of that happening lie with his grandsons who prove themselves over a mile at three, which his son Camelot did and Camelot's son Luxembourg has done.
Stone Age also has a top RPR of 118 this season, for his romp in the Leopardstown Derby Trial, but he is another in a crowded field of middle-distance sons of Galileo whose value as stallion prospects in Britain and Ireland has been compromised by their abundance.
He sidestepped the Eclipse in favour of this Saturday's Belmont Derby, won last year by another son of Galileo housed at Ballydoyle in Bolshoi Ballet, who is also reportedly being readied for an autumn comeback.
Aikhal is emerging as yet another fine middle-distance son of Galileo for O'Brien, having recently won the International Stakes at the Curragh by a wide margin. The Wilgerbosdrift-bred colt is set to compete in the Grand Prix de Paris next.
As I have remarked several times before, these middle-distance sons of Galileo are so plentiful that they are going to have to do something really special to stand apart from the crowd and become commercially desirable stallions. That situation might be a good advert for the late multiple champion sire's powers, but is less so for the long-term business model of covering big books.
Casting about for other potential recruits to Coolmore in Ireland next year there is Order Of Australia, a Breeders' Cup Mile winner with an impressive pedigree, and the useful sprinters Cadamosto and New York City, both of whom hold an entry in the July Cup at Newmarket on Saturday.
This sense of clutching at straws for serious stallion prospects is precisely why I started out by saying these are strange times. Coolmore always have at least one big new name with which to reel in breeders each year, and more often than not a handful; their business model depends on it. But at the moment it is hard to see who they will be next season.
It all makes me wonder what plans the Magnier family and their associates might have up their sleeves to rectify the problem. Perhaps there will be another purchase of a major proven stallion like Wootton Bassett, or the temporary or permanent import of one of the organisation's big guns from the US or Australia.
Or perhaps there will be a purchase of one or two independently owned blue-chip stallion prospects still in training. There aren't many of those around, of course, so maybe we could see once unlikely sounding channels of commerce, or partnerships, being established.
Strange times might just call for seemingly strange measures.
---
What do you think?
Share your thoughts with other Good Morning Bloodstock readers by emailing gmb@racingpost.com

Must-read story
Speaking of middle-distance sons of Galileo, did you spot that Coolmore sire Highland Reel supplied a first-crop tricast in a three-year-old hurdle at Tipperary late last week?

Pedigree pick
Continuing the theme of Coolmore-based sons of Galileo, hero of the hour Churchill – sire of Saturday's Eclipse winner Vadeni – is represented by one of the more interesting newcomers on a quiet day of racing in Britain and Ireland on Monday.
Desert Glory, trained by James Tate for breeder Saaed Manana, is a half-brother to two winners out of the dual Listed-winning Dynaformer mare Polygon, from the fine family of high-class siblings Grape Tree Road, Red Route and Windsor Castle.
A good run in the mile maiden at Ripon this evening (8.15) – which looks feasible against ordinary opposition – might see him escape the chop from his stable, as he holds an entry in the first session of the Tattersalls July Sale on Wednesday.
Don't miss ANZ Bloodstock News
Subscribe for free for the latest bloodstock news from Australia, New Zealand and beyond.
Make sure to read this week's Asia Bloodstock News
Sign up to our free weekly Asia Bloodstock News publication to receive news and features from all things racing and bloodstock across Mainland China, Japan, Hong Kong, Singapore and beyond.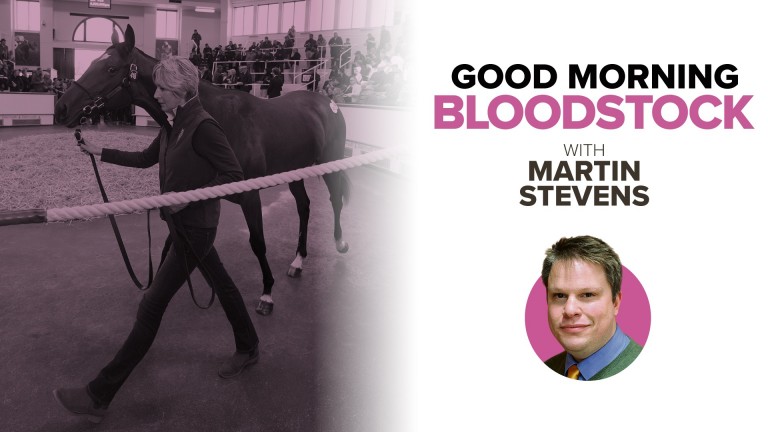 Good Morning Bloodstock is our email newsletter. Martin Stevens, a doyen among bloodstock journalists, provides his take and insight on the biggest stories every morning from Monday to Friday
These middle-distance sons of Galileo are so plentiful that they are going to have to do something really special to stand apart from the crowd