Remarkable tale of the owner who bought a Group 1 winner for €38,000 by accident
Martin Stevens talks to the wife of unwitting sales ring arm waver Holger Renz
Good Morning Bloodstock is Martin Stevens' daily morning email and presented online as a sample.
Here, he tells the intriguing tale of how a phone call during an auction led to one of the luckiest and most unusual breaks you can imagine. Subscribers can get more great insight from Martin every Monday to Friday.
All you need do is click on the link above, sign up and then read at your leisure each weekday morning from 7am.
---
It is by now a well-worn comedic cliché: the hapless visitor to an auction who scratches their nose or waves to their friend at the wrong moment, and accidentally has a bid accepted on an expensive item they don't want and possibly can't even afford.
The stuff of sketch shows and sitcoms is highly unlikely in the real world, as auctioneers are generally wise to what's going on in the auditorium and attuned to what constitutes a valid bid, but just such a misunderstanding did actually occur at the BBAG Yearling Sale in Baden-Baden two years ago.
Even more extraordinarily, the chestnut colt who was the subject of that unplanned purchase is none other than Tünnes, who became a sibling to a Prix de l'Arc de Triomphe winner when half-brother Torquator Tasso scored at Longchamp the following year, and who himself won the Grosser Preis von Bayern by a sensational ten lengths this month.
The man for whom mistakenly agreeing to pay €38,000 for the son of Giuliani has turned out to be a blessing in disguise is Cologne owner and breeder Holger Renz, famed in German racing circles for giving his inexpensively bred or bought horses names inspired by his beloved home city on the Rhine.
Millowitsch, a homebred prolific Group 3 winner by Sehrezad who was a vendor buyback as a yearling at €17,000 and now stands at Gestüt Röttgen in Cologne at the eccentric fee of €1,111, is named after a popular local entertainer, while stakes scorers Aff Un Zo (bought for €13,000), Bützje (€5,500) and Klüngel (€28,000) are regional dialect loosely meaning 'now and then', 'a peck on the cheek' and 'a system of scratch my back and I'll scratch yours'.
As you can see from the initial values of those horses, Tünnes – named after a rustic figure in Cologne folklore – cost a fair bit more than the owner would usually pay for a yearling.
Holger's English-speaking wife Alexandra told me this week: "He wanted to buy the horse, but for a really cheap price, and so he stopped bidding at €20,000. He rarely bids more than that, as he likes trying to find bargains at the bottom of the market.
"He then called a friend on his mobile phone, and was gesticulating or pointing as we all do sometimes when we're chatting, so the auctioneer thought he was still bidding. He ended up having the horse knocked down to him for €38,000, completely by accident.
"Holger came and told me what had happened and said the price was really too expensive, and that he didn't want the horse at that price, but that he also didn't want to cause any upset by cancelling the sale. Of course, he's very relieved now that he didn't!"
It didn't take long for it to become apparent that Tünnes was the most happy of accidents, after he had been renamed from his breeder's choice of moniker, Tijuan Hilleshage, and sent into pre-training.
"He was originally trained in Hanover, and they always said he was a really good horse, and then he moved to Peter Schiergen at the start of his two-year-old season and he immediately said he was something very special," says Alexandra.
But surely no-one could have foreseen that after finishing second on his debut at Cologne he would remain unbeaten in five further starts, including a Group 3 at Krefeld at two and the German St Leger by eight lengths and the Grosser Preis von Bayern by ten lengths this season at three? Or that he would take on the world's best in the Japan Cup on Sunday, worth a cool £2.5 million to the winner?
"Peter really did always tell us that he had extraordinary talent," insists Alexandra. "He was sure about it. But as an owner you just wait and see, because quite often you're told things like that and an accident happens, or they injure themselves and can't show it."
Another astonishing element in the tale of Tünnes is that he is the second Group 1 winner – after the brilliant Arc winner Torquator Tasso, who was third in the defence of his title last month – from just three runners to have been bred by Dutch hobby breeder Paul Vandeberg from his only mare Tijuana, a daughter of Toylsome.
Pleased to report that the unassuming Vandeberg, a retired master butcher and breeder of warmbloods who beat local heroes to be voted Germany's horseracing personality of the year of 2021, is joining Holger and Alexandra Renz and Schiergen on the trip to Tokyo to support the horse at the Japan Cup this weekend.
"We're travelling with Mr Vandeberg, who has really enjoyed following Tünnes and was even happy with our name change," says Alexandra with a chuckle.
"You won't believe it, but the trip to Japan will be the first flight he has made in his life, and I think he's in his 70s. An experience like this, it just shows you where racing can take you."
It also amuses me to think that all those agents and trainers who take themselves ever so seriously in the sales ring, hiding behind pillars, concealing their mouths with their hands and signalling bids with an almost imperceptible raise of their catalogue, will never buy a horse as good as Holger Renz did when he waved his arms with a little too much animation during a phone call and had several bids accepted by the auctioneer by accident.
What do you think?
Share your thoughts with other Good Morning Bloodstock readers by emailing gmb@racingpost.com
Must-read story
"She just seems to be able to go out there and do her thing no matter what; no matter what the ground is, no matter what the trip is and no matter what the pace is, she just seems to always do it," says Henry de Bromhead as he prepares his stable superstar Honeysuckle for what could be a record-breaking season.
Pedigree pick
Heavenly Clouds, who makes her debut in the bumper at Wetherby on Wednesday (3.40), is a Milan half-sister to one of the most popular jumpers of the 21st century, in the brave Hennessy Gold Cup and Grand National hero Many Clouds.
She also happens to be a half-sister to dual Grade 1-winning novice hurdler and Powers Gold Cup runner-up The Tullow Tank, and is out of Bobbing Back, a daughter of Bob Back from the family of smart handicap chasers Back On Line, Battle Axe, Inishowen, Merry Master and Very Very Ordinary.
The five-year-old mare is trained by Mel Rowley for Hot To Trot Racing, having been knocked down to Gerry Hogan for €46,000 at the Goffs December National Hunt Sale.
Don't miss ANZ Bloodstock News
Sign up for free to our weekly Asia Bloodstock News publication to receive news and features from all things racing and bloodstock across Mainland China, Japan, Hong Kong, Singapore and beyond.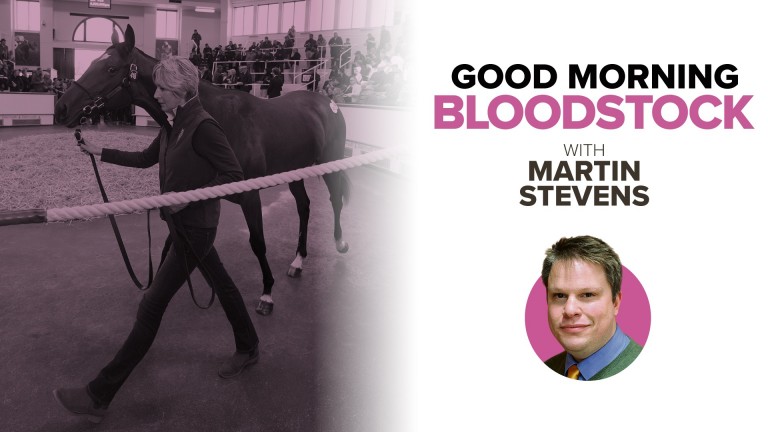 Good Morning Bloodstock is our latest email newsletter. Martin Stevens, a doyen among bloodstock journalists, provides his take and insight on the biggest stories every morning from Monday to Friday
'He didn't want to cause any upset by cancelling the sale. Of course, he's very relieved now that he didn't!