How Covid-19 is giving an inadvertent boost to bloodstock sales around the world
Good Morning Bloodstock is Martin Stevens' brand new daily morning email and presented here online as a sample.
In his first despatch he takes a look at Covid-19's ongoing impact on bloodstock sales – it's not what you might think, and subscribers can get more great insight from Martin every Monday to Friday.
All you need do is click on the link above, sign up and then read at your leisure each weekday morning from 7am.
---
Welcome to Good Morning Bloodstock, our new email that will deliver the latest news and views on the breeding and sales scene direct to your inbox from Monday to Friday each week.
Like the Racing Post's popular daily racing briefing The Front Runner, we aim to be an open forum. So if you have any opinions or stories you want to air, or have spotted an interesting stat you think is worth bringing to wider attention, don't hesitate to email us on gmb@racingpost.com.
I thought I'd get the ball rolling with a controversial statement that might even sound tasteless on the face of it: that, as deadly and disruptive as Covid-19 has undoubtedly been, it appears to be giving an inadvertent boost to bloodstock sales around the world.
The pandemic might have thrown the auction calendar into disarray, and caused countless inconveniences such as the late barring of British buyers at the Tattersalls Ireland Derby Sale in June, but trade appears to be holding up extraordinarily well.
That sale at Fairyhouse achieved a record average price of €54,018 and median of €48,000, along with an impressive 86 per cent clearance rate, even with so many participants unable to be present on the grounds when the horses came under the hammer
Part one of the Goffs Land Rover Sale was also remarkably buoyant, with chunky increases across the board – most notably the turnover, which soared by 105 per cent to €16,337,500.
Last month's Tattersalls July Sale produced another eye-popping stat, with an almost unheard-of clearance rate of 94 per cent. The final turnover of 12,301,300gns was the fourth highest in history and the 12,000gns median managed to equal the auction record, going to show that some of these soaring increases are not just the result of last year's sales being down.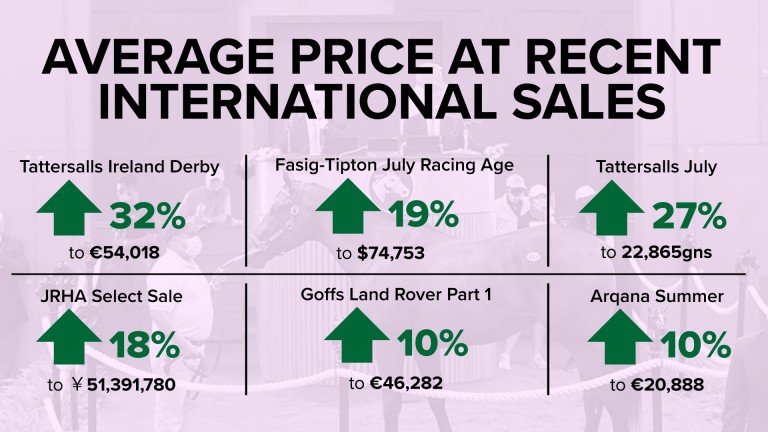 Covid-19 has been particularly unkind to auction houses in Ireland, but Goffs chief executive Henry Beeby concedes that the pandemic has created a set of outcomes that might just be encouraging people to buy bloodstock.
"I think there's some merit in the argument that people have had additional disposable income and not been able to spend it on anything else, so perhaps they've invested it in horses," he says. "I don't know if that could be proved as fact, but it's certainly a view I've heard expressed many times now.
"Another opinion leading on from that is that now the world is getting back to a degree of normality, and people have money to spend, there might be a boom, just as there was in the Roaring Twenties.
"There are certainly positives that have come out of Covid-19, and perhaps the biggest positive of all is that it has forced entities such as Goffs to develop online bidding facilities that are customer friendly and easy to use, and they will remain permanently."
The theory that wealthy people have been redirecting money from activities restricted by the pandemic into the bloodstock market certainly stands to reason. That's why it was always so crucial that racing continued in a secure environment during lockdown. As long as owners were able to enjoy watching their horses run, and even perhaps make a little profit by trading them along the way, they were going to maintain their appetite for purchasing more stock at the sales.
There are, of course, other dark clouds still looming over the industry ahead of the coming yearling sales season, not least the question of Shadwell's involvement after the death of Hamdan Al Maktoum. But the outlook is much sunnier than anyone could have imagined when the lots on offer were born during the emergence of Covid-19 in early 2020.
Don't miss this week
There are Group races galore at Deauville tomorrow, including the Prix de Cabourg and Prix Six Perfections for two-year-olds and the Prix Rothschild featuring Mother Earth and Primo Bacio. Tomorrow's Deauville fields.
Go Bears Go and Quick Suzy are among the potential runners for the first two-year-old Group 1 race of the season in Europe, the Phoenix Stakes at the Curragh on Sunday. See the potential runners.
Jumps-bred yearlings, stores, horses in training and pointers come under the hammer at the Goffs UK August Sale on Wednesday and Thursday. It was there in 2013 that Nigel Hawke bought the mighty Tiger Roll as an unraced three-year-old from the Darley draft for just £10,000. View the Racing Post's customisable catalogue.
Must read story
Here's a pedigree to make the mouth water: a Frankel half-sister to European champion Almanzor. The filly in question, Natasha, makes her debut at Kempton today. Find out more.
Stat stunner
One of the biggest bloodstock stories of the year, if not the millennium, would be a debut British and Irish sire championship for Frankel – and thus a first for any British-based sire since Mill Reef way back in 1987. Frankel leads his late father Galileo by a margin of more than £750,000, thanks largely to his Derby-winning sons Adayar and Hurricane Lane. Follow the title tussle with the Racing Post's authoritative sire stats.
International news
Written Tycoon and Savabeel have landed the sire championships in Australia and New Zealand. Read all about it in ANZ Bloodstock News - follow the link to download the latest newsletter and subscribe.
---
Good Morning Bloodstock is our latest email newsletter. Martin Stevens, a doyen among bloodstock journalists, provides his take and insight on the biggest stories every morning from Monday to Friday
Now the world is getting back to a degree of normality, and people have money to spend, there might be a boom, as there was in the Roaring Twenties