Trouble ahead as supply continues to outweigh demand in breeze-up market
863 lots have been catalogued in 2018 but only 480 have changed hands
The running theme of the 2018 breeze-up season so far has been the fragility in the market, particularly below the very top tier, with anxieties that began at the Tattersalls Ireland Ascot auction in April continuing right through to last week's Tattersalls Guineas Sale.
Everything from Brexit to overproduction has been touted as the root of the issue, but the reality probably lies somewhere in between.
But whatever the cause, breeders, vendors and sales companies will need to come to terms with the fact that demand has failed to keep pace with supply.
---
---
There have been five major breeze-up auctions in Europe so far this season, namely the Tattersalls Ireland Ascot Sale, Goffs UK Breeze-Up, the Tattersalls Craven and Guineas Sales and the Osarus two-year-old sale at La Teste.
A total of 863 two-year-olds have been catalogued across those sales, an 18 per cent year-on-year increase, while 717 of those juveniles have actually come under the hammer, a 23 per cent increase on the 583 breezers that had been offered at the same stage in 2017.
Despite the significant increases in the number of horses catalogued and offered, there have been only five more lots sold across those sales than last year, with 480 horses changing hands compared to 475 by the same stage 12 months ago.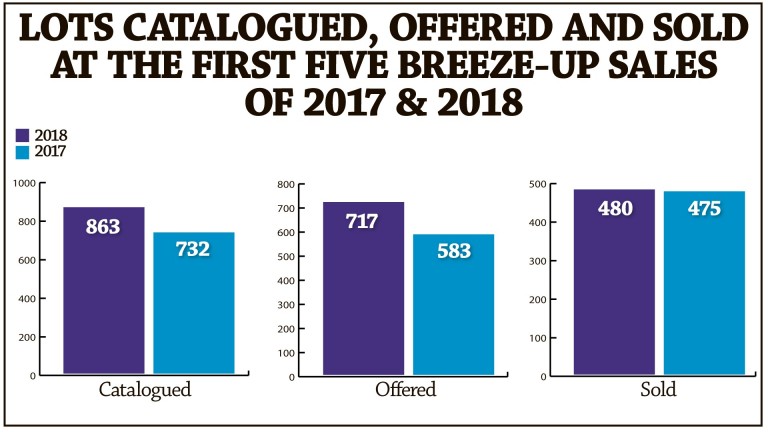 This should be read as a clear indication to all concerned that the demand from the end user is not on the rise, even if the horse population is.
The more pragmatic out there, however, may believe this year's results are simply the market correcting itself.
The 2017 breeze-up season was, for the most part, exceptionally strong, and a few of the key players who contributed to that have been sorely missed 12 months on.
Cheveley Park Stud, for example, who caused eyebrows to raise when they signed for 14 lots for a total spend of 1,049,000gns across the 2017 Tattersalls Craven and Guineas sales, have so far been absent from the current breeze-up season.
Similar comments apply to Phoenix Thoroughbreds who, through Kerri Radcliffe, spent 950,000gns on three lots at the Craven Sale and £285,000 on two lots at Goffs UK in 2017. With a new-look buying team in place in 2018, Phoenix has spent just 160,000gns on one lot at the Craven Sale and £140,000 on a solitary lot at Doncaster.
And given the global nature of the bloodstock industry, it cannot have helped that this year's Goffs UK Breeze-Up clashed with the Inglis Easter Sale in Australia.
The Hong Kong Jockey Club, who last year spent £350,000 on four lots at Doncaster, were notable by their absence only this time around, choosing instead to head to Sydney, where the buying team spent A$4.6 million (£2,551,400/€2,901,239) on six yearlings.
There are, of course, two legs of the European breeze-up season left, with both Arqana and Goresbridge also set to offer expanded catalogues.
Arqana has 170 lots catalogued, a 22 per cent increase, while 246 two-year-olds have been entered in the Goresbridge breeze-up sale. While that only represents a four per cent increase, it does mean Goresbridge has the largest catalogue in Europe at a time when supply is evidently outweighing demand.
The current trend not only raises concerns about what will happen at Arqana and Goresbridge but, given that the two markets are inextricably linked, what the ramifications will be for the yearling sales later in the year.
For many pinhookers it might be a case of once bitten, twice shy when it comes to reinvesting in the autumn.
---
If you found this story of interest you may also enjoy...
Going Cleere: the jockey using science and soft hands to produce future stars
Bloodstock South Africa's National Yearling Sale: where romance meets the rand
Big talent from small money paves the way for Clive Cox's success
This should be read as a clear indication to all concerned that the demand from the end user is not on the rise, even if the horse population is