Is Korea the next big racing empire?
Our correspondent took in the Korean Derby at Seoul last weekend
It would be foolish, to say the least, to dismiss racing in Korea as some sort of novelty, even if that's the temptation based on what we might perceive as a 'cute' approach to certain racing matters.
The 'Whinny World' signage as you enter Seoul's Let's Run Park racecourse is one; having several of the racing world's leading administrators colourfully clad on stage in the lead-up to Sunday's Korean Derby is another.
But these things do not disguise the fact that the Korean Racing Authority (KRA) is an emerging racing power. It does not yet rival neighbours Japan in overall racing and breeding status nor Hong Kong for quality of participant or turnover but it is becoming a force in the region.
The Derby day betting turnover was estimated to be a staggering $70 million generated by around 50,000 punters at the Seoul track and from Busan and off-course betting outlets. That followed turnover of $30m and $50m at the Friday and Saturday meetings this week. Annual turnover is north of $7 billion.
The most popular bet type is the quinella (takeout rate 27 per cent) which accounts for about 70 per cent of all betting.
Mainstream appeal
Those figures suggest, without I concede genuinely understanding Korean popular culture, that racing here still has something of a mainstream appeal.
It is certainly sophisticated as Nag Soon Kim, the chairman and chief executive of KRA, outlined in his address to officially welcome guests for the 37th Asian Racing Conference which began on Monday.
"From the ashes of the Korean war has evolved one of the most advanced racing structures in the world," he said.
The 1950s Korean peninsula conflict all but extinguished racing but its contemporary resurgence has been astounding, driven by astute management, planning and education - with the KRA regularly sending employees around the world to gain knowledge and experience - plus its focus on embracing the community and community needs.
This is not dissimilar to Hong Kong which has to be seen to be benefiting the community at large. Korea's 'Whinny World' with children's attractions is part of that focus along with the creation of off-course betting centres which are community spaces offering much more than betting terminals.
There may be lessons to be learned, from this approach, in the western racing world where a growing community backlash against gambling which may well threaten racing's viability long term and where retails outlets appear doomed in many jurisdictions.
Racing really does need to divorce itself from other more insidious and pernicious forms of gambling and be seen to be community focused.
The Korean Derby, 1800 metres on the heavy sand, carried a purse of about $800,000 which provides a further measure of the jurisdiction's evolution. It was won by locally bred colt Ecton Blade who's by Ecton Park, a son of Forty Niner, who began his stud career in Kentucky before being shipped to South Korea in 2009.
Rising talent
He's trained by Kim Young Kwan who looks to be the Darren Weir or Chris Waller of racing in the Republic.
"He's the man,' said former Victorian trainer Peter Wolsley who's plied his trade from Busan for ten years. "He could have had five or six run in the Derby but chose to go with just two and finished first and fourth.
"He's got a terrific team and every year I pretty much have to resign myself to finishing second to him on the Busan trainer's table."
Kwan, before yesterday's meetings, had trained 50 winners for the season at the phenomenal strike rate of 39 per cent. Wolsley sat second with 17 winners. It was Kwan who managed to put the country on the world racing stage by winning, with Main Stay, a race during the 2017 Dubai World Cup carnival at Meydan.
"The racing really has advanced dramatically in the past decade or so since I have been here," said Wolsley, who originally trained at Bendigo.
The day itself was interesting albeit with the mood a touch subdued as punters, men and women alike, were absorbed in the huge broadsheet style form guides. They are passionate about backing a winner. On a previous visit to Seoul, I recall the races were abandoned due to snowfalls and the punters were a half head away from rioting.
Four local (and talented) singers belting out This Is The Moment and We Are The Champions before the horses paraded for the Derby was a good touch and one which could well be copied. I could imagine a well lubricated crowd at Flemington or Cheltenham joining in - especially with the latter. However, I did wonder whether the locals might have preferred a song in their own language.
Fortunately, there was no rerun of Gangnam Style which originated down the road.
Race 2 Seoul today.... pic.twitter.com/1LVY0oWTBl

— Steve Moran (@stevem_moran) May 13, 2018
Seoul Racecourse Park is located next to Seoul Grand Park in the southern Seoul suburb of Gwacheon and opened at the time of the 1988 summer Olympics. Chairman Kim describes it as "the birthplace and epicentre of modern Korean racing".
The track features a 127 metre long big screen which the KRA say is the world's biggest. It may have blocked any view of the back straight but who cares - again a lesson for other clubs. The vision was spectacular and absolutely brought to life the action from the away meeting at Busan. I'd love to see something similar at Flemington and/or Randwick - especially on those days when there's fantastic racing in both states.
There are further developments imminent in Seoul including the installation of a grass track but, in truth, I could not get that absolutely confirmed on Sunday.
Still, the KRA advances as Winfried Engelbrecht-Bresges, chairman of the Asian Racing Federation and chief executive of the Hong Kong Jockey Club, acknowledged when responding to Kim's welcome: "The great growth and development of of Korean racing has been remarkable in recent years."
As to the seemingly easing tensions between North and South Korea, nothing has really changed according to Wolsley. "It obviously appears to be welcome news but people just go about their business here and always have. I don't think anything's really changed," he said.
Travel tip
Wine's not big in the restaurants and bars outside the major hotels in Seoul. But, shock horror, you can find drinkable Argentinian Malbecs and Chilean Cabernet Sauvignons in 7/Elevens and other convenience stores.
---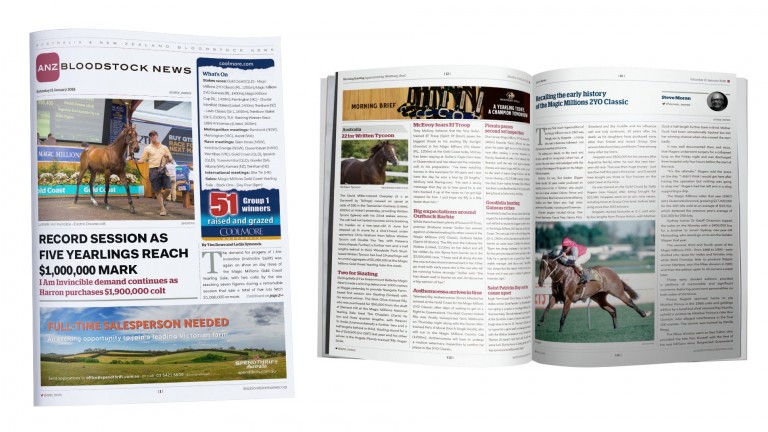 For complete coverage of racing and bloodstock in Australia and New Zealand, download ANZ Bloodstock News every day
From the ashes of the Korean war has evolved one of the most advanced racing structures in the world