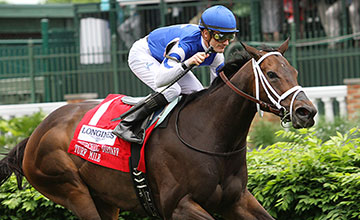 Tepin: favourite for the Queen Anne Stakes at Royal Ascot
PICTURE:
Jessie Holmes/EquiSport
Questions raised over Tepin's Royal Ascot raid

A DECISION on the participation of superstar American miler Tepin at Royal Ascot is expected to be made on Sunday with connections putting forward significant late reasons why the Queen Anne Stakes favourite should not compete in Britain.
RELATED LINKS
Tepin is a best-priced 7-2 favourite for the royal meeting opener, for which she has been under serious consideration since her success in the Breeders' Cup Mile.
However, trainer Mark Casse now says it is a "concern" Tepin would not be permitted to race at Ascot using the nasal strip she has worn in races due to a breathing problem.
The mare on Saturday worked at Churchill Downs without the nasal strip and anti-bleeding drug Lasix, after which jockey Julien Leparoux reported the five-year-old made "maybe a little bit more" breathing noise than normal.
Casse, who was represented by son Norman at Churchill Downs, will get a final verdict from owner Bob Masterson on Sunday.
Breathing issues
He told the Lexington Herald Leader: "My concern is she's had some breathing issues in the past. At Del Mar when she ran her one bad race she nearly collapsed. As great as she is, she does have some issues.
"We don't run all our horses in the nasal strip but it's really important for her to wear it. It's a concern. We just found out recently she's not going to be allowed to use the nasal strip at Ascot, so we're going to discuss it all. I think by tomorrow [Sunday] we need to make a final decision."
Ascot's response
Ascot's Nick Smith said: "They have mentioned the nasal strip before. It's not something new. They need to decide how important it is to the horse but they are fully aware you can't use one in this country.
"We're delighted connections have shown a sustained interest for seven months and the warmest welcome awaits if they do come.
"They confirmed at the second payment stage on Tuesday. From that you would logically assume they want to travel. The fact they've entered her in the Sussex Stakes also makes you think the same."