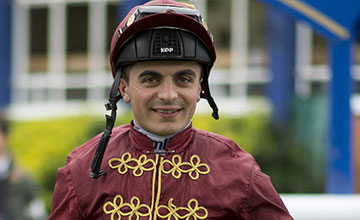 Atzeni: is unsure whether or not he will appeal his ban
PICTURE:
Edward Whitaker (racingpost.com/photos)
Atzeni pondering an appeal for 'appalling' ban

ANDREA ATZENI said on Sunday he would never continue to ride an obviously lame horse as he decides whether to lodge an appeal against the 'appalling' eight day ban he collected at Goodwood.
If the jockey accepts the punishment imposed for riding debutante filly Gabster contrary to her welfare he will spend two weeks on the sidelines from August 8 to 21, a period which includes three of York's four-day Ebor festival having also been picked up a six day whip suspension in the King George VI and Queen Elizabeth Stakes.
"I should confirm tomorrow whether to appeal," he said on Sunday. "It is 50-50. I have to speak to my solicitor to see what the situation is."
After the heavily eased Gabster finished tailed off at Goodwood she was found to be sound when trotted up but asymmetric behind and given pain relief. Atzeni was found in breach of the rules and banned, a decision the filly's trainer Amanda Perrett branded "appalling".
Atzeni said: "If I thought it was serious I would have got off and walked the filly back. I would never canter a horse back that was lame. The filly was green on her first run, she was backing off, she felt uncomfortable, she was never going to get involved in the race so I took her back and hacked her back.
"I got done for apparently cantering a horse back that was lame. I didn't think she was lame, she just felt uncomfortable. I felt she was fine to canter back. Amanda felt I had done the right thing. I am not sure there is much I can do. They got a vet to check afterwards and I think she was slightly lame. It is very tricky. You don't want to pull a horse up you don't think is lame and then afterwards find there is nothing wrong with the horse."