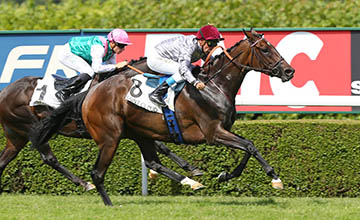 Treve: beat subsequent Saratoga Grade 1 winner Flintshire by a length and a quarter in the Grand Prix de Saint-Cloud, despite going left-handed
PICTURE:
APRH
Treve much better
going right-handed

CRIQUETTE HEAD-MAAREK believes right-handed Longchamp will show history-chasing Treve in an even better light on Sunday week than did her two victories earlier in the season the other way round at Saint-Cloud.
RELATED LINKS
The dual Arc heroine beat Flintshire by a length and a quarter in the Grand Prix de Saint-Cloud last time, form that was done no harm when the runner-up easily won a Saratoga Grade 1 last Saturday.
"I think I've discovered she's a lot better going right-handed than left," said Head-Maarek. "I'm convinced she's much more comfortable. She's on the correct lead going right-handed and I think there's a big difference."
'She is full of life and energy'
On Tuesday Treve completed her last serious gallop before her reappearance in the Prix Vermeille and, having impressed on her first proper work seven days ago under Thierry Jarnet, the five-year-old was set a more severe test behind three lead horses with head lad Pascal Galoche on board.
"She pulled quite a lot and was fresh, even though they went a good gallop," said Head-Maarek. "Pascal said she was pulling quite a bit. He knows her very well and when he asked her to quicken she did, so you can't fault her.
"She hasn't run since the Grand Prix de Saint-Cloud, so is full of life and energy. She'll need the race to bring that level down a bit, it will do her good. But she's fine, her action is good."
Full Mast and Epicuris could race next season
Aside from Treve's unimpeachable form, Head-Maarek has endured a frustrating campaign with the yard's other two Group 1 winners from 2014. Full Mast did not start until June after sustaining a couple of knocks in the spring, while Epicuris had his campaign interrupted by the insistence of French stewards that he could not receive outside assistance to enter the stalls.
Head-Maarek said: "Full Mast is resting in England. He won't run again this year but will come back next season. Epicuris is entered in the Prix Dollar on Arc weekend but I'm not too keen to run him again this year.
"We did too much with him, sending him away to [horse behaviour expert] Nicolas Blondeau and then back to the racecourse at the request of the stewards. It was too much for him. He looks much better now. I'll talk with the prince [Khalid Abdullah] but he might be finished for the year. He could make a nice four-year-old."