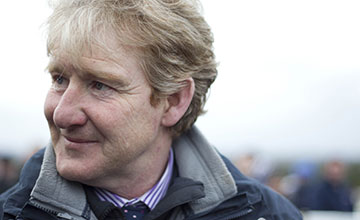 Philip Fenton: Turf Club will launch its own investigation into steroids case
PICTURE:
Patrick McCann (racingpost.com/photos)
Fenton found guilty of possessing steroids
TRAINER Philip Fenton was on Thursday found guilty of eight charges of possessing unlicensed animal remedies after a full hearing into charges brought by Ireland's Department of Agriculture at Carrick-on-Suir District Court in County Tipperary.
Fenton, who is considering an appeal, has been fined €6,000 and must pay more than €10,000 in total costs following the hearing. The Turf Club will now launch its own investigation into the case following the trainer's guilty verdict.
Evidence was heard from two Department of Agriculture officials, Brendan Daly and Noel Kelly, who visited Fenton's stables near Carrick-on-Suir on January 18, 2012 when the substances were found and seized.
Officials discovered a kilogram of Nitrotain and a 20ml bottle of Ilium Stanabolic, both anabolic steroids and illegal for use on horses in Ireland.
In his evidence, Daly claimed the animal remedies and the steroids were found in a cardboard box, covered by a rug, in a building adjacent to where the trainer's veterinary medicines were stored. The Department is being represented by Sean Gillane, senior counsel, with barrister Johnny Walshe representing Fenton.

Cross-examining Daly and Kelly, Walshe claimed that correct protocols were not followed when the Department's investigators visited Fenton's yard and after the visit.

Walshe referred to the absence of a search warrant, a Department exhibits book to record details of the substances found and also pointed to the officials' alleged failure to caution Fenton on the day in question. He claims that the protocols not being followed was in breach of Fenton's rights.
The charges against Fenton include allegations he was illegally in possession of Nitrotain, which contains the anabolic steroid ethylestrenol and is reported to improve the muscle mass, strength and stamina of horses.
The charges also involve the alleged possession of Ilium Stanabolic, which contains the anabolic steroid stanozolol. Four of the charges allege Fenton had possession of prescription-only medicines for horses without having any vet's prescriptions for the medication when the Department of Agriculture inspected.
When the allegations were revealed in February it prompted the BHA to test Fenton's Cheltenham Festival-bound horses before allowing them to run. The BHA also inspected his yard and testing history, and said no evidence was found of the administration of illegal substances.