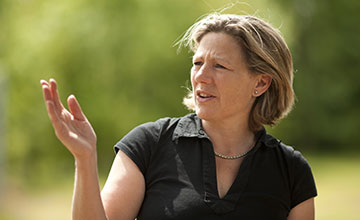 Eve Johnson Houghton: trains one of the horses who tested positive
PICTURE:
Edward Whitaker (racingpost.com/photos)
Another trainer admits to positive morphine test

TRAINER Eve Johnson Houghton has revealed one of her horses has tested positive for morphine, but the mystery surrounding the cluster of positive tests deepened as she confirmed she does not use the feed suspected of being the source of the contamination.
The news follows Tuesday night's shock announcement that the Queen's horse Estimate, the 2013 Gold Cup winner, had also produced a positive sample.
RELATED LINKS
On Wednesday Johnson Houghton admitted her three-year-old gelding Charlie Wells is set to be disqualified, having tested positive for morphine after winning at Chepstow on June 23, but said she has never fed her string Alfalfa Oil Plus, the Dodson & Horrell product identified as possibly causing the problem.
Johnson Houghton said: "It has come in the feed, but which bit of feed I've no idea, nobody seems to be able to say. The BHA seem to be taking an awful long time to test it and tell me which it might be in, and maybe they'll never find out.
"I use some Dodson & Horrell products, but not the one they say there may be a problem with.
"I believe it was only a miniscule amount [of morphine], but I don't know because the BHA say they cannot tell me about quantities."
She added: "I am still running horses and hoping they are not going to test positive."