Data offers punters a better shot at success
Tips and wisdom from the betting industry insider
Having been nothing other than a bookmaker or professional football bettor for the past 15 years, and with writing experience limited to a handful of semi-well received blogs, it's fair to say the Racing Post are taking a punt asking me to write a weekly column.
However, I'll try to prove that punt worthwhile by sharing everything from betting advice, to areas where markets may sometimes be wrong, to how bookmakers tend to think and what makes them worry.
Anyway, enough with the introductions.
What makes football more intriguing than any other sport?
The answer is in its unique low-scoring nature.
Tennis, for example, has matches containing hundreds of individual points, so luck and randomness are likely to even themselves out enough over the course of a full match to ensure the best player on the day wins.
The majority of sports are like tennis in that respect –football is the exception.
Anyone who watched Liverpool v Plymouth last Sunday will have seen one team completely dominate for 90 minutes but only draw. And that's football's biggest charm.
If we always take football results at face value, that uniquely frequent occurrence of the best team not winning can cause us bettors, if we're not careful, to jump to unsafe conclusions.
What steps can we take to avoid falling in the trap?
One angle is to look at things which happen more frequently than goals, as they give us a larger sample size of incidents to compare. The larger your sample the less chance you can be fooled by randomness.
If you're consistently having lots of shots on target but not scoring many goals, often you've come up against some inspired keepers or your strikers are having a spell of missing cow's behinds with their banjos.
Sooner or later their luck will turn or they'll be replaced by someone with his boots on the right feet.
Similarly, if you're allowing very few shots on target but every opposition striker is on a hot streak, eventually you'll meet some teams who miss.
So shots-on-target data can be a good way to identify teams who might be about to see a better or worse run of results than those only looking at league tables are expecting.
A couple of things raise possible betting angles from the table (below). First, I imagine you're a bit surprised by Arsenal's position.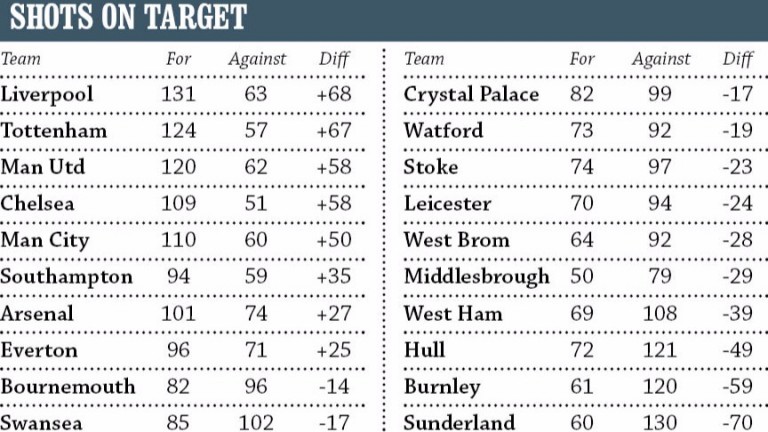 Even with great strikers, it's hard to sustain a top-four challenge when you're not dominating opponents consistently like the other five members of the big six are clearly doing.
With that in mind back Arsenal at 5-4 not to finish in the top four this season.
Secondly, and the biggest surprise compared to the league table, is Swansea, who are evidently not being overrun every week.
If Paul Clement can cut out silly individual errors and bring in a finisher to convert more of the chances they're creating, Swansea could have a much bigger shot at beating the drop than most believe.
---
Stanley's league fortunes will surely improve soon
Tricks of the Trade: the league table lies
FOOTBALL is full of cliches and nonsense phrases passed down from father to son and from pundit to audience –none more so than: "The league table never lies".
League tables, in every country and every division, often lie, and sometimes they tell real whoppers.
Every Friday I'll aim to flag up one team somewhere around the globe for whom the league table isn't currently telling the true story.
We'll start with Accrington Stanley.
Who are they? Well, according to my ratings they're the 12th best team in Sky Bet League Two, but they sit in 20th place.
Stanley have navigated a passage into the fourth round of the FA Cup, but in the league fate is currently conspiring against them.
In their last league game they drew 2-2 with Hartlepool despite winning the shot count 14-4.
On Boxing Day they lost 2-0 at Grimsby, with a shot count of 14-6 in their favour, while on December 10 they lost 1-0 at Leyton Orient despite winning both the shots and shots-on-target battles.
Carry on like that and results, for any team, almost always start to turn.
Don't expect to see Stanley in the relegation dogfight come the spring and they are worth backing to beat Cheltenham tomorrow at Whaddon Road.
Cheltenham sit 23rd in the table and, unlike Accy, will be in the relegation mix.

Nick's nuggets
Accrington to beat Cheltenham
1pt 8-5 general
Arsenal not to finish in the top four
1pt 5-4 Sky Bet
Swansea to stay up
1pt 6-4 Sky Bet
League tables, in every country and every division, often lie, and sometimes they tell real whoppers