All the ingredients are there for ITV racing to toast a year of success
The Thursday column
I've liked it but that doesn't matter. I like purple too but that doesn't make it officially the world's best colour. One person's view of ITV Racing in isolation is irrelevant.
But a collection of views – the bigger the better – most certainly does matter, and as the channel completes its first year as the terrestrial rights holder it is an apt moment to assess how it has done and whether the decision to remove the coverage from Channel 4 was beneficial to racing.
In an attempt to do that, I ran a Twitter poll this week asking people which of four descriptions most closely matched theirs. The results showed 21 per cent thought it outstanding, 65 per cent voted for not bad at all, 11 per cent said it was disappointing while three per cent plumped for terrible. That makes for pleasing reading if you are ITV, even if my little piece of research is of minuscule importance in comparison to actual viewing figures, of which more later.
However, 870 votes, 86 per cent of which reckon ITV Racing is either outstanding or not bad at all, with the latter option being the more popular, is, erm, not bad at all, as is the absence of any significant feeling that the coverage is terrible.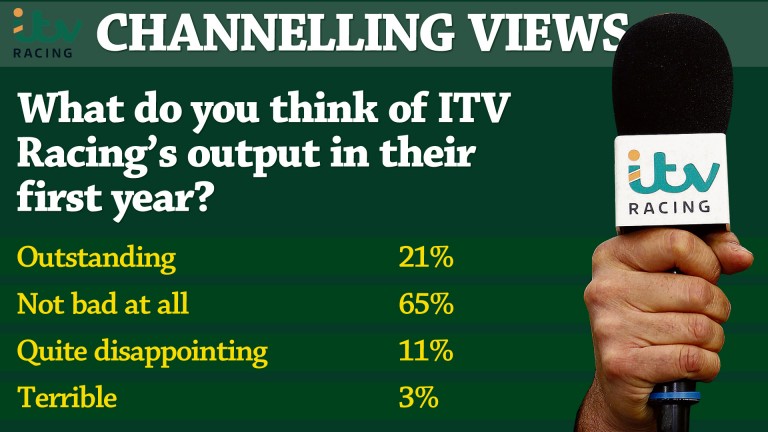 A lot has happened since the maiden voyage, which took place on a hugely testing afternoon at Cheltenham when the weather threw everything it could at Ed Chamberlin and his colleagues, and left the jury none the wiser whether the new team was an upgrade on the old one.
Irrelevant though an isolated view is, I have a column to fill so here is my opinion of how the ITV operation has gone as it approaches its first anniversary.
The big bonus has been the basic positioning of the presenters in the paddock, which has instantly added an atmosphere and a live feel that was lacking previously, when the anchor and experts were shut away in a studio that could have been anywhere. Viewers now feel more as though they are being transported to the heart of the action.
The other fundamental difference between ITV and Channel 4 has been the lighter approach taken by the current rights holders. Basically, it's a bit more smiley and a touch friendlier now.
That's not to say C4 was hideously dour or indeed that ITV's take on how to beam racing into people's homes is the right one. There are plenty of racing fans who find it lightweight and not sufficiently in-depth for them.
But these folk can enjoy a more earnest presentation on Racing UK and ATR, leaving ITV to try to grow an audience by refraining from baffling less expert viewers with the kind of comprehensive form analysis of old.
---
More by Bruce Millington
McCoist deserves to be top dog but Swann's yapping is hideous
Tetchy Taylor to blame if final fling falls flat
Going concerns mean no easy ride for clerks of the course
No reason to feel blue about Azzurri absence
Clattenburg chat provides fascinating insight
---
Chamberlin has lived up to even the loftiest expectations. He had a hard act to follow in the magnificent Nick Luck but has done so in style, and his partnership during the summer with Francesca Cumani was a particular positive.
Elsewhere, Matt Chapman has been every bit as lively as one would have expected and he has veered from fun and effervescent into the cringe zone far less frequently than feared. The best of Chapman is a major contributory factor to a successful transmission and ITV chiefs and Matt himself have done well to ensure that's almost entirely what we have received.
It has been great to have Alice Plunkett on board during the jumps season, Oli Bell offers freshness and charm, and Richard Hoiles has been superb, not just in the commentary box but also at regular intervals throughout the shows.
One of the real bonuses has been how the ex-jockeys have raised their game with an ITV microphone in their hand. Sir Anthony McCoy is the best example of that and it is a genuine joy when he is part of a day's output.
But Jason Weaver, Luke Harvey, Mick Fitzgerald and Hayley Turner have also found some gears and that has added to the general feeling of warmth that is present throughout most broadcasts.
Ad hoc appearances from other former pilots such as Johnny Murtagh have also boosted the appeal of the programmes.
The only negative of any significance has been the Opening Show, which was handicapped by an unhelpful combination of a variable start time and a variable channel, and has also gone out too late for a lot of people.
Bell hosts the show perfectly amiably and it is hard to see what more he could do to remedy disappointing viewing figures short of he and everyone else at ITV with any influence agreeing that the less time spent in the mobile studio the better.
It was revealed a month ago that ITV's afternoon shows have attracted around six per cent more viewers than Channel 4, with a significant increase when racing is shown on the main channel more than offsetting a comparative slump when the transmissions are screened on ITV4.
To quote my poll, that's not bad at all. Next year ITV Racing faces competition from its own, and the BBC's, coverage of the World Cup, but they have made a decent start and it is hoped for racing's general health and wealth that it continues to make progress in building an audience in 2018 and beyond.
---
Betting industry needs to act on limits or face having its hand forced
With apologies to the majority of punters who have never had their stakes restricted, the situation with bookmakers refusing bets has reached a point where action is needed, and hopefully 2018 will be the year when something happens to resolve an issue that even some betting industry figures say has got out of hand.
There is basically a vicious circle at play involving a number of factors and it is creating a situation in which too many punters are being unfairly and unnecessarily limited in their betting activity.
Here's the problem: fixed-odds bookmakers have reacted so well to the threat posed by the low-margin Betfair exchange that they now offer such a competitive, excellent value racing service that you no longer have to be Phil Bull to find yourself a winning punter.
You choose your horse, go on to a price comparison site, place your bet and, as well as benefiting from an amazingly low margin, you also have best odds guaranteed and various other bonuses and concessions working for you.
And then, with a bit of luck and some sound judgement, you find yourself in front. But before too long you find yourself struggling to get what you want on because bookmakers don't like winners, unless they happen to have struck lucky with a multiple and are likely to give it all back.
If you are consistently homing in on their standout prices (and why wouldn't you?) and do not augment your sportsbook activity with a few spins of Reel King, Cleopatra and all those other silly games, your business is not wanted.
And as margins have shrunk and special offers such as extra places and bonuses if your horse wins by a certain distance have proliferated so the number of relatively small winners that have ended up in the restriction net has grown.
So what is the solution? Should punters be less obsessed with trying to get the best prices? Possibly, but that basically means to avoid getting your stakes reduced you should shun the best available price, which few punters will feel comfortable doing.
Perhaps it is time to take another look at the minimum guaranteed liability obligation that is enforced in some parts of Australia.
It works on the basis that bookmakers have to pledge to lay a price to a specific sum to any punter who wants it and has been voluntarily operated over here by Coral, who will lay horses to lose at least £500 in their shops depending on the quality of the race.
Nothing in Coral's published trading figures suggests it has taken them to the brink of bankruptcy, so, while there are obvious drawbacks, now could be the time for the Gambling Commission to make all firms adopt a similar scheme.
The biggest flaw in the proposal is that punters with multiple accounts in various friends' and relatives' names can multiply the limit by however many other accounts they have, which is fundamentally unfair.
And unless a way of closing off that loophole is found, bookmakers will find themselves writing regular, significant cheques to those hardcore punters.
But while I sympathise with operators who have to repel the well-orchestrated risk posed by people who systematically and ruthlessly bet-match, arb and pick off bad each-way offerings, the battle to keep these unwanted customers at bay has clearly widened to such an extent that too many ordinary recreational punters who win pretty harmless sums over the course of a year are being restricted.
What surprises me is the lack of sophistication in how successful customers have their desired stakes reduced. It seems like one size fits all whether it is a morning bet on a selling hurdle or a punt on the Monday night Premier League match, events which have vastly differing levels of risk for the layer.
The Gambling Commission is no longer the inert organisation it was in its infancy. It is now active – bordering on aggressive – and it might be a wise idea for the betting industry to find its own way of dealing with its increasingly stringent clampdown on small winners before it has one imposed upon it.
---
Today's top sports betting stories
Follow us on Twitter @racingpostsport
Like us on Facebook RacingPostSport
Ed Chamberlin has lived up to even the loftiest expectations. He had a hard act to follow in the magnificent Nick Luck but has done so in style