Why this year's Derby has all the components required for an Epsom epic
It is widely acknowledged that the Derby is a dwindling presence in the wider public's consciousness. In my opinion it is a culmination of many things and cannot be solved by one particular result in any given year.
That said, this year's Derby looks a blockbuster. It has the potential to captivate casual fans and anoraks alike, which is something worth celebrating.
In a year where many of the best races have done little to inspire enthusiasm, including some of the trials for the great Classic itself, we have ended up with a field containing all the components needed for a great Derby.
Let's start with the favourite. The beauty of a horse like Bolshoi Ballet is that he wasn't initially Ballydoyle's archetypal Derby candidate. He wasn't forced to carry the hopes of the Coolmore clan, and thus an unreasonable amount of unnecessary hype, through the winter months only to make up into a run-of-the-mill three-year-old.
He has surpassed expectations already, overcoming a disappointing run in France as a juvenile to win both the Ballysax and Derrinstown in the style of a horse well equipped for Epsom. The pace he injected into his last race was more reminiscent of a miler than a middle-distance horse, and it is this that has seemingly set him apart from his Irish contemporaries.
Mac Swiney was only fourth in the Derrinstown but has since come out swinging to win the Irish 2,000 Guineas. He represents the silver-haired, no-nonsense Jim Bolger, who has already carved out the foundations for something of an annus mirabilis. The colt brings top-class mile form to the table, and with it the age-old, will-he-won't-he staying conundrum. Let's hope he'll be more New Approach than Dawn Approach.
If you're a romantic, then the chances are John Leeper may have seduced you. By Frankel and out of the outstanding Oaks winner and former stablemate Snow Fairy, he is named after trainer Ed Dunlop's father John, who passed away in 2018. In many ways he is the working-class Australia – this is the race he was born to run in and on Saturday he will have his own date with destiny.
If Bolshoi Ballet has the float-like-a-butterfly, sting-like-a-bee deadly elegance of Muhammad Ali, then 'the Hurricane' Lane could be Joe Frazier. Or the Fantastic Light to his Galileo, if you prefer.
It is indeed fantastic to have the two heavyweight owners of British racing trading punches in its greatest race, and in Hurricane Lane, Godolphin have a steadfast figure on which to pin their Derby hopes.
Unbeaten but unassuming, he took his form to the next level in the Dante and cuts a different figure to the team's 2018 hero Masar. He has found generously for pressure so far in his career and doesn't seem the type to shirk a scrap to the line.
You get the impression William Haggas is a man quite happy to stand on the sidelines. He isn't one for trash talk, which is fitting because in Mohaafeth he has a horse who has already done a lot of the talking.
The flashy chestnut has knocked out all of his rivals so far without breaking sweat, and he goes through his races with the arrogant swagger of an athlete yet to be tested. It's not difficult to see why he has been so popular in the ante-post betting.
Add in High Definition, who has something of a chip on his shoulder after a far from ideal start to the season, young virtuoso Third Realm, who was plucked from obscurity to win at Lingfield, and Chester Vase winner Youth Spirit, who represents the connections of last year's runner up, and you have all the components for an Epsom epic. I can't wait.
Golden oldies line up for the Dash
You're going to think I'm mad, but in some ways I think the Epsom Dash is the closest thing Flat racing has to the Grand National.
I say that because it is a distinctly unique test yet it attracts many of the same faces every year, and often sprint handicappers boast the same longevity as our favourites over jumps.
Take a look at this year's entries.
Put simply, it wouldn't be the Dash without Caspian Prince. The three-time winner of the race is 12 now and first ran in the Dash seven years ago, yet such is his enthusiasm you wouldn't be at all surprised if he turned up in another seven years, donning pipe and slippers and reminiscing about the good old days.
Fellow 12-year-old Duke Of Firenze's love affair with the Dash stretches back even further, as he was successful in the 2013 running for Sir Michael Stoute. He has since switched owners and trainers and lost a rather vital part of his anatomy, yet is still plying his trade gallantly up and down the country.
Pettochside is another at the same age putting his experience to good use. John Bridger's star has generously shown Saffie Osborne the ropes, with the pair combining for four wins since last September.
This makes eight-year-old Ornate practically the youngster of the party. It's hard to believe he was only a month old when Duke Of Firenze won the race, yet he showed his rivals a clean pair of heels when scooping the Dash when it was last run in 2019.
It's magnificent these horses still feature in our racing vocabulary, and a race like this hosts them perfectly. Let's hope not another year goes by without it. Long live the Dash!
---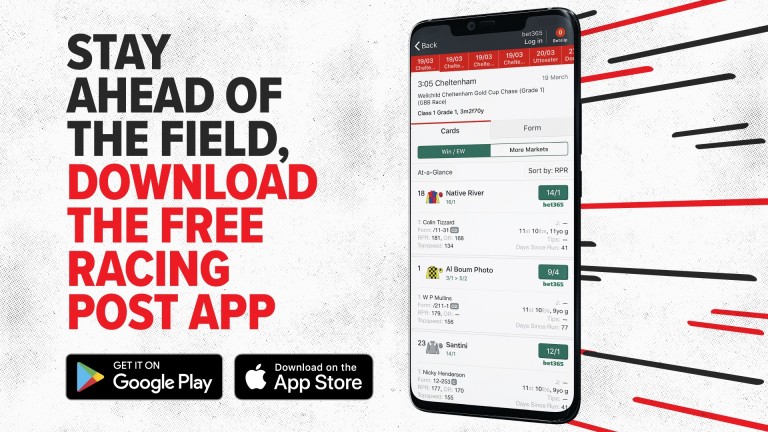 Download the free Racing Post app for cards, form, tips, in-app betting and to watch live races. Download for free at racingpost.com/mobile or search Racing Post app
---
If Bolshoi Ballet has the float-like-a-butterfly, sting-like-a-bee deadly elegance of Muhammad Ali, then 'the Hurricane' Lane could be his Joe Frazier