'We've really missed the buzz' - courses ready for return of racegoers on Monday
The return of spectators to racecourses in England on Monday has been greeted with excitement and optimism across racing with doors having been closed to all bar professionals and a limited number of owners since the end of last year.
Carlisle, Leicester, Redcar and Windsor host fixtures on Monday where paying spectators will be in attendance alongside owners, racing professionals and on-course bookmakers, offering a semblance of normality for those who have been unable to go to racecourses this year and for much of 2020 as a result of the coronavirus pandemic.
Redcar hosts an eight-race card and is forecasting a crowd of 800, with racecourse manager Amy Fair excited at the prospect of spectators creating an atmosphere.
"We're looking forward to welcoming spectators back – we've really missed the buzz and the excitement of racegoers enjoying a day out," she said. "I think we'll be somewhere around the 800 mark and that'll mean we've got an atmosphere. It's absolutely brilliant.
"We're having a staged return of crowds and being very cautious with our capacity because we're asking racegoers to behave in a way that they've not had to before – requiring details for track and trace, asking people to wear masks indoors and to sit down while eating.
"So we have a 50 per cent capacity on Monday; 75 per cent for the Zetland Gold Cup and day after [May 31-June 1]; then 100 per cent capacity for the meeting on June 18-19."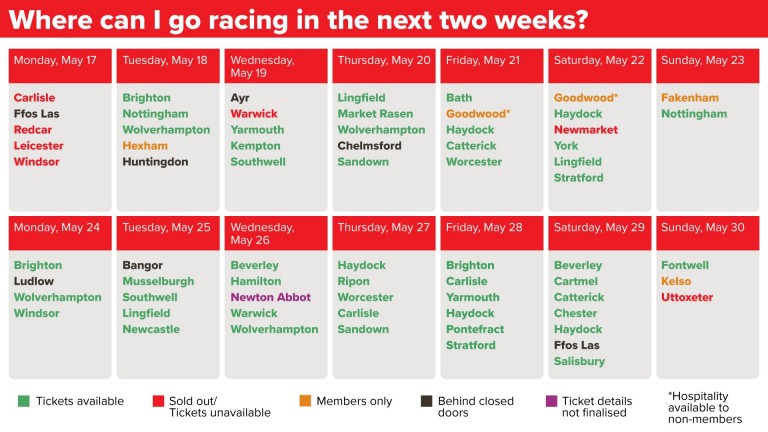 Carlisle hosts the other afternoon meeting in England – an afternoon fixture also takes place at Ffos Las but crowds are not permitted in Wales – and Mike Parcej, a regular racegoer prior to Covid-19, will be among those attending for the first time since March 2020
Parcej, 52, will be making the journey from his home in Wolverhampton to attend and is relishing the opportunity to go racing more often in the months ahead.
"It's going to be great being back out at a racecourse in the fresh air, seeing the horses, meeting like-minded people and being able to take it all in again," he said. "It's been a doddle buying tickets and I'm booked to go to Newmarket and Epsom as well in the weeks ahead.
"I thought when lockdown two started it was going to be nice and easy as I could batten down the hatches and watch all the racing on Racing TV all winter. But it's not the same and I've found myself struggling to get as excited with the races feeling quite similar.
"The atmosphere of being at the races, talking to people who you see up and down the country, seeing the horse, cheering them on and cheering them in – you can't do that at home on your sofa. It's a wonderful sport and I can't wait to be a part of it again."
Racecourses in England will be more accessible to spectators and owners from Monday with the 'green zone' for competitors reduced, no requirement for facemasks to be worn outdoors and owners able to access the paddock and winner's enclosure for the first time since racing returned last June.
Middleham Park Racing will be represented by nine runners at three courses with 20 owners due to attend, and it is the greater access that director of racing Tim Palin is most looking forward to.
He said: "That's precisely why people get involved in ownership. When I first got involved it was because I wanted to go from being on the outside of the rails around the paddock to being on the inside talking to the jockey and trainer.
"It'll be great to go back into the paddock and the winner's enclosure to celebrate if we can get a winner and it's a real boon for us and our owners. Since racing came back last year the single biggest talking point for our owners has been when can we go back to those days?"
Owners have had limited access to on-course betting since returning to the course, but there will be a greater number of layers in the betting ring with spectators returning, including John Hooper, who operates under the Sid Hooper banner and will be standing at Windsor.
Hooper's enthusiasm for the return is clear despite being on medication for a scratched retina. "Nothing will keep me away!" he said. "It's going to be really good to be back with crowds."
Hooper is hoping the experience will be reasonably normal for punters with bets being able to be struck and collected on debit card or with cash, which will be sanitised.
"The main thing to point out is that it's all happening in the open air, so it's very safe," he said. "I believe on-course bookmaking has a real good future. I believed that last year and do so even more now.
"As you know, there's a lot of people who cannot get a bet on these days but they can with us. Having crowds and interacting with people again is something we cannot wait for."
---
Read more on the return of spectators:
Spectators are here again and racing must hope there will be no turning back (Members' Club)
Tracks thrilled to have crowds back but cost of Covid could linger for 18 months (Members' Club)
Getting back on track: everything returning racegoers need to know
'The feeling you get is unlike anywhere' – what you're saying about going racing
Seven racecourses in England you must visit now you can go racing
Can I buy tickets for Royal Ascot and other big race meetings this summer?
---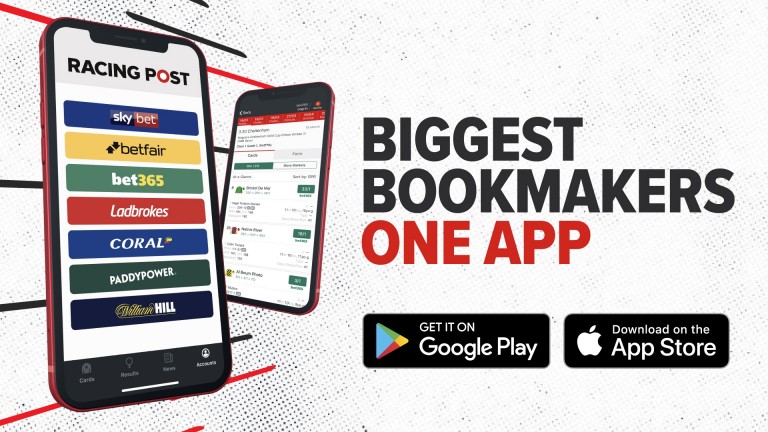 Place bets with seven bookmakers without leaving the free Racing Post app. Same prices, same offers, live video. Every race, every day. Search 'Racing Post App' to download for free
---
It's a wonderful sport and I can't wait to be a part of it again