Wesley Ward back for more with latest raiding party looking strongest yet
Lady Aurelia has the fire in her eyes says trainer
He has been here many times before, yet Wesley Ward may never have brought a more formidable team to Ascot than the ten-strong raiding party selected for royal honours next week.
The most successful trainer based outside Europe in the meeting's history, Ward already has nine winners gilded on Ascot's scoreboard, although his legacy stretches beyond success, having paved the way for his training counterparts in America to take on Europe's finest at the royal meeting.
Ward, who celebrated success at Royal Ascot on his first visit with two winners in 2009, has built his reputation on saddling monster two-year-olds with speed to burn and, with five juveniles among this year's squad, his youngsters again give him a nap hand to fear.
However, he will also send two three-year-olds and a trio of older horses into action – including dual Royal Ascot scorer Lady Aurelia – and is raring to return to Britain for his favourite meeting.
"I start training for Royal Ascot the Sunday after the last one ends," said Ward. "I start thinking about how I'm going to freshen something up for the winter that looks the quality to get back there the next year. Every horse I train I'm thinking Ascot because it's so special."
While a third straight win at the meeting for Lady Aurelia – who bids for her second King's Stand Stakes next Tuesday – would be a highlight, Ward clearly rates this year's team of two-year-olds among the best he has brought across the Atlantic, with Chelsea Cloisters, Our Passion and Moonlight Romance all potential aces among this year's juvenile pack made up solely of fillies.
"She looks as good as any two-year-old filly I've brought to the Queen Mary – her works have been eye-openers," said Ward when discussing Chelsea Cloisters, bidding to become his fourth winner of the Queen Mary.
"We've breezed her on the soft going and she relishes it – she eats it up. If it comes up hard and firm she will be ready but if there's give in the ground it will not be a concern."
Ward's bullish predictions do not stop there, with Windsor Castle-bound Our Passion and Coventry Stakes possible Moonlight Romance also setting his pulse racing.
"Every work from day one has been eye-opening," he says of Our Passion. "She was my favourite early on and I had to wait and wait until finally they had a turf race at Belmont and she won convincingly.
"She's got a European pedigree and is definitely not a dirt horse. On grass and Polytrack she's a definite Graded stakes horse."
---
Wesley Ward's Royal Ascot winners
| | | | |
| --- | --- | --- | --- |
| Year | Horse | Race | SP |
| 2009 | Strike The Tiger | Windsor Castle | 33-1 |
| 2009 | Jealous Again | Queen Mary | 13-2 |
| 2013 | No Nay Never | Norfolk | 4-1 |
| 2014 | Hootenanny | Windsor Castle | 7-2f |
| 2015 | Acapulco | Queen Mary | 5-2f |
| 2015 | Undrafted | Diamond Jubilee | 14-1 |
| 2016 | Lady Aurelia | Queen Mary | 2-1f |
| 2017 | Lady Aurelia | King's Stand | 7-2 |
| 2017 | Con Te Partiro | Sandringham | 20-1 |
---
A definitive target for Moonlight Romance has yet to be reached but Ward rates her maiden win at Belmont highly.
"She had the best maiden breaker of all the ones I'm bringing," he said. "She was second on the dirt to Shang Shang Shang and there were no excuses but this filly, when we put her on the grass, she flew.
"I'm going to have to double her up somewhere or nominate her to the Coventry, but I'll sit down with her owner Mr Ramsey and decide what we're going to do."
The aforementioned Shang Shang Shang will go for the Norfolk Stakes, although any rain would be a negative, while Stillwater Cove is bound for the Albany and ready to "run a big race".
According to Ward, Lady Aurelia has "that fire in her eyes that she always has when she's about to run a big race" and he is growing in confidence that Bound For Nowhere, fourth in last year's Commonwealth Cup, can oblige in the Diamond Jubilee Stakes on the Saturday.
"His two comeback races this year were sensational," said Ward. "The first of those I ran him in no shoes because I didn't want too big an effort but he won with something in hand. I ran him in shoes last time and he won with authority over the best sprinters in the States.
"His breezes have been nothing short of phenomenal in the mornings and I'm so excited to run him in this race – he really is going to run the race of his life, which he needs."
Ward says it will take "something magical" from a rider who has not yet been chosen to bring Master Merion, owned by Derrick Smith's daughter Vivien and golfer Justin Rose's wife Kate, home in front in the Royal Hunt Cup, while Joel Rosario will be playing it late on Hemp Hemp Hurray, regular work partner of Lady Aurelia, in the Jersey Stakes.
His juveniles, along with Lady Aurelia, will arrive in Britain on Tuesday evening and for the first time will be boarding at Paul Cole's Whatcombe yard. The four remaining runners will arrive 24 hours later and include 2015 Diamond Jubilee Stakes winner Undrafted, who is not getting any younger at the age of eight but is certainly not coming just to make up the numbers in Saturday's Wokingham.
"I'm very excited about this guy," says the trainer. "Frankie is going to ride him and hopefully that magic between them from the past is still there. He's a seasoned warrior and, as long as he's good on the day, I'm looking at him to run a huge race."
---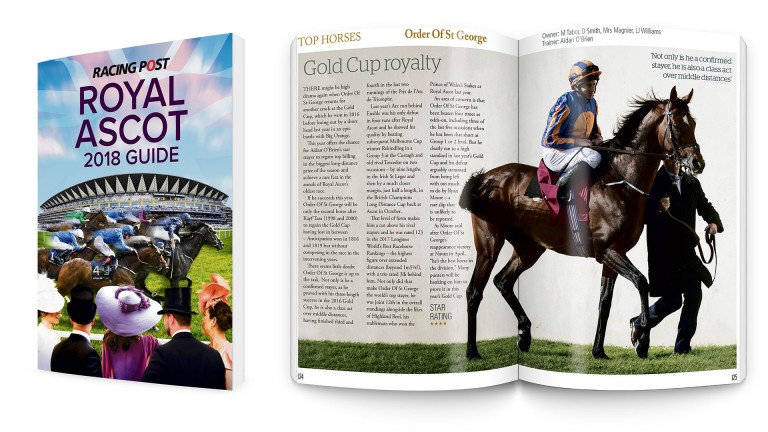 Don't miss the Racing Post Royal Ascot Guide 2018, the new 208-page book packed with all the information you need to get ready for the five-day summer spectacular. Order here or call 01933 304858
---
She looks as good as any two-year-old filly I've brought to the Queen Mary – her works have been eye-openers