Voice of Tampa Bay hangs up mic after staggering 37,587 calls in 37 years
Richard Grunder concluded commentating career at Florida track on Sunday
A run-of-the-mill claimer it might have been, but the significance of the tenth and final race at Tampa Bay Downs on Sunday was given huge elevation by it being Richard Grunder's last commentary at the Florida track.
His first was in 1984, and an incredible stint encompassing 37,587 races – the keeping of that statistic in itself is impressive – was brought to an end in typically professional fashion.
Grunder's final call was all about the race, won by the aptly-named Friendly Fella, but as they swept past the post he allowed himself to say goodbye.
"And that's a wrap from Tampa," he said, "and God bless everyone involved in the thoroughbred industry."
Jockeys and valets lined up in the winner's circle to salute someone whose voice has been a constant companion in the homes of race fans for decades.
Fellow commentator Pete Aiello, who has the mic at Florida's other main track, Gulfstream Park, said: "There is no one on the planet who is more passionate about horseracing, period. Nobody eats, sleeps and breathes horseracing more than he does."
Jockey Scott Stevens, Grunder's long-time friend and the recipient of the 2019 George Woolf Memorial Jockey Award, suggested fans listened to him with their eyes closed to better appreciate his descriptive style of race-calling.
"It's like he is painting a picture," he said. "He'll tell you a horse is three lengths behind and full of run, or a horse is boxed in with nowhere to go.
"You can visualise how the race is setting up just listening to his call, and I think that is what makes a great announcer. And he brings a lot of excitement to every race, whether it's a cheap claiming race or a graded stakes."
The 68-year-old was the current longest-tenured announcer at any racetrack in the US, and will not be lost to the industry as he will be working as a jockeys' agent at Canterbury Park in Minnesota this spring and summer for Alonso Quinonez and Israel Hernandez.
"I'm looking forward to it with happiness, and sadness," he said in advance of his farewell fixture.
"My goal a few years back was to try to go until I was 70, but I've got a medical situation I need to stay on top of and some related stress issues that led me to realise it's time.
"I was in the hospital [earlier this season] and barely got out in time to call the first race, and I don't get up those stairs to the press box as fast as I used to.
"I'm going to miss the camaraderie and the people, especially the three stewards who work next door to my booth. It's been a great environment to work in. But I have no regrets at all. My father [the late Dean Grunder, a railroad worker and owner-trainer in Nebraska and New Mexico] told me once I would be a really rich man if I was able to go to a job I liked every day.
"By that account, I'm a millionaire many times over."
Aside from his jockeys' agent role, Grunder plans to travel extensively with his wife of 48 years, Diana, visit other racetracks and spend more time with son Chad, a high school football teacher and coach, and his wife Erica.
The thrilling 2007 edition of the Tampa Bay Derby, in which Street Sense and Calvin Borel edged Any Given Saturday and John Velazquez by a nose, stands out among Grunder's memories.
"When they hit the wire together, I said, 'Too close to call, it might have been Street Sense.' Then I said to myself, 'Whoa,' because it was like this," he recalled, holding his thumb and forefinger an inch apart. "Fortunately, I got it right."
Other unforgettable calls included the dramatic come-from-behind victory by Cefis in the 1988 Tampa Bay Derby and Tepin's victory in the 2016 Hillsborough Stakes, in which she overcame an 18-length deficit on the backstretch to defeat pacesetter Isabella Sings.
"Tepin was so far back, I was worried for a moment she might have broken down," said Grunder. "[Julien] Leparoux rode her with so much confidence. At the quarter pole she still looked hopelessly beaten, and she came home so fast he turned down his stick before they hit the wire. She was a special, special horse."
Grunder's first job at a racetrack was 60 years ago at the now-defunct La Mesa Park in Raton, New Mexico, as a photo-finish runner – the person who would post the photographs of a tight finish for spectators to observe.
"People would be shouting, 'Here comes photo boy,' and I felt like I was King Tut," he recalled. "I got paid $3 a day, and sometimes people would ask what they did with the old photos after the next race. I said, 'They like to file them, but they're for sale for 50 cents,' and that became one of my side gigs."
From his first commentating job in 1973 at the age 20 at the recently-closed Marquis Downs in Saskatoon, Saskatchewan, Grunder has worked at numerous tracks, though none were as constant as Tampa Bay Downs.
Current track owner Stella F Thayer said: "Tampa Bay Downs has been incredibly fortunate that Richard has spent most of his career with us – an amazing 37 years. His voice and his style embody his enthusiasm and love for thoroughbred racing.
"We will never forget his contributions. Fortunately, his voice will live on through his calls of Tampa's signature races. We're grateful for his many wonderful years at Tampa Bay Downs and wish him the best."
---
Richard Grunder's racing gigs
Aug. 4, 1973 – Called his first race at Marquis Downs in Saskatoon, Saskatchewan
1974 – Racing office, backup race-caller, Waterford Park, West Virginia
1974 – Announcer, Marquis Downs and Regina Exhibition Park (Sept-Oct)
1974-77 – Placing judge, backup race-caller, Delta Downs, Louisiana
1975 – Announcer, Assiniboia Downs, Winnipeg, Manitoba
1976-79 – Announcer, Marquis Downs and Regina Exhibition Park (May-Oct)
1977-84 – Announcer, assistant racing secretary, Portland Meadows, Oregon
1980-82 – Announcer, Assiniboia Downs (summer)
1983 – Racing office, backup race-caller, Ak-Sar-Ben, Nebraska
1984 – Announcer, Arapahoe Park, Colorado
1984-2021 – Announcer, Tampa Bay Downs
1990 – Announcer, Canterbury Park, Minnesota
1991-92 – Announcer, Ak-Sar-Ben
1993 – Announcer, Prairie Meadows, Iowa
1996-97 – Announcer, Ag Park, Nebraska State Fair, Atokad Park, Nebraska
---
Read more international stories . . .
Mare Australis lays down Arc marker
Lights! Cameras! Action! Deauville prepares for floodlit all-weather meetings
Duhail team ponder Queen Anne raid after impressive Prix du Muguet display
World Premiere stays on best to win second Grade 1
Medina Spirit takes thrilling Kentucky Derby for record-breaking Bob Baffert
---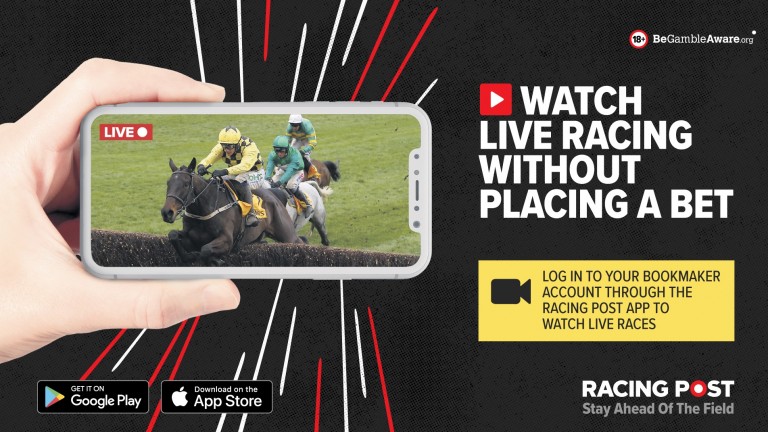 Watch live races through the Racing Post. Log in to your bookmaker account and look on the racecards for eligible races. Click the red 'Watch live now' icon and they're off! Find out how here
---
There is no one on the planet who is more passionate about horseracing, period